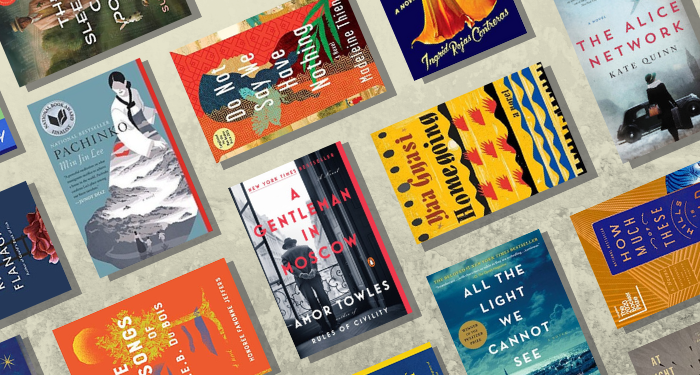 Herman Hesse once said, "Without words, without writing and without books there would be no history, there could be no concept of humanity." TL;DR: Hooray for books! Sure, we literally have history books, but that's not the only form of literature that can impart important events of the past. We also have historical fiction, which often takes real events and adds a fictitious element to them. Some of the most amazing books ever written are historical fiction. And we've got 25 of the best historical fiction books of the past ten years below, just for you!
These books have been chosen not just because they are excellent, but also based on accolades and popularity. They represent a variety of time periods, countries, and events, written by some of the greatest writers of the 21st century. It was a surprise to discover which books did and didn't fit within the ten-year requirement. I will forever recommend The Known World by Edward P. Jones as the best historical fiction novel ever written, but alas, that book is almost two decades old now. I was equally as surprised to find All the Light We Cannot See is only ten years old, because it seems like it has been on shelves for decades. Keep reading to find out what other incredible books also made the cut!
A young woman named Ursula Todd is born in 1910 and lives her life in England. Sounds simple enough, right? Except one version of Ursula dies at childbirth; another only lives a few years longer than that; one goes on to help with war effort during World War II. These are multiple versions of the life of Ursula Todd, all woven together in this compelling Costa Book Award–winning novel.
In this Booker Prize winner, it's 1866 in New Zealand. A man named Walter Moody is hoping to strike it rich during New Zealand's booming gold rush. Instead, he encounters a group of men on a dark and stormy night who tell him a story that will change the course of his life.
This first novel by National Book Award–winning Coates was an Oprah Book Club pick, a #1 New York Times bestseller, and more. It's about a young enslaved man named Hiram who harnesses a mysterious power that saves him when he almost drowns. It is this event that pushes Hiram to escape his life of bondage and rescue his family.
Past Tense Newsletter
Sign up for our weekly newsletter about historical fiction!
Thank you for signing up! Keep an eye on your inbox.
By signing up you agree to our terms of use
Trust by Hernan Diaz
Nominated for the Booker Prize, and winner of The Kirkus Prize, this is Pulitzer Prize–winner Diaz's novel within a memoir, within a novel…It's the 1920s, and decadent tycoon Benjamin Trask and his wife Helen manage to escape the ruin caused by Black Friday. But they don't need to worry, because they're not real: they're characters in a bestselling book. But they are based on real people, one of whom has written what they consider the truth. But is that the true story? This is a wonderful, layered delight.
A young Senegalese man's work as a soldier in the French army during World War I leads to trauma and heightened violence, as he starts a disturbing ritual every night on the battlefield. This was the 2021 International Booker Prize winner, as well as the winner of the Los Angeles Times Book Prize for fiction, and one of Barack Obama's favorite books of 2021.
Now one of the most well-known novels set during World War II, this novel won the Pulitzer Prize for fiction in 2013. It's about the destinies of a blind French girl and a German boy trying to survive in occupied France.
An enslaved boy on a Barbados sugar plantation is chosen to be the manservant for his master's brother, an abolitionist, and their travels take them on adventures around the globe. This won the 2018 Scotiabank Giller Prize, and was shortlisted for the Booker Prize, among other accolades.
This Pulitzer Prize–winning novel is based on the life of Erdrich's grandfather. It's about a night security guard at a jewel bearing plant, as well as other members of a Chippewa community in 1950s North Dakota, and a new "emancipation" bill about to be presented to the United States Congress.
This is a brutal and powerful examination of war. It's about an Australian surgeon in a Japanese POW camp, his fellow prisoners, the Japanese guards, and a letter that changes everything for him. This was a Man Booker Prize recipient.
This is considered one of the most powerful debut works of historical fiction. It's the story of two sisters, one an enslaved woman, and one married to an Englishman who lives in a castle, and the story of the generations of their family to come. This was one of Oprah's Best Books of the Year and a PEN/Hemingway Award winner.
James revisits the 1976 attack in singer Bob Marley's house by armed gunman just before the Jamaican general election, and examines the country, its politics and its people, at that time. This searing novel won the Man Booker Prize.
The list of nominations and awards this novel received is almost as long as the book itself, which is a hefty 816 pages! It is a look at racism, slavery, and intergenerational trauma in America, as told through the story of a young Black woman named Ailey Pearl Garfield.
A young Korean woman, pregnant after an affair with a married man, marries a minister and moves to Japan, where she is met with racism and hardship that will affect generations to come. This incredible novel was nominated for the National Book Award for fiction, among other awards, and was recently made into a limited series for Apple TV+.
In this winner of the 2022 Scotiabank Giller Prize, a queer Black sleeping car porter must deal with ghosts of the past and present when a mudslide strands the train for a few days during a journey.
A young enslaved Black boy in Kansas runs away with abolitionist John Brown, whose travels and fights will come to a head at Harper's Ferry in 1859. This was a winner of the National Book Award for Fiction, and a limited series on Showtime.
Circe by Madeline Miller
This is a retelling of the story of Circe in The Odyssey, in which she is not a vengeful witch, but a young woman wronged by those around her and sent away for being different. This book was a bestseller and chosen as a best book of the year by many publications, and it recently returned to the bestseller list when Miller's first book, The Song of Achilles, went viral on TikTok.
Set in the 1970s, a half-French, half-Vietnamese army captain moves to Los Angeles after the fall of Saigon, and spies on other Vietnamese refugees for the communist superiors back in Vietnam. This novel won the 2016 Pulitzer Prize for Fiction, the 2016 Edgar Award for Best First Novel, the 2016 Andrew Carnegie Medal for Excellence in Fiction, and is being made into a limited series. It also has a sequel: The Committed.
Hamnet by Maggie O'Farrell
If you think Hamnet sounds like Hamlet, that's no coincidence. This is a fictional account of Shakespeare's wife, and their young son, Hamnet, who died at age 11. It won the National Book Critics Circle Award for Fiction Won, the Women's Prize for Fiction, and the Dalkey Literary Awards's Novel of the Year. O'Farrell's most recent novel is another amazing work of historical fiction: The Marriage Portrait.
And Kate Quinn is included here because her works of historical fiction are repeated New York Times bestsellers and Goodreads Choice Award nominees. One of her most highly reviewed works on Goodreads is this novel, the story of a female spy during World War I and her socialite cousin searching for her many years later.
Loosely based on the author's own experiences, Fruit of the Drunken Tree is a powerful debut novel about two young women living very different lives in Bogotá during the reign of Pablo Escobar's terror. It was was the silver medal winner in First Fiction from the California Book Awards, and a New York Times editor's choice.
This book was a winner of the Scotiabank Giller Prize and the Governor General's Literary Award, and a finalist for the Man Booker Prize and the Baileys Women's Prize for Fiction. It's about two young women, Marie and Ai-Ming, who live in Vancouver, looking to learn about the lives of their family members who remained in China.
The Books of Jacob by Olga Tokarczuk, Translated by Jennifer Croft
Tokarczuk was the 2018 recipient of the Nobel Prize for Literature. Her most recent novel, which was longlisted for the National Book Award for Translated Literature, is about the rise and fall of a mysterious, charismatic religious leader in 18th century Europe.
In 1922, Count Alexander Rostov is ordered by a tribunal to remain under house arrest in a hotel across from the Kremlin for the rest of his life. There, he is witness to the country and its changes outside his window. This novel has sold over 2 million copies and is soon to be a limited series starring Ewan McGregor.
This story of an enslaved woman trying to escape in a literal underground railroad is one of the most widely acclaimed novels of the 21st century. It won the Pulitzer Prize and the National Book Award, and was made into a limited series by Barry Jenkins. (Another of Whitehead's amazing historical novels, The Nickel Boys, also won a Pulitzer.)
This remarkable debut was longlisted for the Book Prize, a finalist for the Center for Fiction's First Novel Prize, one of Barack Obama's favorite books of 2020, and more! It's the story of two orphaned children of Chinese immigrants during the gold rush of the American West, who set out on a journey to bury their father.
If you want even more historical fiction in your life, check out The Best Historical Fiction Books You've Never Heard Of, Long Gone: 10 of the Best Historical Fiction Books of 2022, and 50 Of The Best Historical Fiction Books You Must Read.