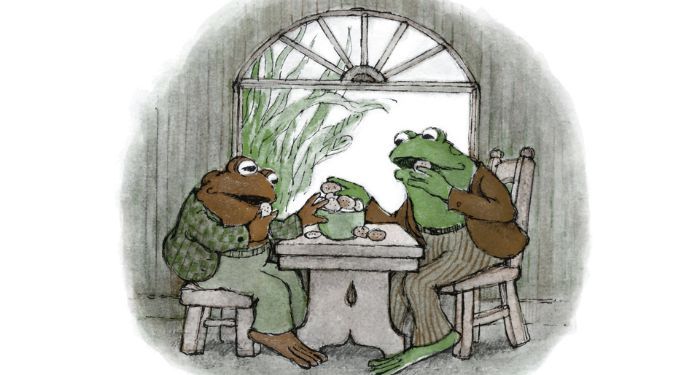 This content contains affiliate links. When you buy through these links, we may earn an affiliate commission.
Many of us first met Frog and Toad in childhood classrooms. I had a teacher who would read to us from a lovely, glossy compendium version that I deeply envied. They were silly, cute tales of friendship that we could answer easy reading comprehension questions about.
It took adulthood and the internet to bring Frog and Toad back to us. The memes! The quotes! We love soft, loving Frog and his attempts to cheer up the grumpy, serious Toad, or get him to get out of the house.
"I cannot remember any of the things that were on my list of things to do. I will just have to sit here and do nothing," said Toad.

— Frog and Toad Bot (@FrogandToadbot) February 12, 2023
Creator Arnold Lobel said multiple times that he didn't identify with one or the other — he identified as both, and he said that he suspects we're all both of them, at least a little. But who was Arnold Lobel? How did these silly characters come into our lives? I did a deep dive to find out more about the writer-illustrator and about the legacy of these two smartly dressed amphibians.
Who Was Lobel?
Lobel was a born storyteller who grew up in Schenectady, New York. Bullied as a kid, he found a lot of refuge in stories. One 2nd grade teacher, if she had extra time at the end of class, would ask Lobel to come to the front and tell everyone a story. He would do so happily, improvising the tale, illustrating it on the chalkboard.
Literary Activism Newsletter
News you can use plus tips and tools for the fight against censorship and other bookish activism!
Thank you for signing up! Keep an eye on your inbox.
By signing up you agree to our terms of use
Lobel studied illustration at the Pratt Institute in New York. That's where he met his wife. When they became young parents, he pursued a career in advertising, which he hated. One day, he went to Harper & Row, which had an open-door policy for portfolios, and showed his work to Susan Carr Hischman, who immediately assigned him to a gigantic project on a book about salmon migration.
He worked a lot on I Can Read books, a series meant to help young people practice their reading comprehension skills. One day he came to Susan with a manuscript he had both written and illustrated. She was delighted — and so, a career began.
He was reminiscing on Vermont summers, of frogs and turtles and toads, of playing beside the lake with his siblings, when the idea came to him, and he wrote, "Frog ran up the path to Toad's house." It all began there.
The first volume, Frog and Toad Are Friends, was published in 1970 and cost $2.50. At the time, it was printed in the standard separated 3-color. So he did a black plate, a brown plate, and a green plate; these came together to make the color as it was on page. This explains Frog and Toad's now-iconic palette.
Frog and Toad Are Friends won the Caldecott Award, and sequel Frog and Toad Together (1972), won a Newbery Award, making Lobel one of a rare few to get both. The two later volumes, Frog and Toad All Year (1976) and Days with Frog and Toad (1979), continued to draw success.
A Soft Queer Story
These books grew popular, in many ways, because of Lobel's superb depiction of a close, loving friendship. But was it friendship? 
Most likely, no.
In 1974, Lobel came out to his family as gay. He never made the connection between his queerness and Frog and Toad explicit, but it's fair to say that his identity and his perceptions of this love between these two characters was likely influenced by his queerness.
His daughter, Adrianne Lobel, told The New Yorker in 2016 that Frog and Toad are "of the same sex, and they love each other. It was quite ahead of its time in that respect." She also said, "I think 'Frog and Toad' really was the beginning of him coming out."
(Ironically, that's not at all why this book is on the banned books list. It was actually briefly banned due to promoting laziness.)
It's not hard for many queer people to see how Frog and Toad can be read as a queer love story. They resemble the now-classic story of two "uncles" who "are very good friends." They are two old curmudgeons who are set in their ways and love each other deeply. 
"Frog," says Toad in a scene that made me cry on the reread I did for this piece, "I am so glad that you came over."
Frog replies: "I always do."
Looking back, there's a rebelliousness to all this. Lobel wrote a queer couple into a story that he slipped into children's libraries all over the country. Frog and Toad were icons in the classrooms of my and many of my friends' classrooms. And they were queer the whole time.
At the same time, Lobel had to slip them in. We know that Frog and Toad don't need to make out to be in a true, romantic, queer partnership. But still, Lobel wrote this book at a time when these characters could not have been explicitly together in a children's book without it causing a fuss. 
The silencing and secrecy around queerness in the '70s and '80s would go on to have devastating effects. Lobel separated from wife Anita in the early 1980s and moved to Greenwich Village. He died of cardiac arrest in 1987 after a long struggle with AIDS. 
Other Works and Legacy
When I asked my sister if she could find my Frog and Toad books in my childhood bedroom, she said no — but that she found a couple other books by Arnold Lobel. In a rush, I realized how many childhood favorites were by the Frog and Toad author-illustrator. 
Lobel won the 1981 Caldecott from the American Library Association for Fables, which I remember primarily as the book with a bear on the cover who has a frying pan on his head. The book combined ridiculous fun stories with morals, and was a tremendous success.
I also had and loved Mouse Soup (1977), in which a mouse struggles to not be eaten by a fox, for which he won the Garden State Children's Book Award from the New Jersey Library Association.
All together, Lobel wrote and/or illustrated more than 100 books, including 25 in the I Can Read series. He liked illustrating much more than writing, which he found much more uncomfortable, but he loved infusing his stories for kids with cute animals, humor, and simplicity.
A Year with Frog and Toad, a musical based on the series, was commissioned by Adrianne Lobel (who also designed the set). The musical was written by Robert and Willie Reale and Lobel's husband, actor Mark Linn-Baker, would later play Toad. It opened on Broadway in 2003, and was nominated for Best Musical, Best Book of a Musical, and Best Original Score at the 2003 Tony Awards.
Nowadays
It's not particularly surprising that today's generations have discovered a new love for these books. They are incredibly memeable. I personally have been a long-time dedicated follower of the Frog and Toad bot on twitter, which has more than 238,000 followers and was one of my first thoughts when we first heard that Twitter might be dying a slow death. 
The grumpy humor of Toad and the ridiculous exaggerations of their dialogue is a perfect fit for pandemic-era 'world-is-ending' type humor. 
"Now we have no more cookies to eat," said Toad sadly. "Not even one."

"Yes," said Frog, "but we have lots and lots of willpower."

"You may keep it all, Frog," said Toad. "I am going home now to bake a cake."

— Frog and Toad Bot (@FrogandToadbot) February 20, 2023
Their life also taps into a certain cottagecore aesthetic full of simple worries and joys that are deeply relatable. Who doesn't feel like waking up is an accomplishment? Toad reads stories to his seeds to try and get them to grow; Frog shoves winter clothes onto Toad to get him outside in winter, or tricks him into thinking it's April so he'll wake up for spring; Frog discovers that Toad has never received a letter, so he writes one himself, and has it delivered by snail.
Frog and Toad are irresistible, relatable, and adorable. Lobel's work taps into a mindset that many of us crave right now, and so it is thriving and having a comeback.
Rob Hoegee, known best for his work on Teen Titans for Cartoon Network, is the showrunner, and Titmouse, responsible for productions including Baby Shark's Big Show!, Big Mouth, Animaniacs, and more, will handle the animation. The voice cast will include Nat Faxon and Kevin Michael Richardson as Frog and Toad, plus voices including Aparna Nancherla, Selene Luna, Margaret Cho, and more. The executive producers include Adrianne and Adam Lobel.
(Of course, they're also portrayed as best friends, rather than as an odd couple, but Frog and Toad have always been queer to us through subtext after all. I'm also a firm believer that queer characters don't need to kiss to be queer, and plan to watch the whole thing just assuming they're an old couple deeply in love.)
I'm excited for the end of the month and the cozy, cottagecore friendship/romance content that is coming our way! I raise a toast: here's to a Frog and Toad–like 2023 for all of us.
Note on My Sources: I received much of my information from the Frog and Toad Are Friends: 50th Anniversary Commemorative Edition. I also referenced numerous online sources, including "'Frog and Toad': An Amphibious Celebration of Same-Sex Love" by Colin Stokes (2016), his 1987 New York Times obituary, and "Frog and Toad and the World of Arnold Nobel" by Emma Silvers (2013). I filled in some gaps using Wikipedia as a jumping off point.
Want more great content? Take our quiz to see if you're more Frog or more Toad, or check out our list of the 50 best books for beginning readers. You can also snag some Frog and Toad gifts.