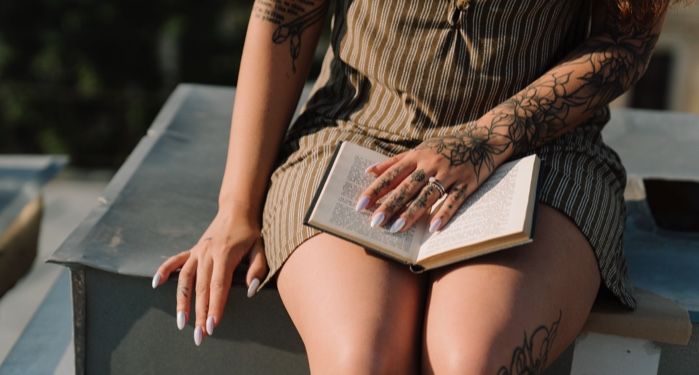 This content contains affiliate links. When you buy through these links, we may earn an affiliate commission.
A did a funny thing a few months ago. I went to a local tattoo shop to get some new ink. That isn't the funny part. Since I knew I was going to be there for at least a few hours, I brought reading material. Specifically, I brought three poetry books with me. I didn't think it was funny. I thought it would be better reading than a novel while being stabbed hundreds of times by a needle.
It was the reaction of the tattoo artists and other customers that was funny. They had never seen someone reading poetry while getting tattooed. Ever. They laughed. They cast furtive glances at the covers of the poetry books, particularly after seeing me, a 6-foot, 200+ pound, tattooed, gym-going white dude who passes for cis.
So I said to myself, "Self, you should share this experience. You are surely not the only poetry fan who likes to get ink. Let's impart a little wisdom and have a little fun."
What to Bring to the Tattoo Shop
First, bring water. My tattoo shop regularly provides water and checks in on me during the process, but if you're new to the shop, bring a water bottle.
As for poetry, bring a variety of books. Like tattoos, the cover of the book you're reading says something about you. It sends a message. As different customers wander in and out, you may find you need to change your message. Let the world know that your poetry bookshelf is decolonized. Show everyone that you support transgender people, even as state governments are stripping away their rights.
Today In Books Newsletter
Sign up to Today In Books to receive daily news and miscellany from the world of books.
Thank you for signing up! Keep an eye on your inbox.
By signing up you agree to our terms of use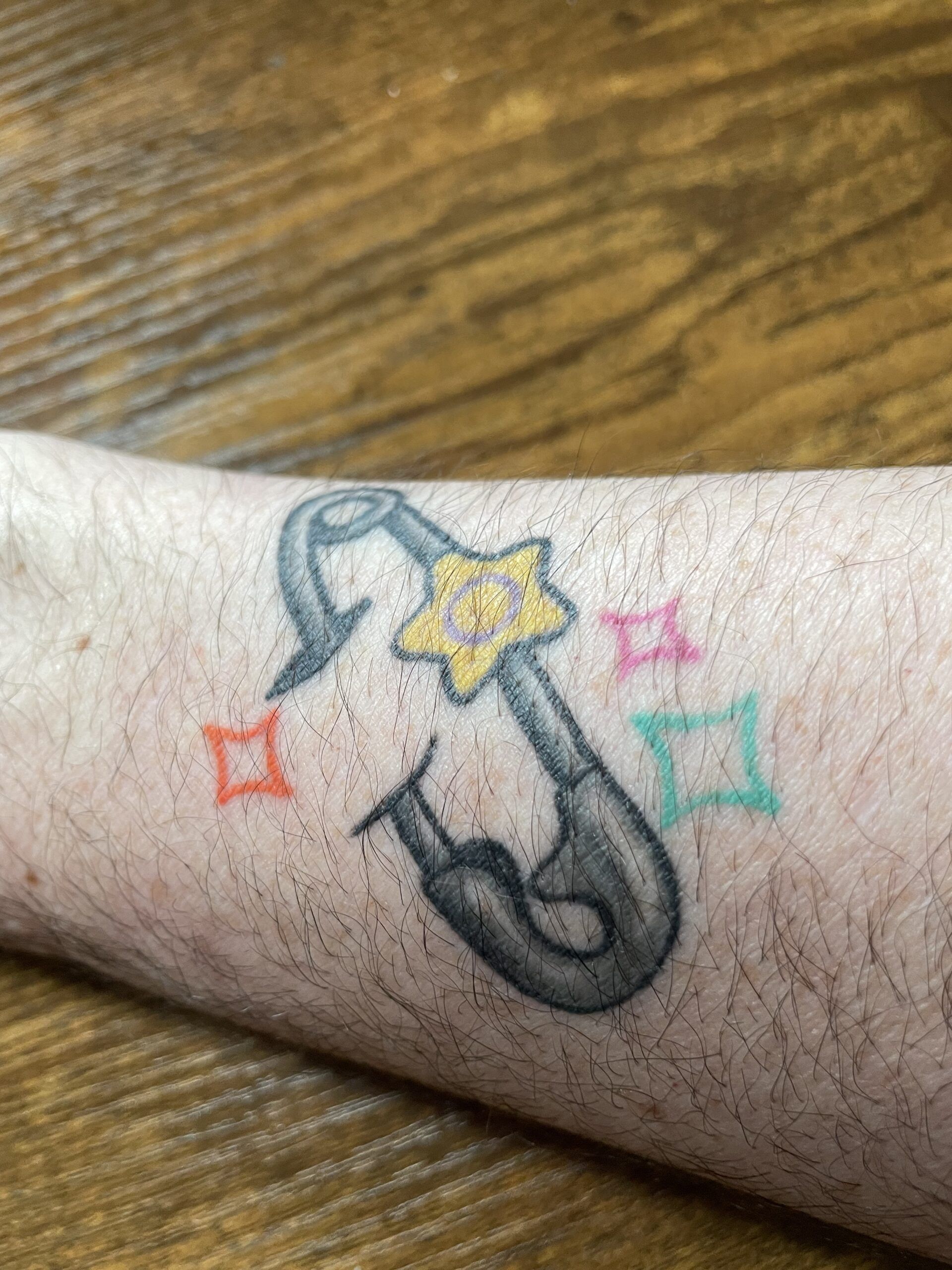 My wrist tattoo certainly sends a message or two.
Don't bring anything that's too big. Now We're Getting Somewhere by Kim Addonizio or The Tradition by Jericho Brown are easily balanced in one hand while the other is immobilized getting ink. Trying to hold The Complete Poems of Emily Dickinson or trying to unfold the wild formal poems in Olio by Tyehimba Jess will be much trickier.
Finally, dress for the tattoo you're getting. Upper arm piece? Wear something sleeveless. Leg piece? Shorts. But make sure you're comfortable.
Pairing Your Poetry with People
Like fine wines and fine foods, you can pair your poetry selection with the various types of people you'll see in a tattoo shop. Let me guide you.
The Guy Who Keeps Saying "But Not Gay" as He Describes The Tattoo He Wants
100 Queer Poems by Mary Jean Chan and Andrew McMillan
The cover is bright and colorful. The title is in a massive, clear font. There's no wondering what this book is about or where you stand on the issue. Whether you're queer yourself or just an ally, "But Not Gay" guy is going to get the message. And maybe he's protesting a little too much.
The Lady Wearing a Crucifix Pendant, Getting a Holy Cross Tattoo
This poetry collection is gorgeous and not nearly as heretical as it seems, but can certainly tell the world where you stand regarding religion. Or at least Christianity. Warning: this could incur a discussion on religion that you don't want to have.
Trio of White Dudes in Red Hats and Nine Line Shirts
Amanda Gorman exploded into the national conversation when she read an incredible poem during President Joseph Biden's inauguration. Granted, a lot of red-hat-wearers probably didn't watch the inauguration and don't know Gorman, but they should.
Woman with Undercut Blue Hair and an Anime Shirt
Who says poetry can't also be nerdy? Yes, there is genre poetry out there, but I've yet to find any that I really love. Jackson's collection reflects on his childhood through the lens of his love for comic books. And that title will catch the eye of any nerd.
Your choices of tattoos and poetry will certainly tell you a lot about your tattoo artist, too. Get somebody who stands behind what your tattoos and poetry mean, somebody who, as Ted Lasso said, is "curious, not judgmental."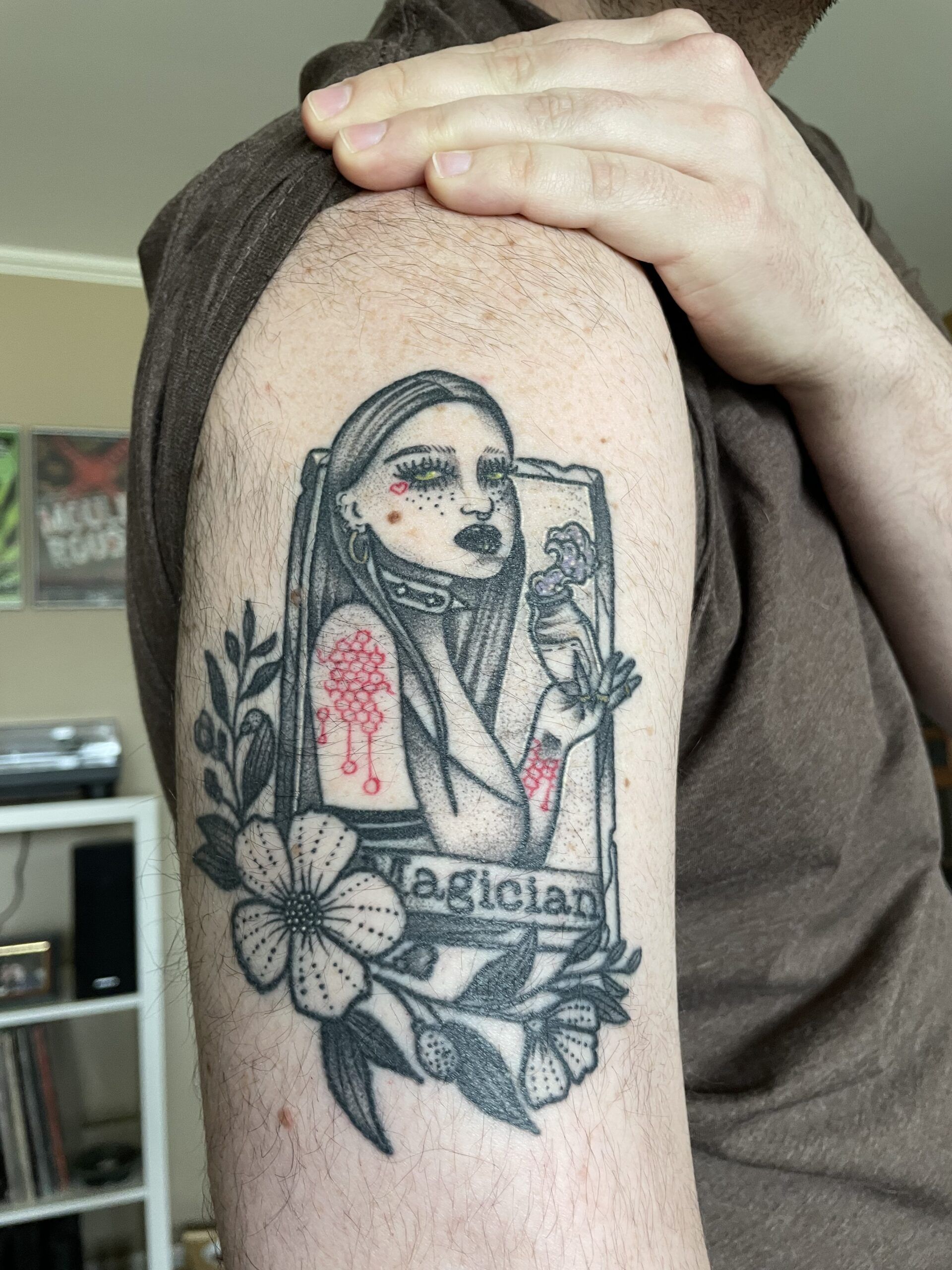 And in case you were wondering, my new tattoo was a cyberpunk rendition of The Magician tarot card. I had a book release to celebrate, and it seemed fitting.