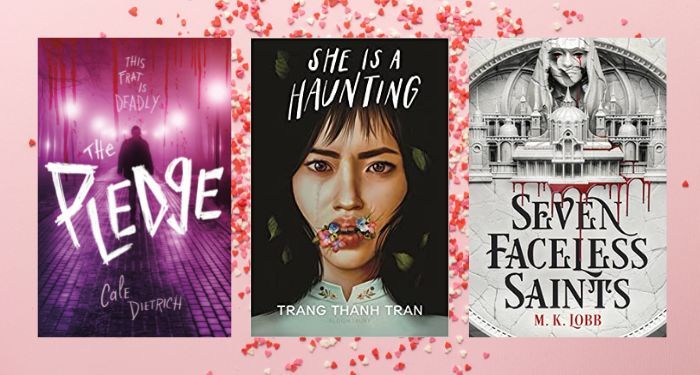 This content contains affiliate links. When you buy through these links, we may earn an affiliate commission.
Happy February, YA nerds! This short month is shaping up to be packed full of amazing YA releases, from horror/thrillers to swoony romances — it seems kind of funny that February would be the month with so many creepy and romantic books releasing, but whether you are pro–Valentine's Day or anti, I guess that means your bases are covered either way! I for one am torn between wanting to start one of these amazing fake dating romances and also wanting to pair a bunch of Valentine's Day candy with something dark and twisty.
A quick note: As usual, I don't typically give a lot of space to the buzziest books of the month, like Chloe Gong's Last Violent Call or The Headmaster's List by Melissa de la Cruz, as I typically assume those books are already on your radar! Instead, feast your eyes upon some of the less talked about books that absolutely need to be on your TBR lists and library holds lists. Set yourself up with any one of them for an unforgettable date night in, whether you want cozy and romantic, suspenseful and murder-y, or fantastical and atmospheric.
As always, you can find a full list of new releases in the magical New Release Index, carefully curated by your favorite Book Riot editors, organized by genre and release date.
Wildblood by Lauren Blackwood (February 7)
Victoria is a Wildblood, with a magical ability to protect herself and others from ghostly monsters in the Jamaican jungle. She was kidnapped as a child and forced to work as a tour guide to a tourist company, and when she's passed over for a much deserved promotion, she begins to scheme for a way out. That's when she meets Thorn, a gold miner hoping to find a priceless vein of gold in the jungle. He hires her to guide him, and as they begin to respect then fall for each other, Victoria starts to question what she wants for the future.
Dirt lives in a a world where girls are expected to compete in Bowing, an elite fighter sport that is at the center of their lives. Dirt has aged out of the sport and spends her days coaching the younger girls, but when an attack leaves them vulnerable in an upcoming competition and their very existence is on the line, Dirt will have to re-enter the competition and get herself back in fighting shape in order to save her sisters.
What's Up in YA? Newsletter
Sign up for What's Up In YA? to receive all things young adult literature.
Thank you for signing up! Keep an eye on your inbox.
By signing up you agree to our terms of use
Rossana lives in the city of Ombrazia, where saints and their disciples run a corrupt government. When Rossana's father dies at the hands of the military, the only thing on her mind is revenge. Meanwhile, Damian is a guard in the Palazzo, and while he seems ruthless and unaffected not he outside, inside he's doubting everything. When a murderer targets a disciple, Rossana and Damian team up to find the killer, but soon uncover a sinister plot neither of them ever expected.
Eliza never expected that her essay on meeting the love of her life at 17 would go viral…but when it does, she has a big problem: she made it all up. Now she has to hire Caz, a classmate and actor, to pretend to be her boyfriend in order to keep up the ruse. But when Caz's acting is a little too good, Eliza is left wondering if maybe having everything go to plan isn't what she wanted after all.
The Pledge by Cale Dietrich (February 14)
Sam is the sole survivor of a horrific murder spree that launched him into questionable fame, and he wants nothing to do with reminders of that awful night. Now at college, he decides to remake his identity and joins a fraternity in the hopes of making new friends and leaving his past behind. But when one of his frat brothers ends up dead, Sam realizes that someone is set on recreating his past, and this time he's going to have to face it head on.
Liya and Kai were once best friends, but after an epic misunderstanding, they're no longer on speaking terms. But Liya realizes that all of that is going to have to change in order to save her family's struggling wish lantern store. She concocts a plan not to reconcile with Kai, but to enlist his help in secretly fulfilling the wishes that people write in their lanterns…and along the way discovers that she might have a wish of her own to make true.
Miles is a trans pianist who wants to win back his boyfriend (who broke up with him two weeks after he came out) and win a classical piano competition, beating his nemesis. But with his ex stubbornly ignoring him, things aren't going so well…until a new guy with a heart of gold arrives in town and seems to actually like Miles. And when their fake dating scheme turns real, Miles has to reckon with who he is and who he wants to be.
When Leila's boyfriend breaks up with her weeks before graduation, she's devastated. Enter: The Last Chance Dance. Held at the end of the school year, the dance is a chance for students to submit their crushes to the dance committee. If their crush also names them, the matches are revealed. Leila is shocked to find herself matched with all three of her crushes and someone she never expected, and now she has four dates and a ticking clock to find love before the school year ends.
Bishop is a strange town known for its windstorms, sunflower fields, and missing women. When three women go missing, their daughters are left behind to pick up the pieces, all of them grieving and dealing in their own way. But when secrets are revealed on the day of their funerals, the left behind girls find that perhaps they alone have the power to uncover Bishop's secrets.
Jade is not looking forward to spending the next five weeks in Vietnam, living in the French colonial house that her father is restoring. Immediately upon arrival, it's clear that something isn't right about this place, and unsettling occurrences are only the beginning. But with her father and sister unable or unwilling to believe Jade's misgivings, she has to turn to an unexpected girl for help if she's to survive.
Want more great YA releases? Check out last month's round up!