This content contains affiliate links. When you buy through these links, we may earn an affiliate commission.
I'll never forget the first time I heard about The Expanse. It had been a few years ago, and we were just getting to the end of a long and dreary winter. A hint of spring hung in the air, yet I still hadn't shaken off the last dregs of the retreating cold and dark season. One of my co-workers at the time asked me if I'd ever heard of the TV series The Expanse, based off the books by James S. A. Corey. When I replied I hadn't, he told me to check it out. I remember writing the show's name on a little sticky note at work and tucking it away to look into later. When I finally sat down to watch the show, I was completely drawn in, lost in space in the most perfect way. I'm forever thankful for that friend's recommendation and for not losing that sticky note. It's led to me looking for even more books like The Expanse.
James S.A. Corey's The Expanse series includes nine books, a number of spin-off stories, and six seasons of the show adaptation on Amazon. The premise involves a future where humans have expanded beyond the Earth to the Moon, Mars, and the asteroid belt beyond, and these settlements have become locked in a perpetual power struggle for dwindling resources and control of the solar system. Amidst all this, Jim Holden and his crew make a dangerous discovery near Saturn, while detective Joe Miller attempts to track down a missing girl in the Belt.
I love everything about this series, which is why I've been craving more books like The Expanse. The political intrigue between Earth, Mars, and the Belt paired with the underlying mystery keeps the suspense thick, but it's the characters that elevate the series from great to exceptional. Earther captain Jim Holden, Belter engineer Naomi Nagata, Belter detective Joe Miller, Earther mechanic Amos Burton, Martian pilot Alex Kamal, UN diplomat Chrisjen Avasarala, Martian marine Bobbie Draper — I love each and every one of these characters, and I could go on with more. These characters find a way of sticking in your heart, and you can't help but root for them no matter how many odds get stacked against them. In celebration of how much I love this series, I've compiled a list of eight books like The Expanse for my fellow fans.
8 Interstellar Books Like The Expanse
If you're seeking a book with the feel of The Expanse, look no further than this epic space opera series by Arkady Martine. It promises so many of the elements that make The Expanse great, including tense political intrigue in space, dark mystery, and endearing characters. Mahit Dzmare is an ambassador for a small Mining Station who has just arrived in the center of the Teixcalaanli Empire. When she discovers her predecessor dead, Mahit begins investigating.
Speaking of political intrigue in space, after you finish A Memory Called Empire, check out this gripping series by Megan E. O'Keefe. The key players of this novel include siblings Sanda and Biran Greeve. In the midst of an interstellar war brewing, sergeant pilot Sanda gets shot down only to wake up 230 years later alone on a ship with a mysterious AI for company.
In Reading Color Newsletter
A weekly newsletter focusing on literature by and about people of color!
Thank you for signing up! Keep an eye on your inbox.
By signing up you agree to our terms of use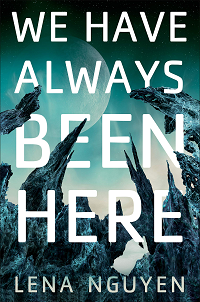 Something I love about The Expanse is the dynamics between people in close proximity aboard spaceships. Combine that with the heady rush of traveling to a new planet and you've got this suspenseful read by Vietnamese American author Lena Nguyen. Plus, this one also involves mysterious symptoms arising in the crew members, which feels a bit reminiscent of the strange effects of the protomolecule on people in The Expanse. Psychologist Dr. Grace Park has joined a crew traveling to a cold new planet. Her assignment: study the 13 crew members onboard. Forewarning, tensions are about to get very high onboard.
This gorgeous graphic novel by Tillie Walden also focuses on the interactions between people aboard spaceships, but in a much more cozy way than We Have Always Been Here. I think my absolute favorite aspect of The Expanse is the found family in space feel that we get with the charismatic crew of the Rocinante, and this is just the book to read if you dig that too. Like The Expanse, this book opens with a crew out in deep space salvaging ships and features a poignant romance narrative. Mia has just joined the ship's crew with hopes of finding the girl she fell in love with at boarding school.
This sci-fi book by S.B. Divya is perfect for fans of the badass Martian marine Bobbie Draper in The Expanse. Like Bobbie, Welga Ramirez is an ex-special-forces-turned-bodyguard. The year is 2095, and people have now become dependent on pills to help them compete against AI in the economy. Ramirez's plans for retirement get stalled when her client gets murdered by a mysterious group known as The Machinehood.
If you got drawn into the dark dynamics of the overpopulated Earth in The Expanse, you'll want to check out this emotional sci-fi novella by Silvia Moreno-Garcia, author of Mexican Gothic. Despite the crushing realities of her life in Mexico City working odd jobs and as a friend-for-hire, Amelia still maintains hope of one day escaping and reaching the human colony on Mars.
Interested in the space mystery themes of The Expanse? This compelling book by Micaiah Johnson is one you can't miss then. In the future, humans have unlocked the secrets to multiverse travel. The only catch is you can't visit a world where an alternate version of yourself still lives. Cara finds herself in a unique position to travel to 372 worlds, since her doppelgängers seem to be dying off left and right.
And last, but certainly not least, I decided to close with this thought-provoking and intriguing sci-fi read by one of my favorite authors, Emily St. John Mandel. If you fell in love with the moody detective Miller in The Expanse (I know I did), then you'll want to get lost in the pages of this book next. In the year 2401, Gaspery-Jacques Roberts works as a detective in the Night City on the moon. Gaspery's agenda? Investigate a strange anomaly appearing across time on Earth, including the years 1912, 2020, and 2203.
Before You Take Off…
The Expanse is one of my favorite series, and I hope I've shared some of my love for it with you. If you're ever in need of a pick-me-up like I did that winter years ago, I hope these books will bring you just as much joy as The Expanse did for me. For more related reads, you may also want to peruse these awe-inspiring space operas. Before I sign off, I'll leave you with this powerful quote by Naomi Nagata in Season 6 Episode 6 of The Expanse, "The universe never tells us if we did right or wrong. It's more important to try to help people than to know that you did."
To get even more recommendations based on your favorite shows, your least favorite tropes, or any other elements of your unique reading taste, check out TBR: Tailored Book Recommendations, where our professional book nerds match you with books you're sure to love.