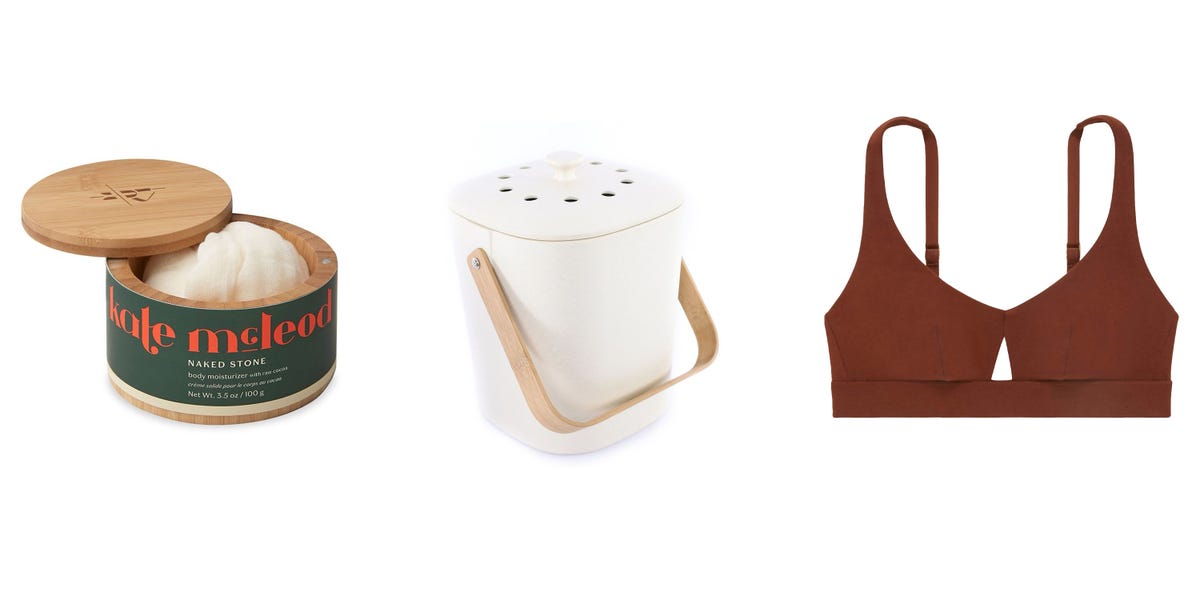 Sustainable gifting is a tricky concept. Ideally, we'd all forgo physical presents and instead give our loved ones something more experiential: a gift card to a local restaurant, a donation in their name to a mutual aid fund, or a seat at an online class for a new quarantine hobby. But if you're itching to watch your favorite person open up something tangible this holiday season, you can still do so while keeping the planet in mind. A few things to think about: Give gifts that will actually get used, not end up in a landfill, and be on the lookout for minimal plastic and packaging. If you're in need of a few ideas, here are 13 to consider.
1 Naked Stone Solid Moisturizer
Once you have this solid moisturizer and its accompanying bamboo storage case, you can buy plastic-free refills and keep on indulging. 
2 Food Composter
For that special someone who's been wanting to compost but needs a cute bin to get started.
3 Pukka Herbs Tea Selection Box
A surefire way to ensure a present gets used? Make it edible. This tea gift box from Pukka is made from recycled paper and can be put in your home recycling or compost, while the individual teas come in their own recyclable envelopes. 
4 The Sustainable Mask
This face mask from Christy Dawn is made entirely of deadstock (read: leftover) silk and comes in five different colors.
5 Plum Paloma Racerback Bra
Girlfriend Collective has its own ReGirlfriend program where customers can send back old items that then get recycled into new apparel. Just make sure you purchase a Girlfriend Collective Compressive piece, since those are the only ones that qualify. (Also, their bras are just really, really comfy.)
6 Jade Pothos
Give the literal gift of life with a new houseplant—or even a packet of seeds for your DIY friend. If the plant ever dies (sad), it can be composted and the pot reused.
7 Ro's Argan Soap
One thing your loved one will most certainly use during a pandemic? Soap. Plus, if you can't pick it up in person, Lush ships items in recyclable and compostable packaging.
8 Blue Marble Soap Dish
For the person who's already on the bar soap game but just needs a fancy place to store them. Bonus: These dishes help soaps last even longer in the shower, meaning less waste in the long run.
9 The Keyhole Balconette
If you're looking for something on the sexier side, consider Knickey's range of certified organic cotton underwear and bralettes. The company has its own recycling program where it takes in "ready-to-retire" intimates so they can be turned into materials like insulation and carpet padding, instead of being sent to a landfill. Plus, if you partake in the program, you'll get a free pair of Knickeys with your next order.
10 The RealReal Gift Card
The RealReal
Sustainability is possible, even for your bougiest of friends. Just pick up a gift card to The RealReal, a luxury consignment shop, so they can select a pre-loved designer piece for their forthcoming capsule wardrobe.
11 Pink Onyx Marble Candle
When you've burned through this candle, simply order a wax refill from the same site and get lit again and again and again.
12 Botancial Dyeing Kit
This botanical dyeing kit—which comes with organic flowers for transforming your clothes—is an eco-friendly way to get your tie-dye fix. 
13 Shea Butter Hand Cream
After months of vigorously washing up, a luxurious hand cream is a no-brainer gift. This one in particular won a Good Housekeeping award for its sustainable, recyclable packaging.
This content is created and maintained by a third party, and imported onto this page to help users provide their email addresses. You may be able to find more information about this and similar content at piano.io