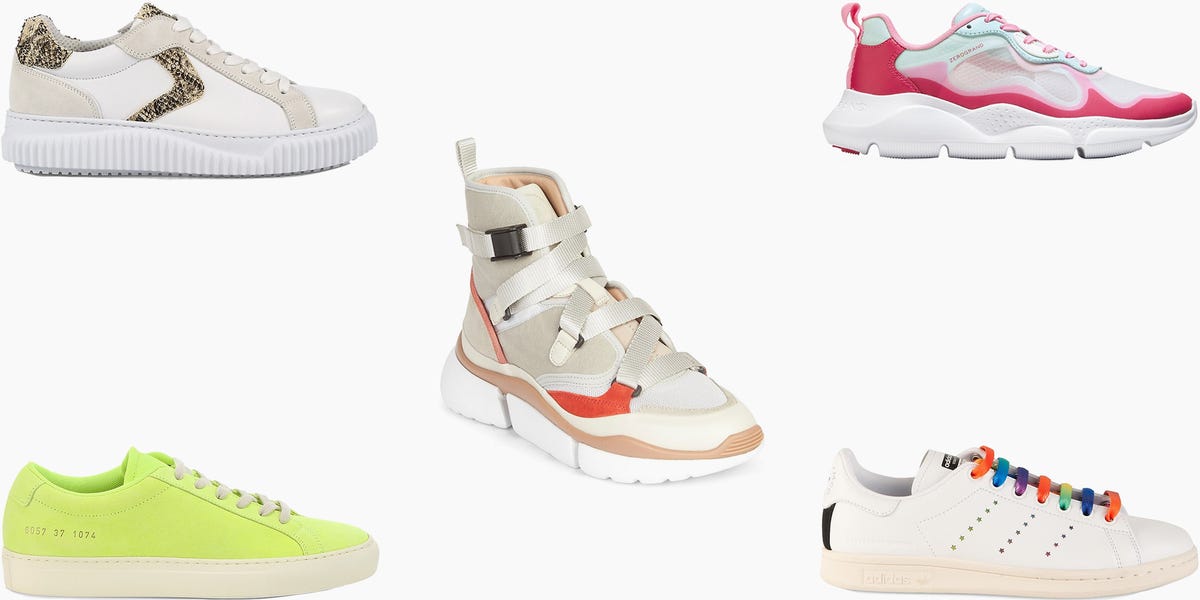 Footwear trends may come and go, but a sneaker is forever. Maybe it's because the right pair really can go with everything, or maybe because they're just so comfortable. It's the one item that stays in rotation year-round in any closet, and I'm not just talking about the usual run-of-the-mill gym sneaker, but ones that exude fashion just as much as comfort.
There is so much more to a sneaker beyond its cardio capabilities. I'm talking about platforms, animal prints, and bright-hued kicks, too. Lucky for you, some of these styles are on sale over at Saks Fifth Avenue for their designer sale event. You can get your favorite brands like Common Projects, Adidas, Chloé, and more discounted at up to 60 percent off. Sneakers this cute (and cheap) won't be available forever, so shop our favorites from the sale ahead.
1 Hawaii Leather Sneakers
A true forever pair of kicks, courtesy of Jimmy Choo. 
2 High-Top Rib-Knit Leather Sneakers
Tired of parading around town in your boots this winter? Slip-on these high-tops for a change of scenery. 
3 Common Projects
A sneaker you can wear to the office, happy hour, and beyond. 
4 Track Sneakers
A little pop of color never hurt nobody, especially when said color is bubblegum pink. 
5 Grip-Tape Leather Sneakers
Velcro sneakers are still very much here. Snag everyone's favorite playground shoe before it's gone. 
6 Venice Cheetah-Print Canvas Sneakers
The striking leopard-print on these low tops make taking a walk on the wild side all the more fun. 
7 Teddy Iridescent Sneakers
Not all walking shoes are created equal. This low-top iridescent style is as comfortable as it is chic. 
8 Canvas Court Sneakers
Your favorite T-shirt and denim combo would go great with these. 
9 Upton Cotton Canvas Slip-On Sneakers
A slip-on design is as easy as it gets when it comes to shoes, and this neutral-colored style will go with just about everything in your wardrobe come Spring. 
10 Hedra Fantasy Sneakers
The latest addition to Puma's sneaker family found its design inspiration from popular Puma styles from the past, thus creating a shoe that exemplifies street style at its best. 
11 Goldie Embellished Leather Sneakers
12 Crosta High-Top Sneakers
For anyone looking for a futuristic addition to their sneaker collection.
13 Achilles Neon Leather Sneakers
Common Projects' Achilles sneaker is so comfortable you'll forget that it's a full-leather shoe. The bright hue it comes in is a pop of color every closet needs. 
14 ZG Radiant Sneakers
Equipped with ZeroGrand anatomical cushioning, they'll make you feel like you're walking on a cloud. 
15 Rainbow Vegan Sneakers
Adidas x Stella McCartney
Experience double the fun with these kicks from Adidas and Stella McCartney's ongoing collaboration. Each pair comes with two sets of laces, white and bright rainbow, so you can lace up as you please. 
16 Lipari Snakeskin-Embossed Leather Sneakers
A touch of snakeskin detail at the heel, sides, and tongue adds a bit of flair to this pair of neutral-toned footwear. 
This content is created and maintained by a third party, and imported onto this page to help users provide their email addresses. You may be able to find more information about this and similar content at piano.io