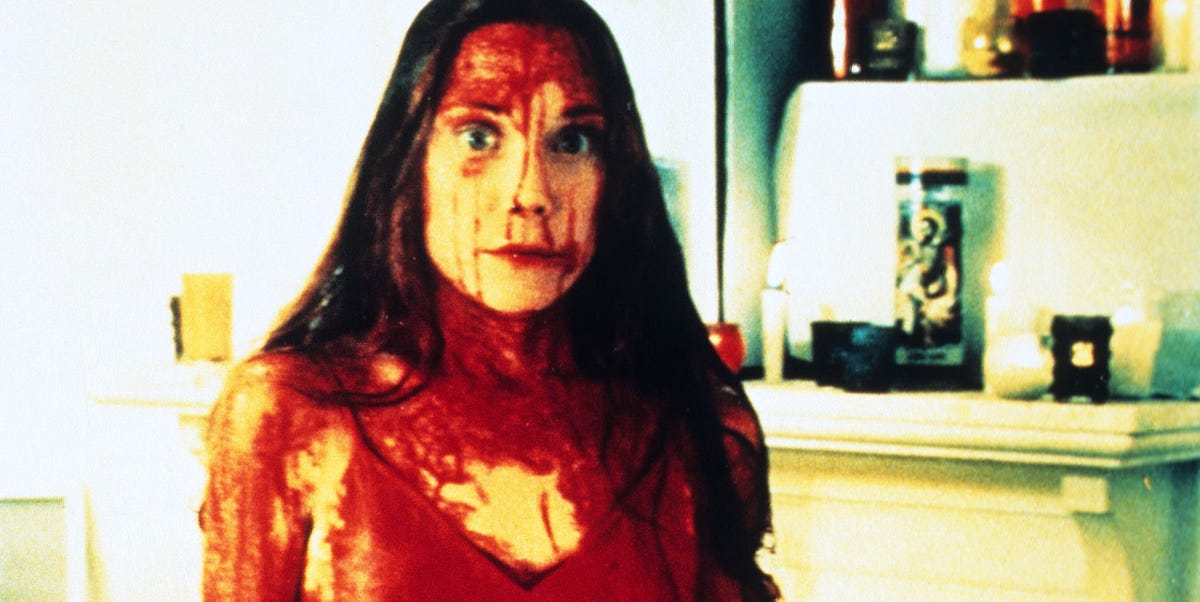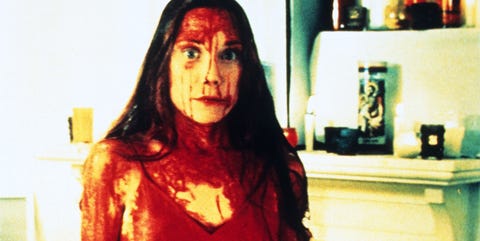 United Artists/Kobal/REX/Shutterstock
Halloween is still a few months away, but this is a good reminder that good horror us hard to come by. It's not easy to find the balance of scary but not traumatizing, and exciting but not too disturbing. However, these 50 movies found the right formula, making them the perfect films to watch as you get ready for the spookiest season of the year. Grab a blanket (to hide underneath) and a friend (to scream alongside), and prepare to get spooked.
1 Psycho (1960)
That shower scene! That twist ending! One of Alfred Hitchcock's most well-known films was nominated for four Oscars, but somehow those didn't include a Best Actor nod for Anthony Perkins. How?
2 Train to Busan (2016)
Snakes on a Plane was nothing compared to zombies on a train. This South Korean gem about a father trying to get his daughter to safety in the middle of a zombie apocalypse will make your pulse race, and might even make you shed a tear. Few horror movies can accomplish that.
3 It (2017)
Not only is the big screen remake of It far better than the original TV miniseries, it's also one of the best horror movies ever made. Bill Skarsgård's Pennywise made a whole new generation scared of clowns. Plus, the young actors who portray the "Losers Club" give the film some heart, bringing it to another level that most scary movies don't reach.
4 It Follows (2014)
A fatal curse that spreads from person to person through sex doesn't sound like the premise for a horror movie that anyone would want to see. But It Follows set a new bar for indie horror when it was released in 2014.
5 The Skin I Live In (2011)
This one may not be conventional horror, but Pedro Almodóvar is not a conventional director. Antonio Banderas stars in this Spanish psychological thriller, which is best experienced with as little advance information as possible—even the trailer might give away too much. But the payoff is worth going in unawares.
6 The Orphanage (2007)
Ghost children are pretty much always guaranteed to make you cower, as mother Laura discovers when she moves her family back to her childhood home, where her son Simon gets a bad case of the Imaginary Friends. Guillermo Del Toro knows good horror, which is why he produced this 2007 Spanish film from director J.A. Bayona.
7 Night of the Demons (1988)
We needed a little B-movie fun on this list, and that honor goes to Kevin S. Tenney's cult classic starring Mimi Kinkade and horror icon Linnea Quigley. A group of teens attend a Halloween party at a demon-filled house and what follows is a lot of gory over-the-top death.
8 Carrie (1976)
Sometimes it's not the monsters or the masked men you should fear. Bullying is wrong on every level, but bullying the weird girl in school with uncontrollable telekinetic abilities is just a bad idea for you. The performances of Sissy Spacek and Piper Laurie earned them Oscar nominations and a spot on this list. Carrie's iconic prom scene is also one of the most memorable in movie history.
9 The Birds (1963)
Years before Jaws ruined sharks for everyone, Alfred Hitchcock made ornithophobia (fear of birds) very real for a lot of people. Thanks to this movie, there's still reason for suspicion whenever you see a few too many pigeons hanging out on a wire or seagulls who get a little too close to you at the beach.
10 Get Out (2016)
Jordan Peele made the transition from sketch comedian to Oscar-winning horror helmer thanks to this 2016 future classic. Stirring a cup of tea or eating a bowl of cereal has never been so nerve-racking—but Get Out taps into the existing, genuine evils of racism.
11 The Descent (2006)
If you're claustrophobic, maybe stay away from this one. This British import is about a group of women who get lost on a cave exploration and meet the monsters who call the place home. It's a creature feature and a psychological thriller that works on both levels.
12 Jaws (1975)
When you make a movie so terrifying that it actually makes people do things differently IRL, you did something right. Steven Spielberg's shark tale actually had people steering clear of beaches in 1975—and thanks to its suspenseful scares, plenty of folks are still afraid to get in the water to this day.
13 Suspiria (1977)
This movie about an American dance student who discovers a supernatural conspiracy at her new school in Germany hits all the wrong notes in the right way: creepy story, chilling soundtrack, disturbing visuals. It's scary. It's artsy. It's Dario Argento.
14 The Witch (2015)
Robert Eggers delivered a horror masterpiece with The Witch. The 1630s period piece is a slow burn, but that creeping sense of dread is part of what makes it so perfect. When things finally take a turn, your jaw will be on the floor. You'll probably also need a few minutes to process everything as the credits roll.
15 Night of the Living Dead (1968)
"They're coming to get you, Barbara!" Once you've seen Night of the Living Dead, that single line of dialogue is enough to send shivers down your spine. George Romero's seminal work paved the way for all zombie-related horror. The political statement that culminates in the film's final moments is also (unfortunately) still relevant in today's world.
16 The Cabin in the Woods (2012)
Just as Scream flipped the slasher sub-genre on its head, The Cabin in the Woods turned the haunted house inside out. This one's as funny as it is scary, which might ease the tension a bit for those who aren't huge horror fans. If we haven't sold you yet, how about a little Chris Hemsworth? Plus a celebrity cameo at the end that's not to be missed.
17 Halloween (1978)
There's a reason Jamie Lee Curtis is heading back to Haddonfield in 2018, 40 years after starring in the original Halloween. That reason is Michael Myers; decades on, John Carpenter's silent, blank-faced killer still manages to make people cover their faces in fear. Even that theme music can haunt your dreams.
18 A Nightmare on Elm Street (1984)
There's nobody like Freddy Krueger. There are plenty of other equally iconic horror killers (Leatherface, Jason, Michael Myers) but none of them have that Freddy pizzazz. (It's probably because they don't talk.)
19 The Exorcist (1973)
Horror is often ignored come Oscar season. That was not the case for this possession story, though; it was nominated for 10 awards, including acting nominations for Ellen Burstyn, Jason Miller, and Linda Blair. It's so freaky it'll make your head spin. (Get it?)
20 Hereditary (2018)
Last year was a good year for horror—if you need proof, look no further than Hereditary. Toni Collette carved out her place in scream queen history with her role as the matriarch of a family in mourning. So many crazy twists…and by crazy, we mean certifiably insane. We'll leave it at that.
21 Rosemary's Baby (1968)
Who can you trust if you can't trust the person you share a bed with? Roman Polanski's adaptation of Ira Levin's novel will make you nervous from start to finish. Pregnancy can be a joyful, hopeful time, but in this case it's full of fear and paranoia.
22 Poltergeist (1982)
Tobe Hooper's haunted house feature managed to scare the pants off people with just a PG rating. Never has the drop of a name instilled so much fear as Zelda Rubinstein's Tangina crying out "Carol Anne" while trying to coax Heather O'Rourke's character back to the land of the living. Also, clowns.
23 Scream (1996)
Meta before meta was a thing, Wes Craven's self-referential slasher film from 1996 ushered in the late-'90s horror craze, and for that we're forever grateful. We're also grateful that Ghostface is one of the easiest Halloween costumes to pull off for lazy people.
24 The Shining (1980)
Stanley Kubrick, Stephen King, and Jack Nicholson proved to be a horror dream team in this 1980 fright fest. There are too many horrifying scenes in this nearly 2.5-hour film to start listing them here. With that said, it's probably a safe bet to just never stay in any hotel room numbered 237.
25 Saw (2004)
As the movie that kicked off an eight-part franchise, Saw introduced the horror world to Jigsaw, a man who likes to violently torture sinners in an attempt to help them. While the films get more elaborate—and more gory—as the years go on, the first is a classic and comes complete with, probably, the best twist ending of the entire series.
26 Let the Right One In (2008)
Though you'll probably have to watch this Swedish horror film with English subtitles, the story of a bullied 12-year-old boy falling in love with a vampire girl is more than worth a viewing, proving to be sweet and scary all at the same time. They even made an American version in 2010, if you just can't get enough.
27 The Blair Witch Project (1999)
The Blair Witch Project is remembered for so many things: its shaky, nausea-inducing camera work; its use of improvisation and "found footage" story technique; its marketing campaign that listed the actors as "missing"; and the fact that it made hundreds of millions of dollars on a shoestring budget. While Blair Witch continues to be a polarizing film, it pushed the boundaries of what a horror film could be.
28 The Conjuring (2013)
The Conjuring follows paranormal investigators Ed and Lorraine Warren, who are based on a real-life couple, as they go to help the Perron family with the paranormal events happening within their new home. The 2013 film became the crux of the entire Conjuring universe, which includes The Conjuring 2 and The Conjuring 3, as well as spin-offs, including Annabelle and The Nun.
29 A Quiet Place (2018)
John Krasinski co-wrote and directed A Quiet Place, the horror film that he stars in alongside his mega-talented wife Emily Blunt. As a family living in a post-apocalyptic world, they have to refrain from making loud sounds at the risk of being hunted by blind creatures. Sound itself is the most terrifying character in the film, so I'd advise not eating popcorn while you watch, but (spoiler!) witnessing Blunt giving birth while trying to stay silent is worth any inconvenience.
30 The Silence of the Lambs (1991)
A critically acclaimed horror/thriller about a cannibal who helps an FBI trainee find a serial killer, The Silence of the Lambs swept the 64th Oscars, raking in awards for directing, best picture, best actor, and best actress. And if you've ever watched Anthony Hopkins's Hannibal Lecter sit across from Jodie Foster's Clarice Starling, you know why.
31 Candyman (1992)
Based on the short story "The Forbidden" by Clive Barker, 1992's Candyman takes place in Chicago's public housing development Cabrini-Green. When graduate student Helen Lyle begins researching the urban legend of Candyman, she discovers a slew of deaths have been attributed to the character. There are plenty of scares in this '90s classic, as well as an astute dissemination of race and class relations in the U.S. Follow it up with Nia DaCosta's 2021 reimagining of Candyman.
32 The Invisible Man (2020)
Elisabeth Moss stars as a woman on the run from an abusive partner, but her ex manages to torment her long after she's left the relationship. Visually creepy and emotionally scarring, 2020's The Invisible Man is a stark reminder that abuse often haunts us long after it's happened. And just wait for the ending.
33 Us (2019)
Jordan Peele's follow-up to Get Out stars Lupita Nyong'o as Addy, who as a young girl saw a doppelgänger of herself while inside a house of mirrors. Years later, she returns to Santa Cruz Boardwalk, and is forced to relive past events. This bloody movie is filled with some shocking twists and turns, and doesn't shy away from pertinent social commentary about "The Other" and privilege.
34 Midsommar (2019)
Following 2018's Hereditary, Ari Aster's Midsommar might be the sunniest horror film you'll ever see. After a tragic event at home, Dani (Florence Pugh) travels to a midsummer festival in Sweden with her boyfriend and his friends. But don't be fooled by the floral landscape. Psychedelics and maypole dancing somehow lead to brutal cult-like murders. Pugh's never been better.
35 Child's Play (1988)
Before the TV show, the reboot, and the many, many sequels, Chucky was simply a doll in 1988's Child's Play. Andy is delighted when he receives a Good Guy doll, but before long, the people around him start dying. From its stellar animatronics to its lovable main character, the original Child's Play is a must-see, if only for the moment when Chucky reveals his true self.
36 The Boy (2016)
Owing a huge debt to Child's Play, 2016's The Boy is a new take on the spooky doll genre. Greta (The Walking Dead's Lauren Cohan) moves to the United Kingdom for a job as a nanny. However, the child she's meant to care for is actually a life-size porcelain doll called Brahms. The movie's iconic twist sets it up for a franchise, but swerve the sequel, which pretty much ruins any charm created by the first (sorry, Katie Holmes).
37 The Forever Purge (2021)
As horror franchises go, The Purge has everything. With each iteration, its universe only gets more intriguing, giving us a glimpse at a possible dark future, in which church, state, and guns rule. 2021's The Forever Purge is a searing critique of border walls and immigration restrictions. Plus, it stars Josh Lucas as a hot cowboy. What more could you want?
38 The Strangers (2008)
Inspired by true events (no seriously), 2008's The Strangers is a psychological horror movie that'll have you checking your front door is locked at all times. Liv Tyler and Scott Speedman star as a couple whose home is broken into by some unwanted visitors. A 2018 sequel starring Christina Hendricks and Martin Henderson is also worth a watch.
39 The Texas Chain Saw Massacre (1974)
There's nothing quite like the original The Texas Chain Saw Massacre. The ultimate '70s horror flick is filled with visceral gore and WTF moments, and a truly terrifying villain. 2003's remake starring Jessica Biel is worth revisiting too, if you can handle more Leatherface, that is.
40 One Hour Photo (2002)
Though he was known for his unmatchable comic timing, Robin Williams' turn as a creepy photo technician in One Hour Photo shows he really could do anything. Sy is a loner working in a big box store, who develops an obsession with a client after developing their photos. A surprising thriller, with an enigmatic central performance that was truly underrated at the time.
41 Insidious (2010)
Patrick Wilson has become somewhat of a "Scream King" in recent years, and I'm not mad about it. In 2010's Insidious, Wilson and Rose Byrne play a couple whose house becomes haunted by some pretty horrific spirits. Visually terrifying, and with an unguessable story, Insidious rightfully became a franchise in its own right after the first installment. Wilson is set to make his directorial debut with Insidious 5.
42 Ringu (1998)
Although 2002's U.S. remake starring Naomi Watts is a worthy contender, there's nothing quite like the original Ringu. The classic Japanese movie tells the story of Sadako, whose video tape causes people to die in seven days time. Even if you know the story, the first movie is a masterclass in slow-building horror, and has remained scary for over 20 years.
43 Creep (2015)
You likely know Mark Duplass from his starring role in The Morning Show, but the prolific filmmaker gives a surprisingly scary turn in 2015's Creep. Josef (Duplass) hires a videographer to spend time with him, and the day just gets weirder as it goes on. From his unforgettable mask to the movie's found footage aesthetic, Creep is one of the most original horror movies to appear in recent years. Follow it up with Creep 2.
44 Host (2020)
The year 2020 was a horror show for most of us, and the British movie Host knows that too well. Set entirely on Zoom, a group of friends take part in a séance, and supernatural forces quickly take hold. Created on a tiny budget of just $35,000, Host reminds us that the scariest moments don't need dramatic sound effects and CGI ghouls, just a screen.
45 Personal Shopper (2016)
Eminently watchable Kristen Stewart stars in this supernatural thriller set in Paris. Stewart plays Maureen, a personal shopper grieving her twin brother, who in trying to communicate with him summons a supernatural presence. The horror builds within Personal Shopper's subtly and ambiguity, and Stewart's performance is basically flawless.
46 Zodiac (2007)
David Fincher's Zodiac is so chilling because it's based on a true story. Featuring an all-star cast, including Jake Gyllenhaal and Mark Ruffalo, the movie follows the real-life hunt for the Zodiac killer, who tormented the San Francisco Bay Area throughout the late '60s and '70s. The unknown murderer began sending letters featuring ciphers to newspapers, and bloody garments to police. Fincher's adaptation is bound to creep you out.
47 The Wicker Man (1973)
The original folk horror movie follows Police Sergeant Neil Howie as he hunts for a missing girl on the isolated Scottish island of Summerisle. The islanders have embraced paganism, and the isle has become a hotbed of debauchery as a result. The ending is a spectacle, and the much-memed 2006 Nicolas Cage version is a fun companion piece, if only for the bees.
48 Till Death (2021)
Megan Fox's performance in 2009's Jennifer's Body is nothing short of iconic, and Till Death proves that Hollywood needs to reinstate her as a Scream Queen immediately. In the taut thriller, Fox plays Emma, an unhappily married woman who wakes up next to her dead husband. It's soon revealed that her husband's illegal activities have gotten them both into trouble. Cue some heart-stopping action and Fox kicking ass while dragging around a corpse.
49 Don't Breathe (2016)
While its sequel left most of us confused, 2016's Don't Breathe is a surprisingly tense horror movie set almost entirely in one location. When three teens break into the house of a blind Gulf War veteran to steal money, the night doesn't go as planned. After facing a stealthy opponent, Rocky (Jane Levy) makes a discovery in the basement that is every woman's worst nightmare. Body horror at its finest.
50 Halloween Kills (2021)
David Gordon Green's Halloween trilogy is set to come to an end in 2022, but its second installment is a riotous horror sequel that never lets up. While 2018's Halloween was a slower burn, 2021's Halloween Kills is a bloodbath, featuring angry mobs, stupid decisions, and an unstoppable Michael Myers. With nods to previous films in the long-running franchise, Halloween Kills has something for every horror fan.
Adam Schubak Adam is a writer based out of New York City who loves video games, horror movies, and cats (the musical and the animal.) Madison Feller Madison is a staff writer at ELLE.com, covering news, politics, and culture. Amy Mackelden Amy Mackelden is a freelance writer, editor, and disability activist.
This content is created and maintained by a third party, and imported onto this page to help users provide their email addresses. You may be able to find more information about this and similar content at piano.io