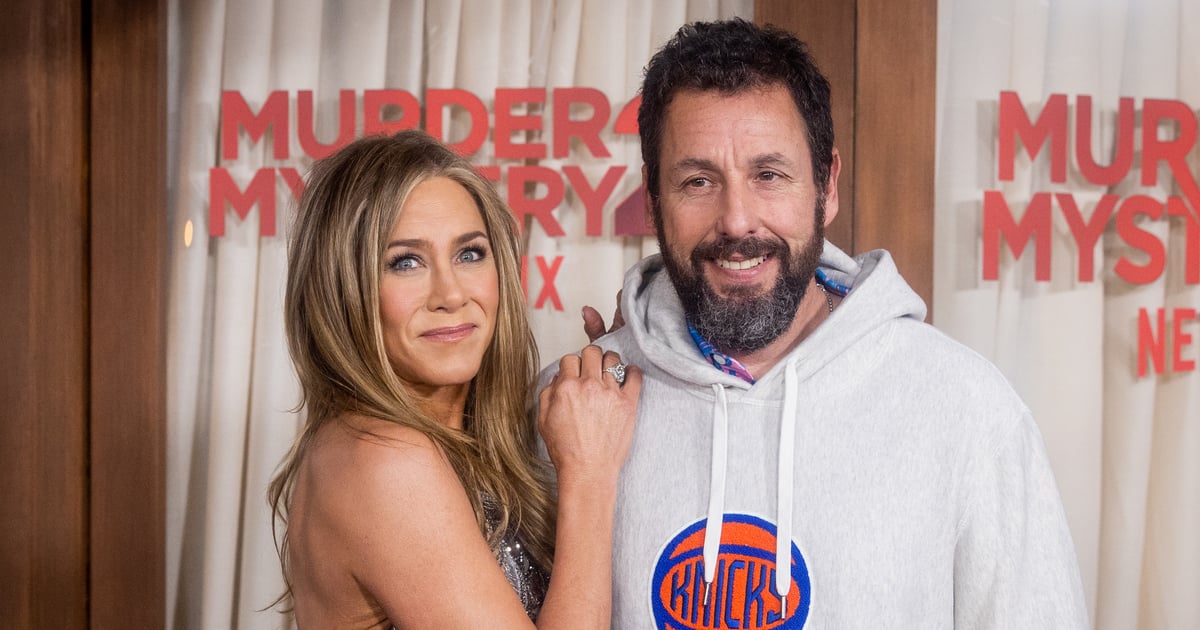 Adam Sandler will forever be our laid-back style inspiration. Known for wearing oversize hoodies, bright Hawaiian shirts, baggy shorts, and sporty sneakers, the actor prioritizes comfort to an admirable extent, even on the red carpet. From his early acting days to more recent press tours, the father of two isn't afraid to keep it casual at movie premieres and award shows, providing a comical juxtaposition to the glitzy dresses and sleek suits worn by fellow stars and his go-to date, wife Jackie.
Sandler's low-key fashion sense was last on full display at the "Murder Mystery 2" premiere in Los Angeles, where he showed up in a New York Knicks jersey layered over a pink-and-blue Hawaiian shirt. When longtime friend and costar Jennifer Aniston, clad in a decidedly more swanky naked dress covered in chains, spotted his outfit, she jokingly exclaimed during an ET interview, "What the hell are you doing! I'm not standing next to him." Sandler responded, "You texted me, 'Please wear your sweatshirt,'" to which Aniston clarified, "I said, 'Please don't wear your sweatshirt.'" Despite the apparent mixup, the pair did indeed pose together in their contrasting ensembles.
To be fair, Sandler has slipped into a suit various times throughout his decades-long career — the 2023 SAG Awards and the night he received the Mark Twain Prize for American Humor are a few examples from this year — but his more informal looks encapsulate the no-f*cks-given attitude we aspire to adopt. To celebrate Sandler's one-of-a-kind style, we're taking a chronological look back at his red carpet fashion evolution through the years. Pop on a Yankees hat and enjoy the trip down memory lane ahead.