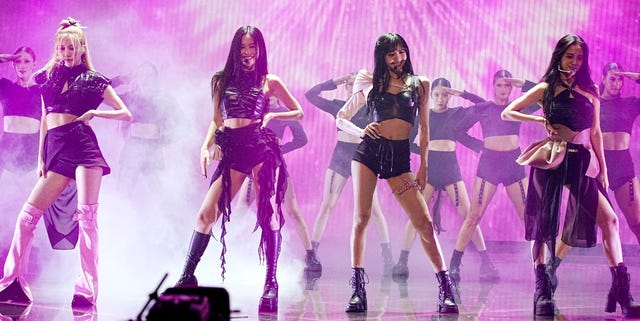 The global sensation Blackpink is ushering in the Blink 2.0 era with a new album, a massive world tour, and, now, their first-ever U.S. awards-show pit stop, which took place at August 28's MTV Video Music Awards. At the Prudential Center in Newark, New Jersey, the K-pop girl group performed their new single, "Pink Venom," for the first time live in America.
The Blackpink girls—Lisa, Rosé, Jennie, and Jisoo—won for the brand-new "Best Metaverse Performance" category, for which they went up against fellow K-pop group BTS, as well as Charli XCX, Justin Bieber, Rift Tour ft. Ariana Grande, and Twenty One Pilots. They were the obvious favorite to snag the Moon Person for a second year in a row, after clenching the "Song of the Summer" title at last year's ceremony.
When "Pink Venom" was released earlier this month, the girls explained how its paradoxical lyrics point to their own contradictions and aspirations. "Since our album's title is Born Pink, we wanted to relay our identity in the song as much as we could," Jennie explained during an online press conference. "Since 'pink' and 'venom' have contradicting images, we thought they were kind of reminiscent of us…It's pink venom, a lovely poison, it's words that most express us."
An August performance heralds a busy season for the band, as they launch the album Born Pink in September and embark on a continent-spanning world tour in October, one planned to stretch well into June 2023. For now, fans can enjoy the full-length video of their VMAs performance—complete with their now-iconic "Pink Venom" choreography.
This content is imported from twitter. You may be able to find the same content in another format, or you may be able to find more information, at their web site.
Lauren Puckett-Pope is an associate editor at ELLE, where she covers news and culture.