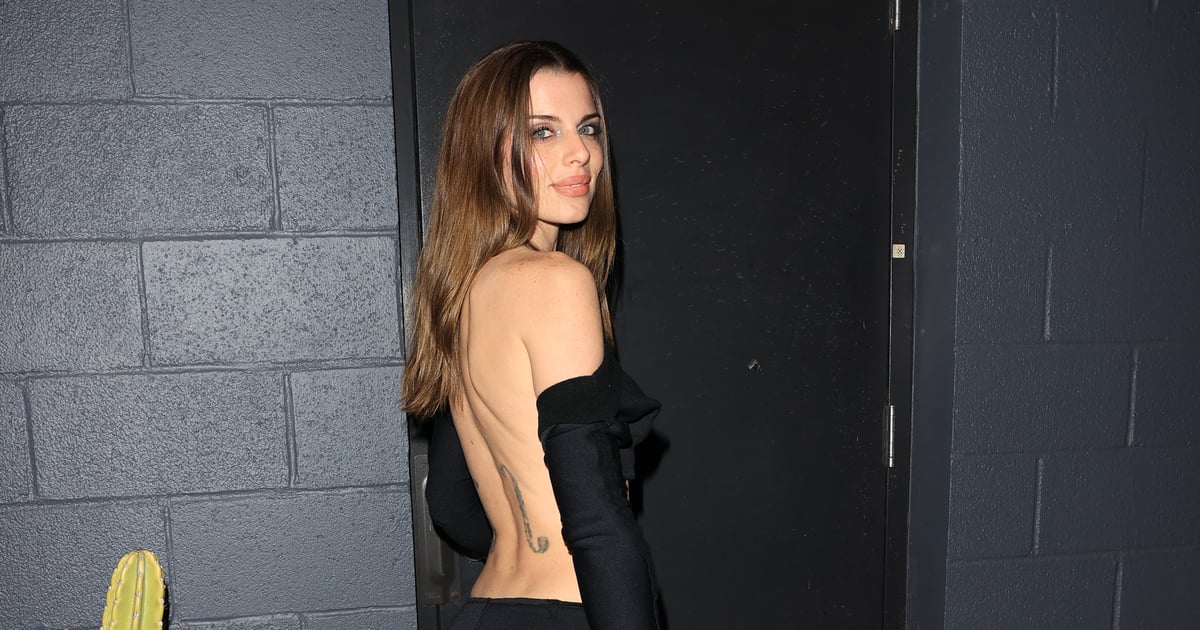 Julia Fox is living in the Matrix, and we're all just here to witness it. Fox stepped out in Los Angeles on March 9 in a backless bandeau top that begged an important question: how is she keeping the top from falling?
Defying the laws of physics, Fox's blouse stayed upright without the help of any straps, snaps, or zippers. The unique top, which perfectly complemented her low-rise black leggings, extended into a pair of catsuit-like evening gloves, creating a precarious force of tension that kept the off-the-shoulder top in place as she made her way through LA. The top's placement seemed to be entirely dependent on Fox keeping her arms at her sides all evening, which likely meant no enthusiastic waving or elaborate dance moves for her.
The outfit — which Fox paired with chunky Prada boots and an oversized handbag — also highlighted the model's tattoos, including the cello tattoo on the small of her back and the "Sancti Spiritus" tattoos in red on either side of her shoulders.
Fox, who broke up with Kanye West in mid-February after two months of dating, has stepped out over the past several months in latex bodysuits, leather separates, and even a polarizing pair of low-rise pants. But her gravity-defying blouse is definitely going on our running list of outfits that keep fans on their toes.
Ahead, take a closer look at Fox's top from all angles and check out more 2022 fashion trends to keep on your radar.