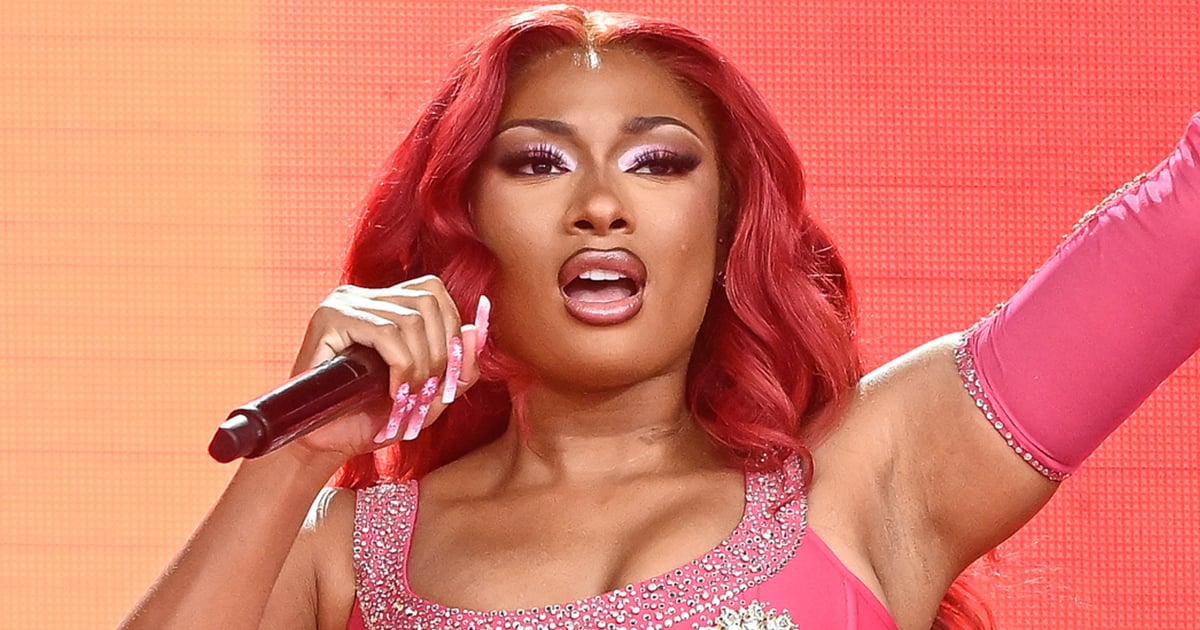 While Margot Robbie's Barbie was rolling through Venice Beach in neon roller skates, Megan Thee Stallion was having her own Barbie moment on stage at the 2023 Outside Lands Festival in San Francisco. On Aug. 13, the rapper took the stage in a hot-pink corset bodysuit and matching leggings embellished with hundreds of miniature rhinestones.
Every piece in Barbie's wardrobe makes a statement, and Stallion's glittering ensemble was no exception. Drawing attention to her bodice, the boned corset featured a bedazzled neckline and rhinestone nipple designs on either side of the chest. The chest embellishments were arranged in the shape of flowers, a pattern that continued down one leg of her lacy magenta leggings. The second leg broke up the swirling rhinestone pattern with a bejeweled garter design that wrapped around Stallion's upper thigh.
She continued the asymmetrical theme with a single fingerless glove that mirrored the lacy motif along her leg. From behind, the suit featured a full-body zipper down the center to help the singer slip into and out of the piece when necessary. She completed the outfit — which beautifully complemented her red hair — with diamond earrings and a pair of pink lace-up boots adorned with metallic studs. Her beauty team tied the outfit together with bubblegum-pink eyeshadow and a lengthy floral manicure in Barbie's favorite color.
In April, Stallion showcased her love for sparkle in a rhinestone naked dress by Rey Ortiz at film director Nneka Onuorah's birthday party.
Ahead, admire Stallion's lavish bodysuit from all angles.