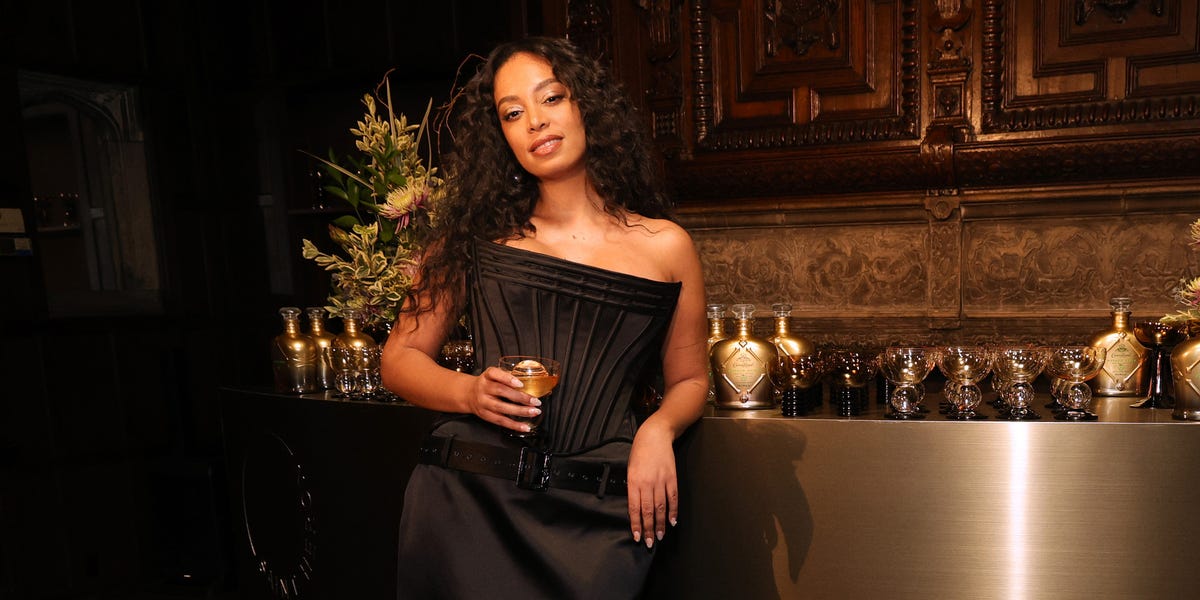 Solange Knowles is the definition of a renaissance woman, no pun intended. She's a Grammy-winning musician, performance artist, director…the list goes on. In the past year alone, she's composed an original score for the New York City Ballet—becoming the first Black woman to do so—and curated a series at the Brooklyn Academy of Music. The fact that she's expanded her resume yet again shouldn't be a surprise, even if her latest venture is a little unexpected.
"Small Matter Art Objects: Handblown Glassware 001" is a collection of sculptural glasses Solange designed through her creative collective, Saint Heron, and in collaboration with Philadelphia-based glassblower Jason McDonald. The pieces come in a range of earthy tones, with coordinating round silhouettes. One is an amber-brown piece adorned with playful dots; another is a symmetrical chalice with a bulbous stem; and another is stout glass with an orange ombré bowl. They're architectural, modern, sleek, and in tune with Solange's innovative aesthetic. They'll be available for purchase on saintheron.com on Tuesday, June 20. McDonald made 198 pieces by hand, but another drop will follow.
"Two years ago, like many Black women I know during the pandemic, I was sitting in the thick of a lot of unhealed trauma," Solange told guests at a launch event in New York City last night. When a therapeutic retreat in Florida didn't help—"It wasn't really a safe space for me"—she passed by a glassblowing studio and got hooked. For a woman who's in constant transformation, the medium makes sense: glassblowing transforms sand into art. And the fluid, active process appealed to the performer in her.
"I took some glassblowing classes a couple of years ago, and I became really connected to the materiality," Solange exclusively tells ELLE.com. "I think coming from a dance background, there is a song and dance; you're constantly having to move and you're having to follow the glass. You're having to intuitively make movement and sort of surrender to this material so that you can get to the finish line. Otherwise, it sort of freezes a moment in time. So I felt like it was a really good practice and surrender for me. And from there I began to think of ways to create objects out of the material, and I started to just gather ideas and sketches and build the design for the collection."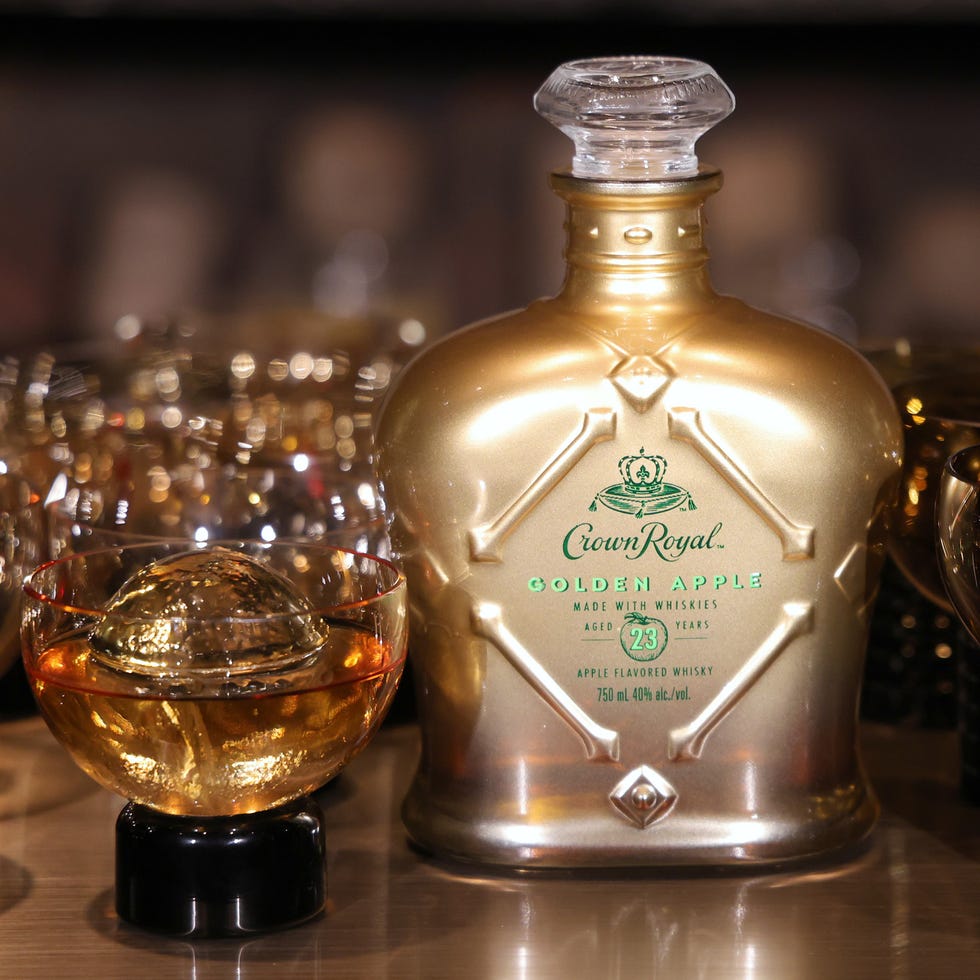 Kevin Mazur//Getty Images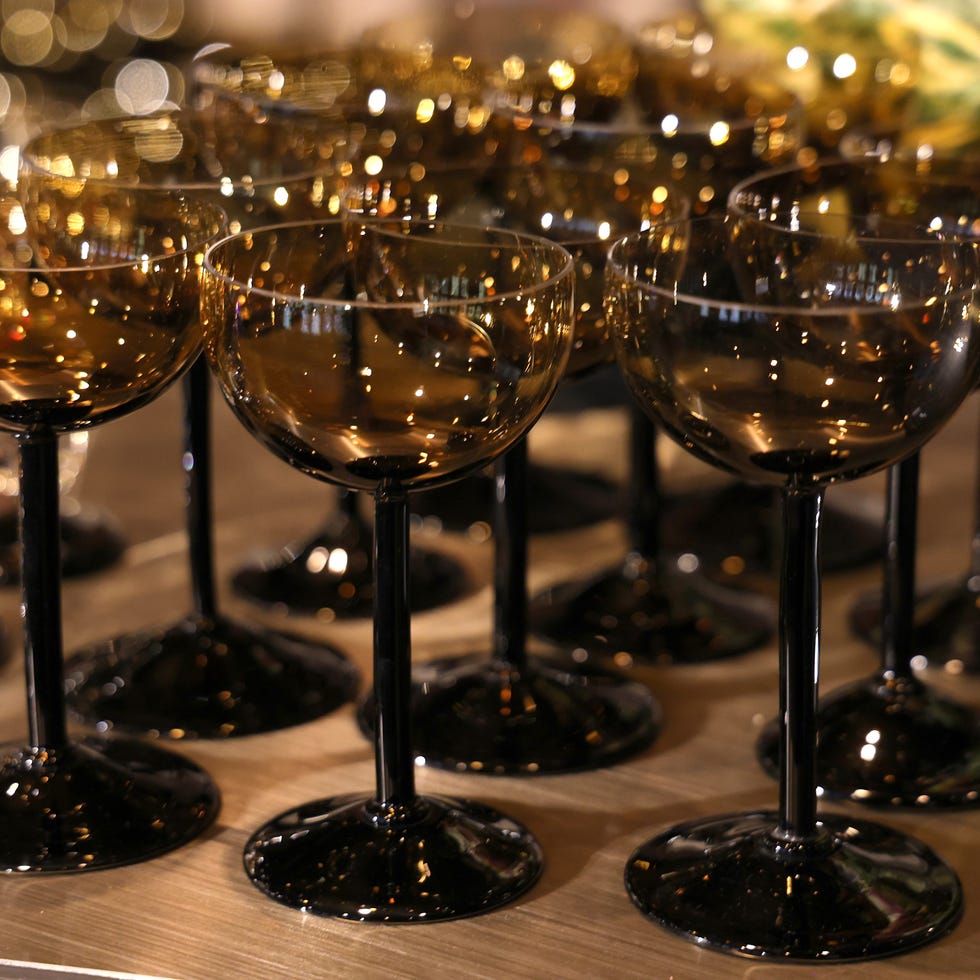 Kevin Mazur//Getty Images
Solange debuted the five-piece range in partnership with Crown Royal, which just launched its new Golden Apple whisky aged for 23 years—so guests had something to drink from her glasses. Her mother, Tina Knowles-Lawson, Christopher John Rogers, and Luar designer Raul Lopez were spotted amongst the crowd. Solange even created specialty cocktails for the evening, with one consisting of Crown Royal Golden Apple, apple cider, apple bitters, and soda water. ("I'm a spritzer girl" she says.) She's long been a fan of the liquor brand, and its signature velvet bag is tied to memories of home.
"I sort of look to [Crown Royal] for their iconography," she says. "I try to create iconography through my work, especially through the Black context, and when I think about Crown Royal and I think about the Black household, I think about the purple bag, and I think about all the ways that Black people engage with the purple bag to store their pennies, their bobby pins, their safety pins, their objects around the house. And so to be able to collaborate with someone who has a legacy of creating iconography through the Black lens was really important to me."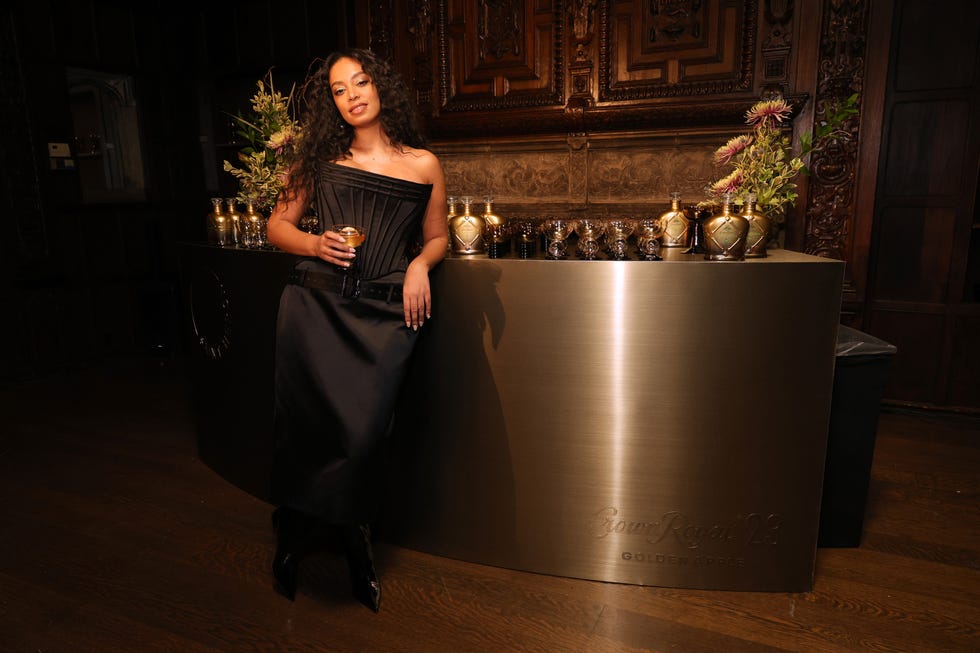 Kevin Mazur//Getty Images
Home is at the heart of this particular project. The launch event was titled "A House is Not a Home," alluding to Luther Vandross' famous rendition of the Dionne Warwick song. At the end of the night, Solange presented a screening of Vandross' performance of the ballad at Wembley Stadium in 1989, projected onto a house-shaped frame. "There's so many conversations—I remember growing up in my mom's hair salon—about if you like big Luther [or] little Luther, and questions about his sexuality. And I love that he had autonomy over his own mystery, with his own story," Solange told her guests, who gathered around the projections, singing along.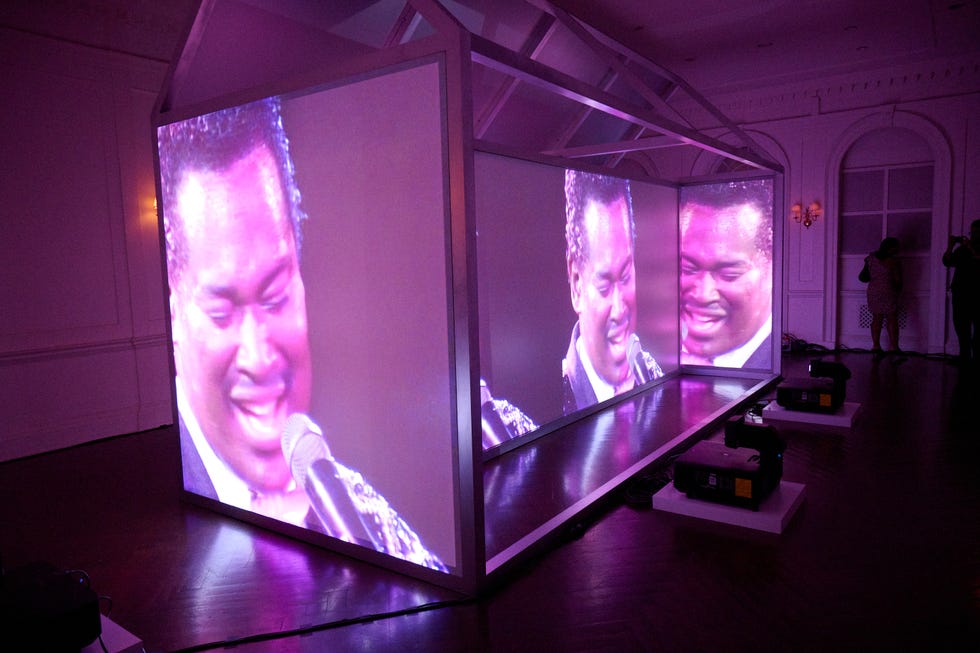 Rafael Rios
"I started to think about the subconsciousness of domesticity and the Black household, and I thought about hearing those lyrics very early on as a young girl, 'a chair is not a chair, a room is not a room…' talking about occupying space," Solange explains to ELLE.com. "And so I sort of watched this performance of Luther performing this religiously, live at Wembley, and it was just such a majestic moving exploration of how we occupy space. And when I think about these objects going into people's households and their homes, I think about the origin of them being made by Jason McDonald in Philadelphia and then traveling from Philadelphia to our studio and to people's homes."
Sure enough, the footage shows Vandross taking up space, and taking his time doing so. In a sequined suit jacket with sweat trickling down his face, he sings at his own pace, savors his pauses, and adds in riffs and vocal flourishes at his pleasure. Solange's work has a similar effect. Whether it's on an album like 2016's A Seat at the Table or her many museum performances, her artistic mission revolves around community, inclusion, and uplifting Black women, artists, and creatives. Her entry to glassware is no exception, especially as the objects are "not only designed through the lens of a Black woman, but created with Black hands through Jason McDonald." She and McDonald also discussed "the glassblowing world and how that has constantly been reserved for a very specific white male," she recalls.
"And so, seeing and taking up space as Black designers; working with Mark Grattan, who was the product developer on this and has been a great mentor to me; to be able to have a team that's occupying space and designers of color in this way, I think, is going to really manifest in younger generations and future generations and how they see themselves taking up space in the world as well."
So how exactly does someone like Solange, who has performed at the Venice Art Biennale, directed her own short film, and is now diving into home goods, choose her creative endeavors? What does she look for? "I think, for me, all of my creative legs are ways that I can't express myself through one channel, whether that be through lyrics or movement or repetition or glass design or compositions. These are all facets of me that I have to materialize, otherwise it's no good up there," she says, pointing to her head and laughing.
"But I really just look to learn and explore and expand," she continues, citing common themes in her oeuvre. "Expansion is a big part of my practice, and all of these things have connectivity. If you look at the glassware design, there's a lot of reflection of a lot of that architecture, a lot of those sacred geometry shapes. And my album artwork, or in my film When I Get Home, I designed a rodeo arena…the circle is always constantly present in a lot of my work. So all of these things have connective tissue and are just furthering ways of expressing sort of my younger, inner-child self."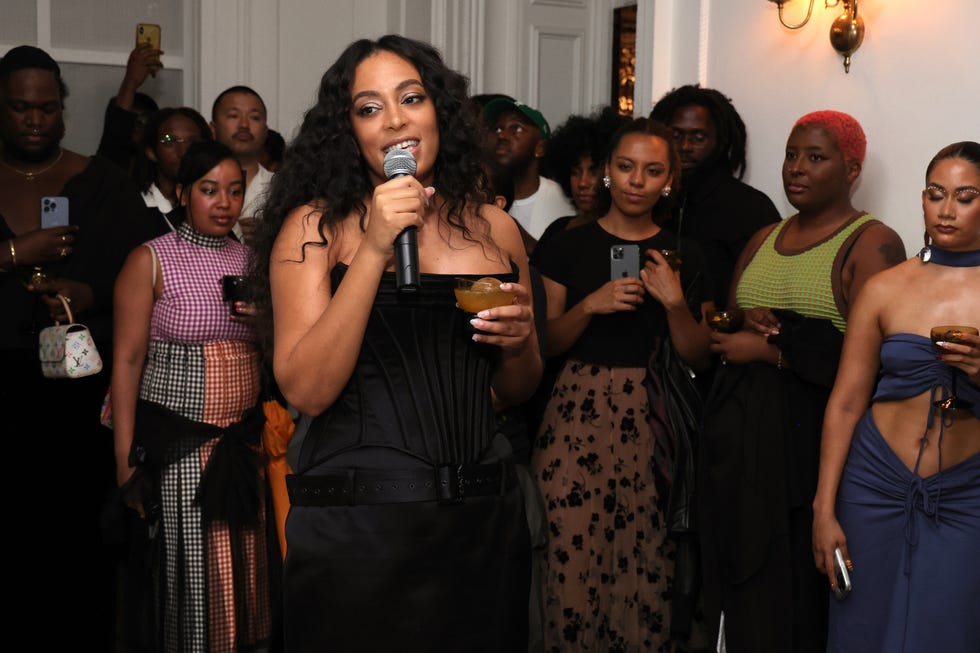 Kevin Mazur//Getty Images
Right now, her inspirations include jewelry designer Elsa Peretti and architect Lella Vignelli. "I'm looking at a lot of women designers who paved the way before me and gave me language and gave me silhouettes and shapes and textures and materials to strive for," she says.
Just when it seems like she's done it all, Solange keeps surprising us. So is there another creative field she plans to dive into next? "Not yet," she says, "but when I think of it, I'm going to do that shit."

Erica Gonzales is the Senior Culture Editor at ELLE.com, where she oversees coverage on TV, movies, music, books, and more. She was previously an editor at HarpersBAZAAR.com. There is a 75 percent chance she's listening to Lorde right now.