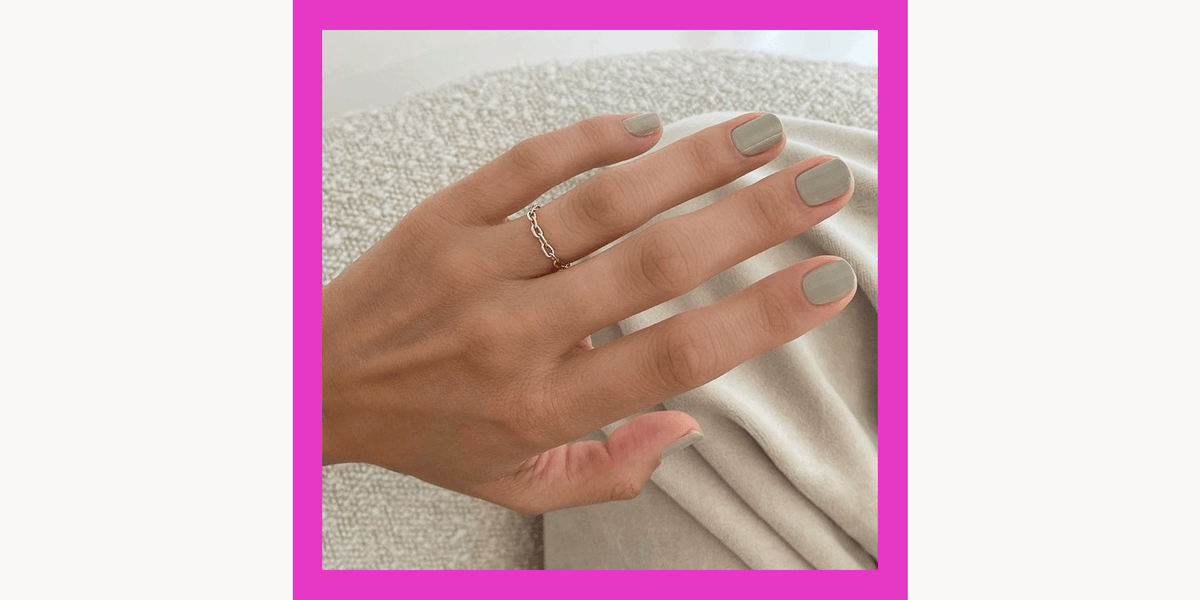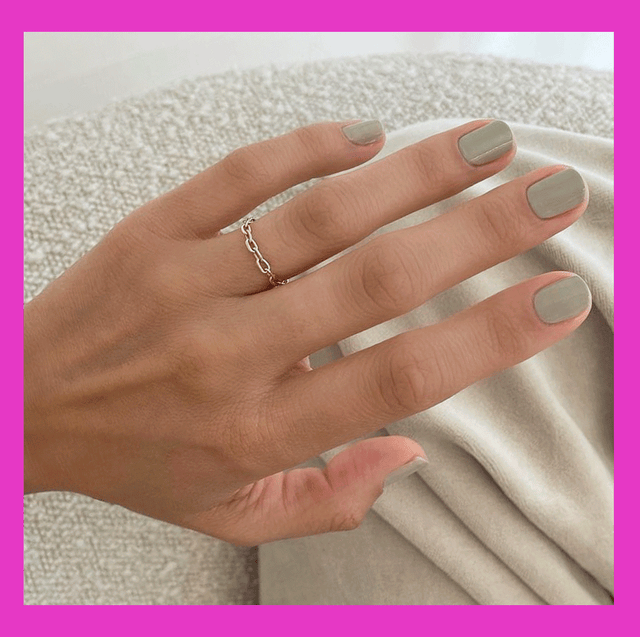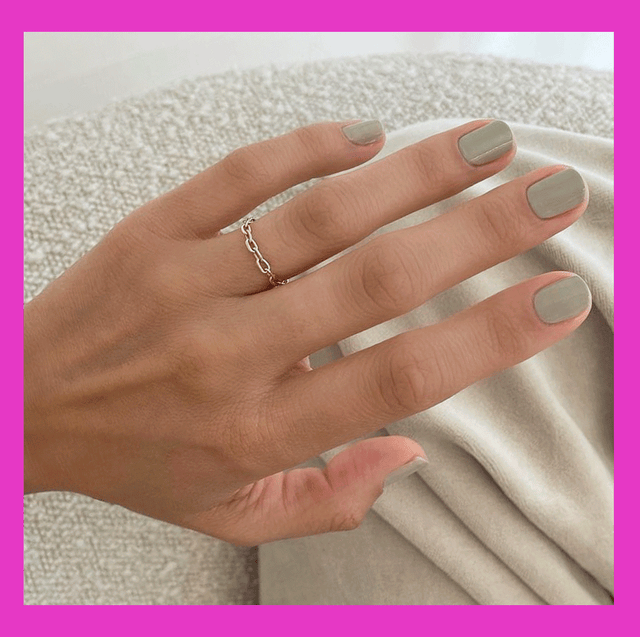 Courtesy
It's time to turn on your radiator, cozy up in a cableknit sweater, and switch up your beauty look for the cold winter months. You've changed your hair and your makeup to keep up with the times, but what should you do with your hands? Warm up those cold digits with the hottest winter nail trends, according to celebrity manicurist (Hello, Blake Lively's pressed flower manicure) Elle, and the nail artist responsible for Emma Chamberlain's chain-linked Met Gala manicure, Mar y Sol. They picked their favorites, and from frosted tips to chromed shades that shine, you're bound to win best nails at all of your holiday parties this year.
Advertisement – Continue Reading Below
1 The New French Tip
In the era of early 2000s revival, it's no surprise that french tip nails are making a comeback. "Getting creative with the tips of your nails is also a great way to spruce up your winter manicure, like a double french or darker color french manicure," says Mar y Sol. You can opt for the classic white and nude combo, or switch it up for a fresh take.
Orly Breathable Treatment + Color Nail Polish, $9; target.com
2 The New French Tip
O.P.I. Nail Lacquer, $10; amazon.com
3 Updated Matte
Move over, gloss, matte nails are back in town. "Matte nails are a great way to add texture to neutrals this winter," says Mar y Sol. Whether you opt for an all-over matte or use it sparingly to add dimension to a look, swapping out high-shine is sure to attract some compliments.
essie Matte About You Top Coat, $10; target.com
4 Updated Matte
Nailboo Nail Dip Powder Kit, $14; nailboo.com
5 Texture Upon Texture
It's time to get creative with texture. One way to do this is to opt for a pattern that mimics what you wear in the winter. "There will be sweater nails everywhere, I feel it!" says Mar y Sol. "Sweater nails are such a fun trend that are easy to create at home or in the salon. and they're perfect for the winter." If you don't have the skills to achieve a cableknit texture at home, adding chains or rhinestones to a classic manicure has the same eye-catching effect.
Sally Hansen Insta Dri Nail Color, $6; ulta.com
Orly Striper Brush, $10; orlybeauty.com
6 Texture Upon Texture
Àuda B Queen B Nail Polish, $18; audabbeauty.com
7 Frosted Nails
A frosty, icy look is the ultimate winter glam. "To get frosted nails take a jelly nail polish or a regular shade and add a clear polish to it to make it jelly, and then top it with a matte topcoat to keep it from becoming glossy," explains Elle. "Jelly shades will have a sheer effect like frost, regardless of whether or not they're a bright shade." The key to creating frosted nails is the sheer effect. Think of each nail bed as an icicle.
Le Chat Perception Jelly Shades, $15; letchat.com
8 Frosted Nails
Chanel Boy de Chanel Nail Polish, $28; chanel.com
9 Encasing, Embellishments & Sugaring
"Encasing stones, piercings, embellishments, and sugaring dresses up the nail and gives it dimensional texture and interest instead of one flat color," she says. "It gives a lot of sparkle and shine, depending on what you're using."
This style is all about self-expression, so there are no bad or wrong choices here.
Olive and June Nail Art Stickers, $6.50; target.com
10 Encasing, Embellishments & Sugaring
Rhinestone and Nail Art Kit, $20; amazon.com
11 Press Ons
Press on nails aren't going anywhere! Achieve salon-level nails that don't require an appointment with the easy-to-apply nail kits. "They are the easiest way to get ready for a holiday party if you don't have time to get to the salon," says Elle.
Chillhouse Chill Tips, $16; chillhouse.com
12 Press Ons
Static Nails Reusable Pop-On Nail Kit, $16; nordstrom.com
13 Chrome Metallics in Winter Tones
Why is everything in chrome you ask? It's been a trend since last year and Elle doesn't see it going anywhere, anytime soon. " I love that you can matte this look or keep it shiny," adds Elle. "Much like the interior design, it complements the fabrics for winter with a lot of light reflections and texture."
Sally Hansen Foil Collection, $10; Walmart.com
14 Chrome Metallics in Winter Tones
Essie Metallics Nail in No Place Like Chrome, $9; ulta.com
15 A Very Specific Gray
Gray has been trending as the Pantone color of the year, but the gray Elle is talking about is very specific. "It's a light color that's so grey it's silver, but has no metallic in it," she says. "It's the cream that makes it really special and gives it a lot of dimension. I'm seeing this shade on the hottest cars right now, like Porsche, and also in kitchen cabinets that are then paired with gold/brass fixtures." According to Elle, only two brands are nailing this perfect shade.
LeChat Nail Polish in Selene, $5.50; letchatnails.com
Essie Neutrals Nail Polish in Press Pause, $9; ulta.com
16 A Very Specific Gray
LeChat Nail Polish in Selene, $5.50; letchatnails.com
Essie Neutrals Nail Polish in Press Pause, $9; ulta.com
Chloe Hall Beauty Director Chloe Hall oversees all beauty coverage at ELLE.com. Tatjana Freund Beauty Commerce Writer Tatjana Freund is a Beauty Commerce Writer, covering makeup, skincare, and haircare products and trends.
This content is created and maintained by a third party, and imported onto this page to help users provide their email addresses. You may be able to find more information about this and similar content at piano.io
Advertisement – Continue Reading Below