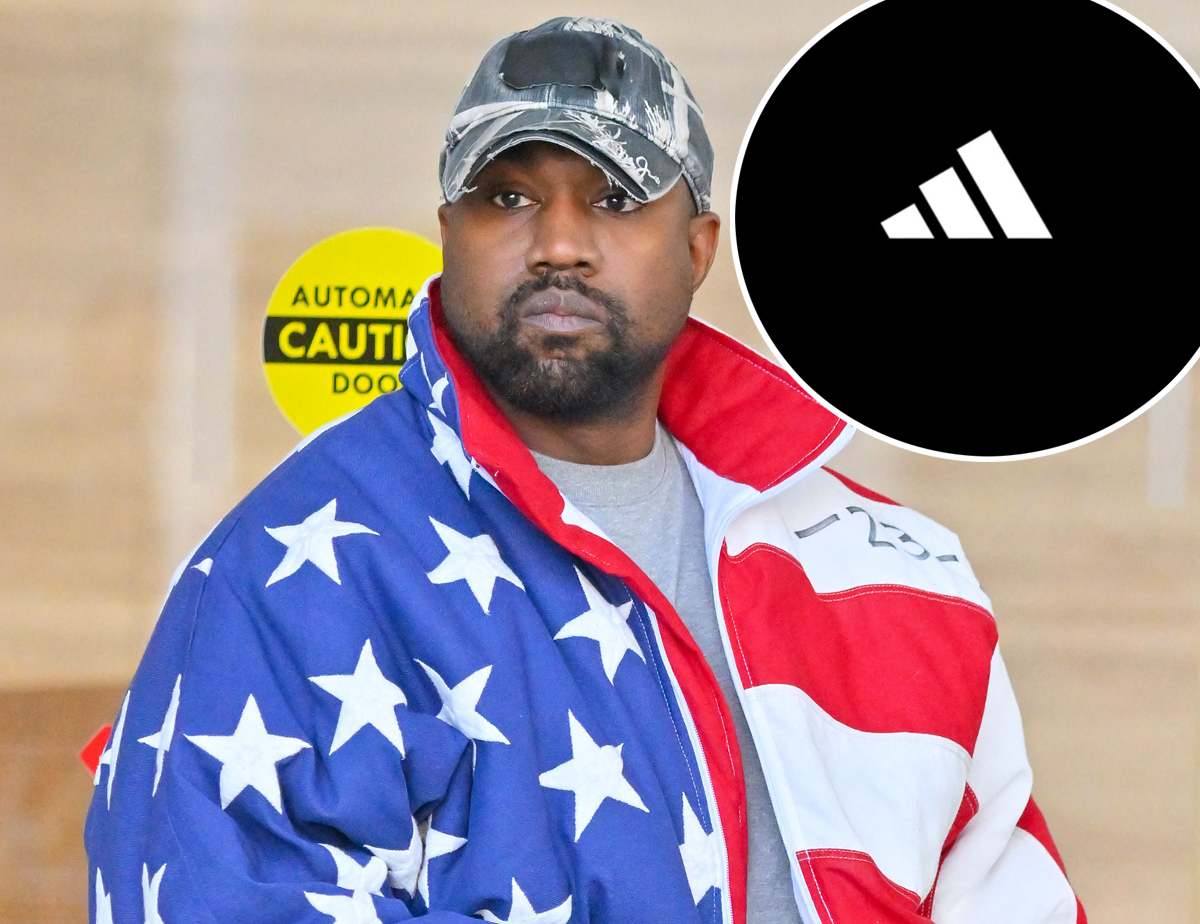 Adidas has a major Yeezy problem right now!
For those who don't recall, the 45-year-old rapper faced a ton of backlash last year for his problematic actions and repeated antisemitic rants – including the infamous and horrific tweet threatening to go "death con 3 on Jewish people." The controversy escalated when he praised Adolf Hilter and the Nazis during an interview with controversial conspiracy theorist Alex Jones and posted a picture of a swastika on Twitter. So, so disgusting. Amid his offensive behavior, several brands decided to cut ties with Kanye, including Adidas, which resulted in him losing his billionaire status. The brand said in a statement at the time:
"Adidas does not tolerate antisemitism and any other sort of hate speech. Ye's recent comments and actions have been unacceptable, hateful and dangerous, and they violate the company's values of diversity and inclusion, mutual respect and fairness. After a thorough review, the company has taken the decision to terminate the partnership with Ye immediately, end production of Yeezy branded products and stop all payments to Ye and his companies. adidas will stop the adidas Yeezy business with immediate effect."
Related: Ye Sued Over Donda Academy — Alleged Racial Discrimination, Bizarre Practices, & Safety Concerns!
And now? Nearly seven months after parting ways with Kanye, the company is apparently still stuck with more than $1 BILLION (!!!) worth of unsold Yeezy shoes – and has no idea what to do with the product at this time. Adidas has been mulling over several ideas while boxes of the apparel remain stacked up in warehouses. According to The Sun, chief executive Bjorn Gulden shared on Thursday that one option on the table is destroying the shoes entirely. However, he noted that the company was "trying to avoid that" route.
Alternative courses of action the business has thought of was donating the items to charities – but they determined that could lead to resale due to their high market value. Obviously, Adidas has brought up the possibility of just selling the footwear. However, that would force them to pay royalties to the record producer – an idea they're not too thrilled about doing.
While Adidas hasn't made a final decision on the matter yet, Gulden insisted they were "getting closer and closer to a decision." But if the fashion brand doesn't figure out a plan, per KNTV, they potentially face a 700 million euro (or roughly $784 million) annual loss if it cannot sell them soon! Oof…
We'll have to see what Adidas ends up doing with the shoes. But for now, it sounds like it'll be collecting dust in a warehouse until a decision is made. What do YOU think the company should do with the Yeezys, Perezcious readers? Sound OFF in the comments below!
[Image via MEGA/WENN, Adidas/YouTube]