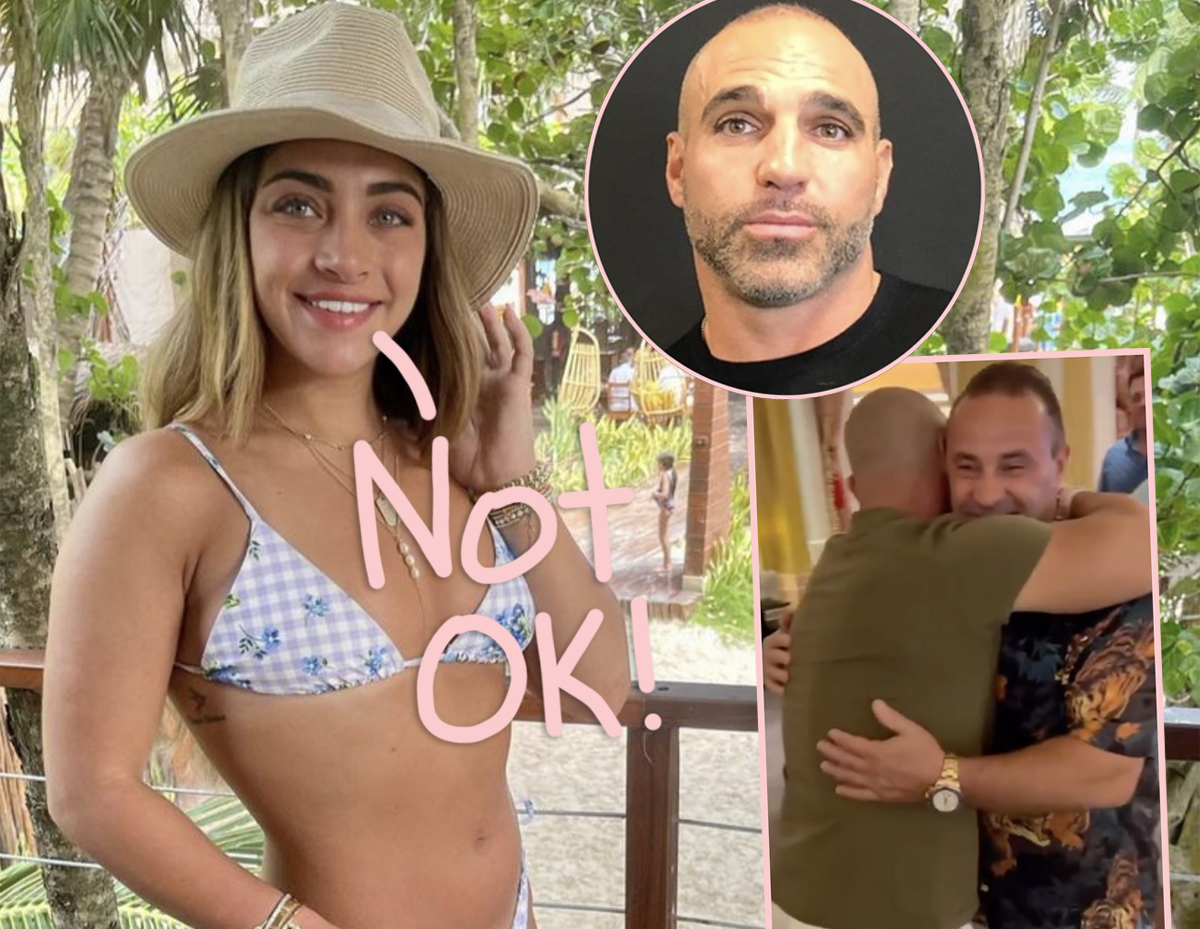 Gia Giudice is not happy with how her estranged uncle Joe Gorga is framing a tropical island reunion with her father. And she's letting the whole world know about it!!
The 22-year-old aspiring lawyer took to Instagram on Sunday night to call out her momma Teresa Giudice's estranged brother over a post he made just hours before. Gia's comment was so scathing, in fact, that Joe stepped in SUPER quick with a response of his own, as well. We've got interpersonal family drama for days here, y'all…
Related: Did Teresa And Jacqueline Laurita Finally End Their Years-Long Feud?!
So this all started on Sunday evening when Joe took to his own IG page to post a new video. In the clip, the 43-year-old Real Housewives of New Jersey star was seen reuniting with Gia's father Joe Giudice. The duo just so happened to be at the same watering hole down in the Bahamas — the Caribbean nation where the 50-year-old Giudice lives after being deported from the United States a few years back.
And even though Gorga and Giudice had previously gone after each other for years on old episodes of RHONJ, it seemed like this island reunion was pretty chill. At least that's what it looked like in the very short video clip Gorga's followers were able to see!
In the caption of his clip showing off the reunion with his former brother-in-law, Melissa Gorga's husband wrote:
"Both walked into the same bar at the same time. A lot of history there. We have memories since we were kids. I'm happy he's doing well and looks good. We were both happy to see each other and catch up. Glad someone caught it."
Ch-ch-check it out (below):
But maybe this meeting wasn't as innocent as Gorga would have us believe?!
Not long after he first posted it to IG, Gia popped up in the comments section with a strong response. Teresa's fiery daughter slammed Gorga for using her dad for online clout. In the call-out comment on his post, Gia wrote:
"This is honestly comical knowing you were with him for not even 5 minutes and we're [sic] able to have somebody take a video of the interaction meanwhile all you have done is talked so poorly about my father. you are such a [sic] opportunist to take advantage of the once in a lifetime opportunity to see my father and use it for a post."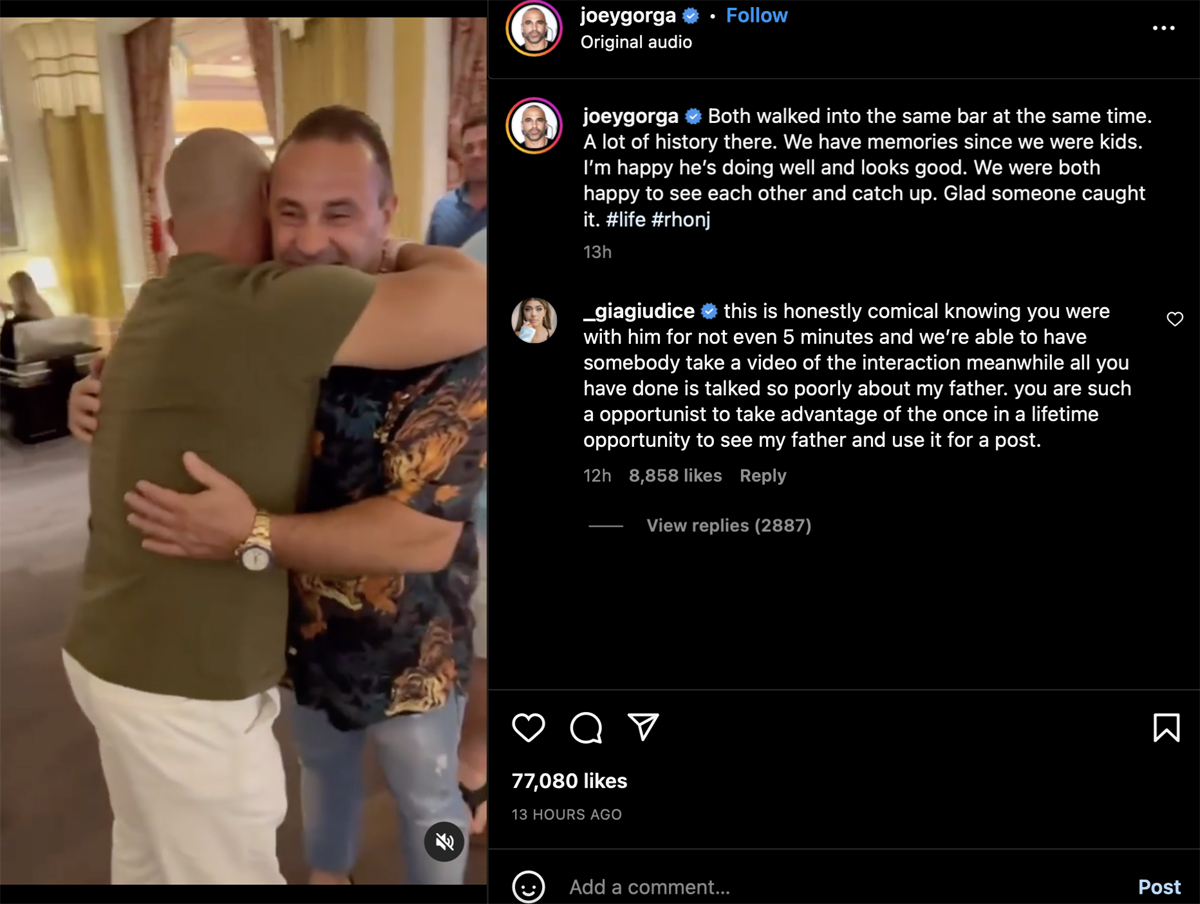 Gia wasn't happy with Gorga using her dad for an IG post! / (c) Joe Gorga/Instagram
Damn!!!
Not OK with letting his estranged niece call him out on a public forum like that, Gorga responded:
"we both said horrible things about each other. It was a nice moment. We have a lot of history. Get the hate out of your heart."
You can see that portion of the exchange via Comments By Bravo (below):
So that's that then, right?
Well… maybe not.
Related: Teresa SLAMS Jen Shah Over Telemarketing Scam And Lengthy Prison Sentence!
In a HIGHlarious twist delivered at the end of it all, some fans claimed in the tea-tracking account's comments section that Melissa allegedly delivered that response to Gia on her account before immediately wiping it and re-writing it with her husband's profile:
"Update it with Melissa getting caught writing this comment on HER account and then she rewrote it on Joe's"

"You get the hate out of your heart, Joe!!! Also, Melissa posted that comment first via her account then deleted it and then Joe posted lol"

"You missed Melissa gorga accidentally commenting this reply under her ig handle."
OOPS!
Other fans dropped even more opinions in the comments, too. Many felt Gorga was out of bounds for the video — especially his response to Gia after her critique. But others criticized the up-and-coming Giudice gal, too:
"Joe is a grown ass man fighting on the internet with his god daughter"

"can't imagine my uncle saying something like that to me. that's gross and rude and thirsty"

"Joe and Melissa will do anything to stay on RHONJ"

"Gorga and his wife have spent years trashing her dad who she loves very much, now he uses the man for insta clout. Gia has every right to be pissed."

"Gia needs to stop. Her parents have also been so incredibly nasty to Joe and Melissa. She should not be involved in their drama"

"Embarrassing that you have to talk to your niece via social media."
The drama never ends! Even after estrangement. Even after deportation. Even in another country. The RHONJ s**t show just keeps rolling right along. And we are here for it!!!
Reactions, Perezcious readers?
[Image via Gia Giudice/Instagram/Joe Gorga/Instagram]