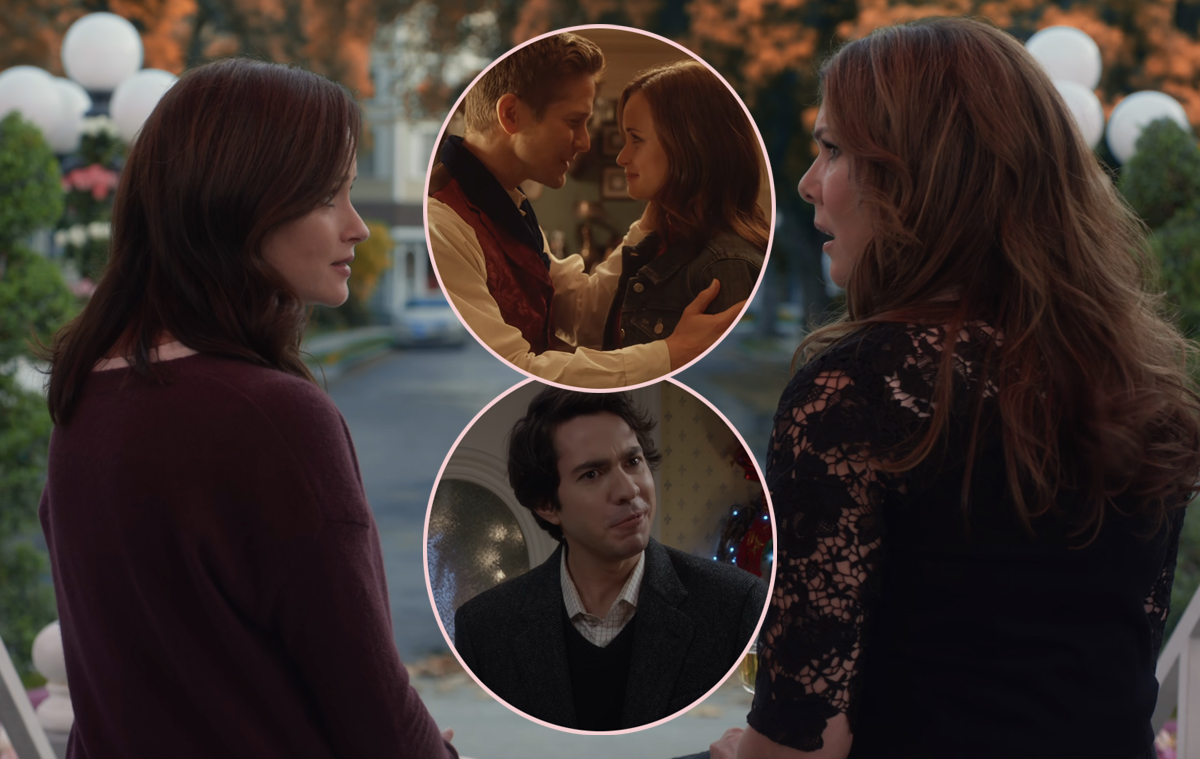 This is not a drill, Gilmore Girls fans! We finally got the answer to one of the biggest questions on everyone's minds since the reboot came out in 2016: Who is Rory Gilmore's baby daddy?!
For those who need a refresher, the final moments of the four-episode reboot of the series, Gilmore Girls: A Year in the Life, saw Rory, played by Alexis Bledel, revealing to her mom Lorelei, portrayed by Lauren Graham, that she is pregnant. It was a massive bombshell. But the Netflix show frustratingly ended on a cliffhanger, and viewers never got confirmation on who the father of her unborn child was!
Related: Melissa McCarthy Reveals The Worst Part About Filming Gilmore Girls!
Of course, there are a few suspects: her boyfriend Paul, the one-night-stand guy who wore a Wookie costume, and her on-and-off boyfriend Logan Huntzberger. Considering Rory was having an affair with Logan while he was engaged and she forgot to break up with Paul, many assumed he was the culprit. However, no one from the cast or crew spilled the beans about the dad's identity for years. Now, the costumer supervisor for A Year in the Life came forward and shared who it was! Valerie Campbell explained in a TikTok video:
"Let's do the math. In Winter she is sleeping with Paul, maybe, maybe not, I don't know, she might have forgotten to do it. But she definitely forgot to break up with that guy. But she definitely wasn't sleeping with him."
When it comes to the Wookie, Rory only slept with him once in the Spring episode of the show. And if he was the baby daddy, that means Rory would have had a baby belly by the last episode when it was the Fall. However, there weren't any signs of her pregnancy by then, thus eliminating the Wookie guy from the running:
"If it was the Wookie she would definitely be showing [in the Fall episode] and we never gave her a pregnancy belly. That is very, very important. We never gave her one, we were never instructed to give her one. It is definitely not the Wookiee."
That leaves us with only one option: Logan! Valerie continued:
"The only obvious choice is — you guessed it — Logan. And Amy [Sherman-Palladino, the show's creator] herself said, why are people even questioning who the father is? It's because it was supposed to be very, very, very, very, very obvious."
So if you've been convinced Logan is the father of the baby all these years, you were correct! Ch-ch-check it out (below):
#stitch with @unlearn16 whose the father or rorys baby? I think I can answer that one #gilmoregirls #valeriescateyescream #behindthescenes #gilmoregirlstiktok
Now, this answer makes a lot of sense. Why? As Lorelai told Rory in the pilot episode, "After all, you're me," and Logan is basically Rory's Christopher Hayden. Fans know Christopher Hayden was Lorelai's ex and baby daddy. So it seems creator Amy Sherman-Palladino wanted the series to have this huge full-circle moment! Wow.
Reactions, Perezcious readers? Did you think Logan was the father? Let us know in the comments below.
[Image via Gilmore Girls: A Year in the Life/Netflix]