He's back! Jason Sudeikis, who was an 'SNL' cast member from 2005 – 2013, makes his first appearance as host on Oct. 23 alongside first-time musical guest Brandi Carlile.
Live from New York, it's Saturday night! Season 47 of Saturday Night Live is well underway, and show runner Lorne Michaels has yet to disappoint with his choice of show hosts and musical guests. This week, Jason Sudeikis, 45, is host with musical guest Brandi Carlile, 40.
Jason Sudeikis and Brandi Carlile are seen with cast members Alex Moffat and Chloe Fineman. (Rosalind O'Connor/NBC)
Owen Wilson, 52, opened the season musical guest Kacey Musgraves, 33, on Oct. 2. The Wedding Crashers star also made his hosting debut in season 47, chalking up the long wait to nerves. "I get really nervous with public speaking. I've never done any of those commencement addresses or Saturday Night Live just because I get too nervous," he explained on a hike to friend Kevin Nealon in a YouTube video. Owen slayed it, and even had some help from his brothers Andrew, 57, and Luke, 50, during his opening monologue.
Learn more about this week's show below.
Jason Sudeikis Returns To 'SNL' For 1st Hosting Gig
Jason is no stranger to the SNL audience: the 45-year-old was a long time cast member on the sketch show, appearing from 2005 – 2013 (he originally began work on the series as a writer, marking a decade long tenure). October 22, however, marks his first time hosting — and first appearance since his departure.
Manifest it! @nbcsnl pic.twitter.com/fOyAoaUctw

— Brandi Carlile (@brandicarlile) October 21, 2021
"Hi, I'm Jason Sudeikis, and I'm hosting SNL this week with Brandi Carlile!" Jason announced in a promo alongside Brandi and cast members Alex Moffat and Chloe Fineman. "Alright, positive affirmation time!" he ordered, prompting Alex to reply, "We're gonna kill it!" Chloe then added, "We're going to be so funny!" as Brandi dubbed Jason "the best host ever."
Our spookiest show. Our scariest show. Our show with the most Ted Lasso puns. Jason Sudeikis hosts with music from Brandi Carlile THIS SATURDAY pic.twitter.com/8p5wGuQQap

— Saturday Night Live – SNL (@nbcsnl) October 21, 2021
In another promo, the gang teased it's going to be the "spookiest" episode yet. "And if we do things right, we might just learn a little something about ourselves along the way…or not," Jason said deadpan in the same promo.
The 'SNL' Musical Guest Tonight Is Brandi Carlile
Brandi Carlile makes her debut on SNL's Oct. 23 episode. The appearance coincides with the release of her new album In These Silent Days, which dropped on Oct. 1. The title is in reference to the COVID-19 quarantine, during which most of the songs were written.
Although she has six Grammy's and a highly successful music career, she has had yet to appear on SNL — which has been a long time goal for her.
"Every time I release an album and don't get to do Saturday Night Live, I'm always so sad," she said to Vanity Fair last week. "But here I am, right? And I can't imagine a better time to play it. I feel really, really ready. I feel like I have the right amount of songs, the right amount of confidence, the right amount of chill, like I can do this without freaking out and screwing it up, like I would have in my 20s," she explained.
 What Time Is 'SNL' On?
Saturday Night Live airs at 11:35 p.m. PST/EST and 9:30 p.m. MT on local NBC affiliates. The series can also be streamed live on the Peacock app.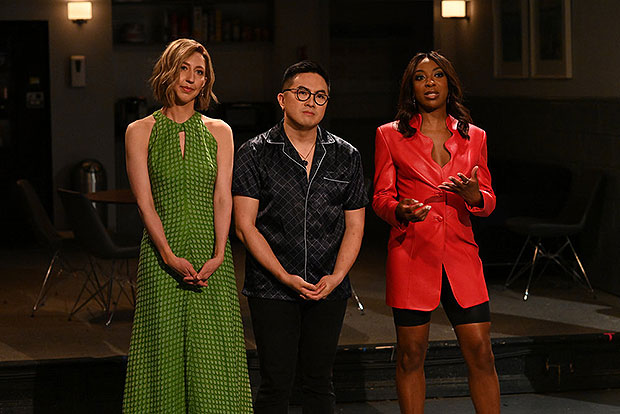 Heidi Gardner, Ego Nwodim and Bowen Yang are all returning for season 47. (Will Heath/NBC)
'SNL' Cast Members This Season
Saturday Night Live has a number of new cast members joining the show this season, including Andrew Dismukes, Sarah Sherman, James Austin Johnson, Punkie Johnson and Aristotle Athari. Michael Che and Colin Jost remain in their roles as "Weekend Update" hosts, which they took over in 2014 from Seth Meyers and Cecily Strong. Other returning cast members include Pete Davidson, Aidy Bryant, Kate McKinnon, Kenan Thompson, Chloe Fineman, Heidi Gardner, Alex Moffatt, Kyle Mooney, Chris Redd, Ego Nwodim, Melissa Villaseñor, Bowen Yang and Cecily.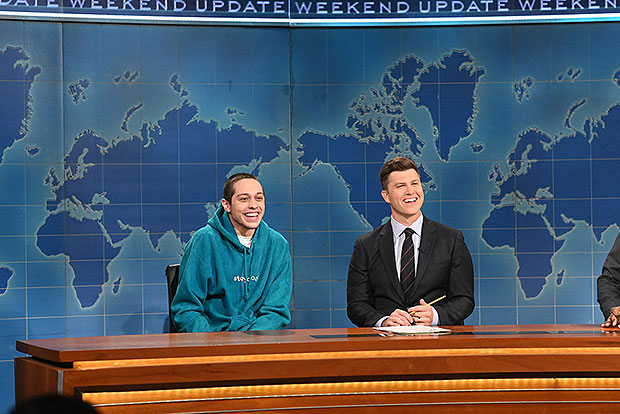 Pete Davidson and Colin Jost are seen on 'Weekend Update' during Season 46. (Will Heath/NBC) Beck Bennett and Lauren Holt announced their departures ahead of season 47. Beck, 36, took to social media with a heartfelt message about his exit. "Love you, SNL," he wrote on Sept. 27. "Gonna miss you so much. Thank you for 8 years of remarkable people and incredible experiences that completely changed my life. I had so much fun," he also penned, alongside a slew of photo highlights which you can see here.
Beck Bennett announces his departure from 'SNL.' (Instagram/Beck Bennett)
Lauren also shared a sweet tribute to mark the end of her one year run. "What an incredible year spent with incredible people. I will always be so grateful," the comedian began. "Cheers to all the cast members past, present, & future…so proud to be/have been a part of this amazing family. These three letters will always bring joy to my heart… SNL, I love you," she also said.