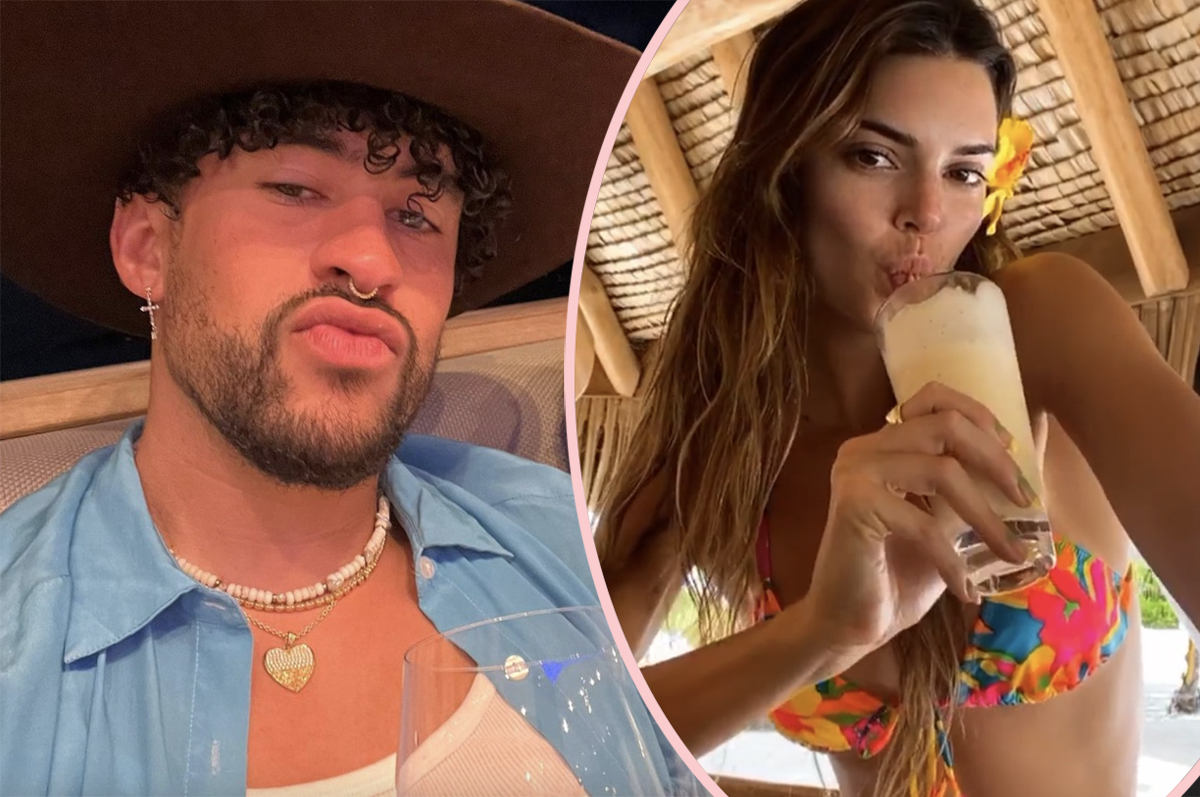 Kendall Jenner "loves hard" and isn't sorry about it! We bet Bad Bunny isn't either!
As the supermodel's relationship with the Puerto Rican rapper continues to heat up, she's getting candid about how her love style has evolved throughout the years. In a Harper's Bazaar ICONS issue published on Wednesday, the 27-year-old explained:
"I love really hard, and I love without apology. I don't like goodbyes, and I will fight to not have to say goodbye. I will always fight for relationships. I've been that way since I was little, although I was shy and sometimes very closed off."
Related: Kylie Jenner & Timothée Chalamet Keeping Relationship 'Low Key And Chill'
While it doesn't seem like she's going to be saying bye to Bad Bunny anytime soon as the pair are seemingly falling deeper and deeper for one another by the second, she made it clear that she's ready to fight for the ones she loves:
"I don't give up on anything. Some people aren't willing to meet me at that level. But that's okay. I'd rather do that than shut myself off to something and not give it a proper chance."
Loving the passion! The grass is always greener where you water it, right? And it certainly seems like BB is meeting her on her level as sparks continue to fly for them — even amid all the backlash they've received over the course of their romance.
She added that as she grows older, life's lessons only help to serve her role in relationships:
"My affection for people and my empathy has only grown. My favorite part of getting older is the wisdom and knowledge."
We're loving the sound of that! Kendall in her peaceful era!
Related: Blac Chyna Says 'People Change' While Dishing On Co-Parenting With Rob & Khloé Kardashian!
While she didn't specifically make mention of her chart-topping beau, she did allude to The Wall Street Journal back in June that she's opting to keep her relationship "sacred." She explained:
"I try [to] find the balance of keeping things private and keeping things sacred, [and] also not letting the unfortunate frustration and stress of everyone trying to get in on it stop me from enjoying my side. Does that make sense? I'll go out of my way to do things as privately as possible because I just think that that's the healthier way of dealing with relationships anyway."
But every now and then a little PDA doesn't hurt, and Kenny and Bunny sure made their love for one another known at Drake's concert over the weekend!
ICYMI, The Kardashians star and the Un Verano Sin Ti creative couldn't keep their hands — and lips — to themselves while enjoying the Inglewood stop of Drake's It's All A Blur tour. The lovebirds were also spotted in casual attire grabbing some breakfast on Sunday morning, with an eyewitness telling Entertainment Tonight "they were laughing and were cute together."
We're happy for Kendall in this stage of life! What are YOUR thoughts, Perezcious readers? Let us know in the comments down below!
[Images via Kendall Jenner/Bad Bunny/Instagram.]