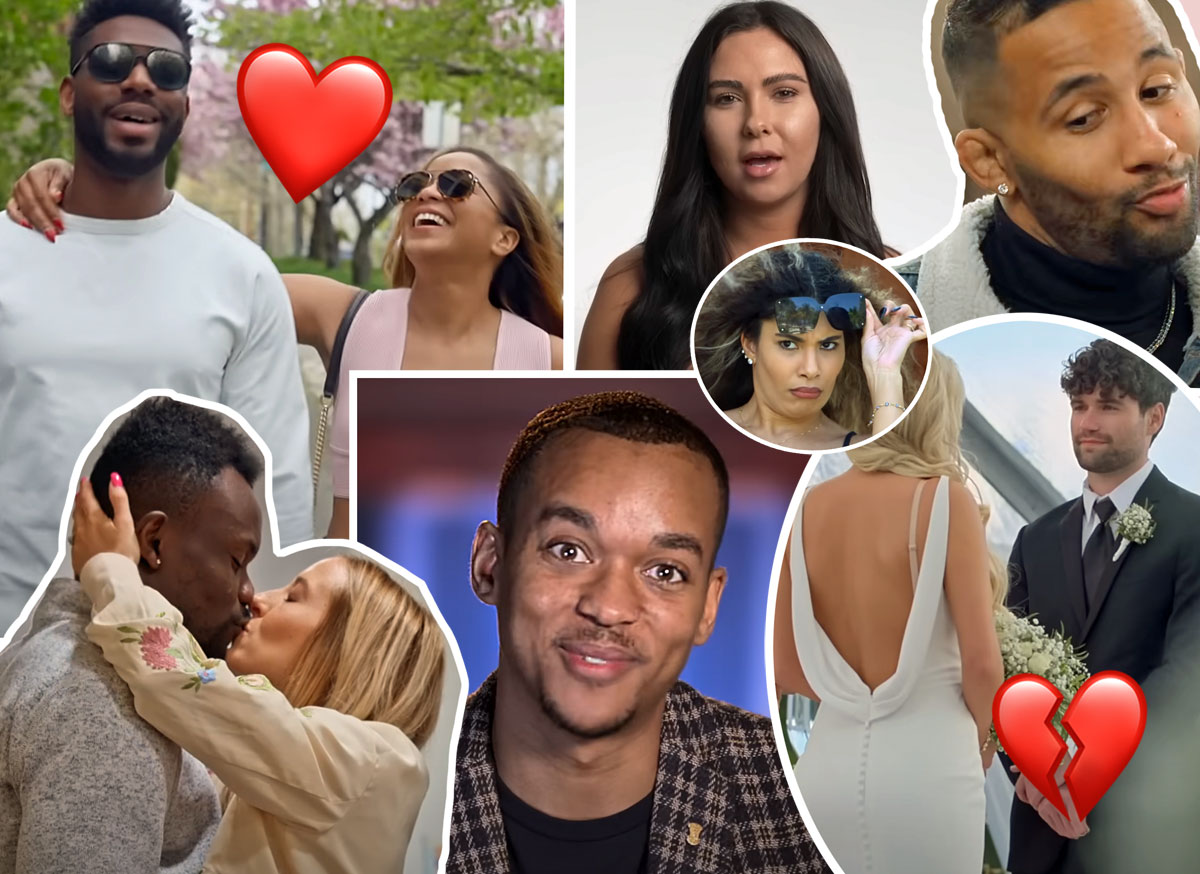 Love is… MESSY!
Netflix streamed the first-ever *LIVE* Love Is Blind reunion to wrap up Season 4 of the hit series on Sunday night. Unfortunately, not everyone got to watch the drama go down in real-time due to frustrating technical difficulties that caused an hour-long delay.
If you were one of the unlucky viewers who didn't gain access, don't worry. We've got all the scoop for you here!
Related: Love Is Blind's Deepti Claims Ex Shake Said WHAT About Marrying Her??
During the livestream, hosts Nick and Vanessa Lachey were joined by all three married couples:
Tiffany Pennywell and Brett Brown
Chelsea Griffin and Kwame Appiah
Bliss Poureetezadi and Zack Goytowski
Paul Peden, Micah Lussier, Marshall Glaze, and even Irina Solomonova were also there. Jackie Bonds and Josh Demas didn't attend the event and merely showed up in a pre-recorded video call with Vanessa. Sigh. But let's focus on what did happen…
Who's Still Married?
Let's start with the obvious: are all the couples still married?! Surprisingly, yes! All three!
Chelsea and Kwame, who took a lot of heat for their relationship throughout the season, said they are living together in an apartment in Portland, Oregon. Chelsea also revealed she met her husband's mother during Thanksgiving, and all is well! Great!
Meanwhile, fan favorites Tiffany and Brett are also doing AH-mazingly! They, too, are living in Portland and are enjoying their new life together. Lastly, Zack and Bliss are happily married. Even Bliss' father has learned to love her lawyer hubby — Bliss said they're best buddies now!
Now for the juicier stuff…
Paul & Micah
As Perezcious readers may know, Paul and Micah were engaged until Paul ultimately said no at the altar. He revealed they briefly dated after the disastrous wedding, including a visit to Micah's home in Arizona, but they ended things very quickly.
During the reunion, Paul took a TON of heat for claiming he ended things with his ex because he didn't believe she'd be a good mother. Yeah, ouch. What made it even worse was, this was apparently all news to Micah! She said couldn't understand the comment since she had always told Paul how important it was for her to start a family someday. Amid repeated questions from Vanessa and Micah, Paul ultimately said he just didn't feel like the marketing manager had a nurturing quality to her. Oof.
Paul saying he can't picture Micah as a mother because she lacks a nurturing quality is one of the most brutal things I've heard on this show #LoveisBlind #LoveIsBlindS4

— (@djpisces__) April 14, 2023
Irina Called Out
Speaking of Micah, her bestie on the show and fellow mean girl Irina was also in attendance – and boy did she have a lot of explaining to do! She first apologized to Zack, her initial fiancé, for treating him so poorly, claiming she was having a tough time with mental health struggles at the time of filming. He fought back saying viewers only saw "10% of" the way Irina hurt him and other cast members, arguing:
"If we're real, you went on this show to get famous."
Still, he had sympathy for what she was going through in the public eye, noting:
"It has been punishment enough for the entire world to see them at their worst. Trust me, Irina, Micah, everybody here who did something. We all did something stupid."
Interestingly, Zack's wifey wasn't so willing to let her husband's bully slide! While she acknowledged Irina's mental health claims, Bliss chimed in to Micah:
"You did tell me when you landed in Mexico that I dodged a bullet while you also texted him, 'I'm so sorry, let's talk. I hope something happens with you and Bliss.'"
Whoa! How two-faced if true! And Bliss called her out on it:
"I think you can have panic attacks and you can have trouble with mental illness and all of that. That's totally valid. But then you're turning around and you're doing malicious things and you're acting in really cruel ways. It's hard to reconcile those two things."
Best part of the reunion was Bliss and Zack eating Irina up and calling her out on her clout seeking behavior #LoveIsBlind #LoveIsBlindLIVE pic.twitter.com/3kiDU0LNz7

— Ghazini (@theepoeticthot) April 17, 2023
Jackie, Marshall, and Josh
Now to another feisty love triangle! Yup, we're talking about Jackie, Marshall, and Josh! If you watched the show, you'll know Jackie and Marshall got engaged but then quickly experienced problems in their relationship, particularly after Jackie told her husband-to-be to boss up. Jackie has continued to speak out about the pair's relationship on social media after the show aired, so there was obviously a lot to discuss… but unfortunately, she didn't show!
Related: Did Ariana Madix Just Soft-Launch A New Man At Coachella??
Instead, Jackie and Josh, who have been together ever since the show wrapped a year ago, appeared together in a video interview with Vanessa. Jackie insisted she and Marshall broke up before she ever saw Josh on the coffee date. She then attacked her ex, claiming he called her a "derogatory name." Even though she believes it was a joke, it led to a fight and he left for three days. She also alleged Marshall wanted the engagement ring back to propose to another castmate!
Marshall's facial expressions the entire time whackie jackie and Josh were talking ???????????? SAME MARSHALL SAME!!!! #LoveIsBlind #LoveIsBlindLIVE #LOVEISBLINDreunion #LoveisBlind4 #LoveIsBlindS4 pic.twitter.com/r15EerwIHU

— zanaduxx (@zanaduxx) April 17, 2023
Marshall was clearly pissed he couldn't talk things out with Jackie and Josh in person (as seen above), but he did share his two cents. On the so-called derogatory term he used, he vehemently denied the allegations. He explained he did say something insensitive after Jackie consistently took jabs at him though, sharing:
"You got a strong jawline. I mean, like, you could've been a man for all I know."
He explained he "did not use a derogatory term" and insisted "that word is not in my vocabulary." Specific word or not, what an ignorant thing to say!
On the ring, he confirmed he asked for it back, saying he didn't think his ex deserved "to have that symbol of my love." But he claims he "did not want to propose to anybody else." He admitted to going on one date with cast member Kacia Clark after the breakup — but said it didn't last because he wasn't ready.
Ultimately, he said he felt "slighted" for the second time on the show after Jackie refused to show up in person like everything else. (The first reason was being unable to make it to the altar because Jackie didn't see the process through the whole way.) He ended his segment by begging the public to move on from the messy love triangle:
"There's a lot that's going into this and I'm just going to direct this to the public. At this point, this is not about Jackie and Marshall anymore. Let that be bygones… Let them move on, let me move on and just forget it. Jackie and Josh are happy. She's happy. I'm happy. Let it die."
And there you have it. That's what you missed on the Love Is Blind (not-so) live reunion! If you want to see all the cast members fight it out onscreen, you can catch the episode at 12 p.m. PST on Monday. In the meantime, do you think there was anything the hosts forgot to address? Sound OFF (below)!
[Image via Netflix/YouTube]