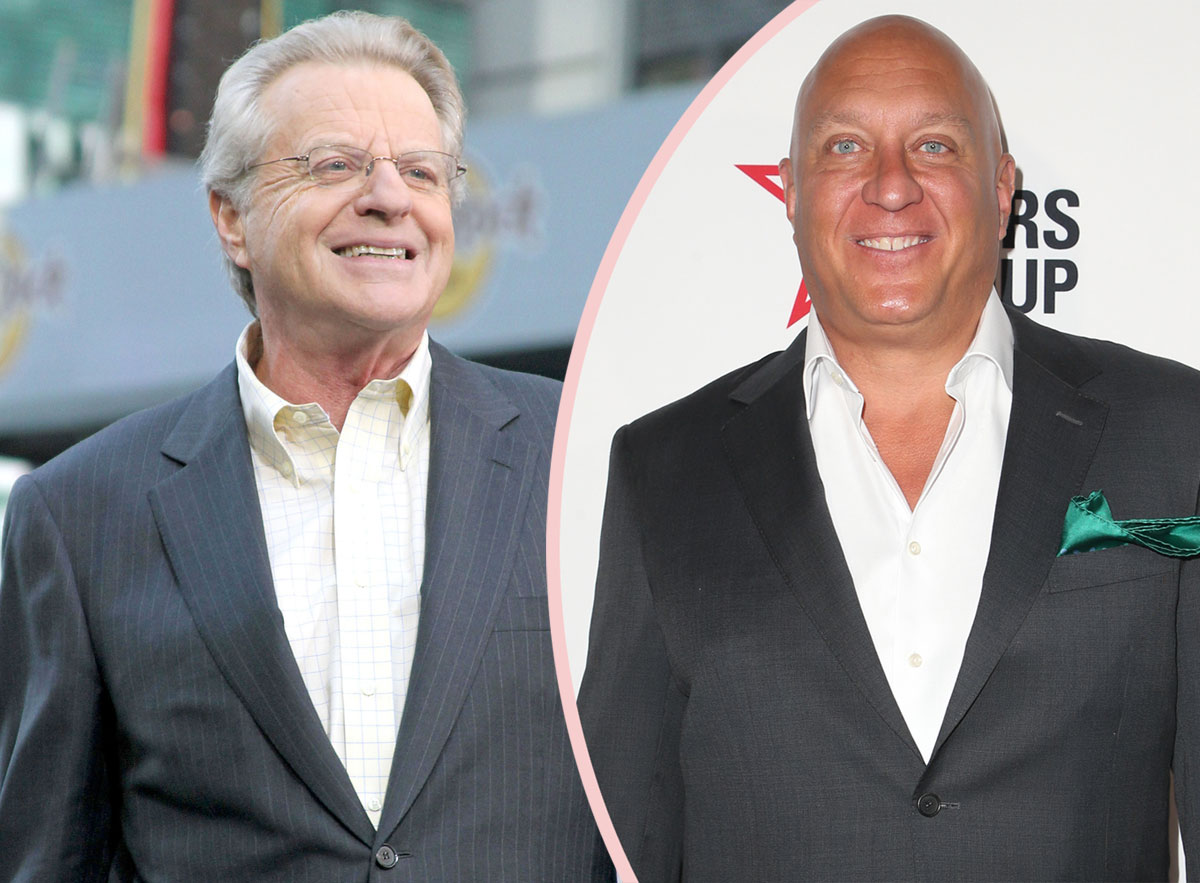 Steve Wilkos is mourning his friend and former employer, Jerry Springer.
As you may know, The Jerry Springer Show host passed away on Thursday after battling pancreatic cancer, per People. He was 79. After 27 years on the air, Jerry left an impression on so many viewers and apprentices, one of them being Steve. Speaking of his former mentor, the former Chicago cop shared:
"Other than my father, Jerry was the most influential man in my life. Everything I have today, I owe to Jerry. He was the smartest, most generous, kindest person I've ever known. My wife [Rachelle Wilkos] and I are devastated. We will miss him terribly."
Whoa. They clearly had such a strong bond.
Related: Dancing With The Stars Judge Len Goodman Predicted His Death
While catching up with TMZ, the 59-year-old also reflected on the last time he saw Jerry, recalling:
"If it wasn't for Jerry, I wouldn't have the career I've had. I met my wife on his show. Through the ups and downs, he was always in my corner, always very supportive. I saw him a month ago, we had a cigar together. Looking back, I think he was saying goodbye to me and I didn't realize it, but he always knew how I felt about him and I knew how he felt about me, so I didn't have any regrets."
So sweet, especially when you know their history. Steve was originally hired to work as a security guard for one day on the daytime show, which ran from 1991 to 2018, but he soon formed a long-lasting bond with the host. In September, he told Daily Blast Live:
"I got hired to work security on the show for one day, so I thought I would just be there and be gone but then I was being hired to do more and more shows. You know, Jerry came up to me and started talking to me one day while I was sitting outside and we both really loved baseball and we started talking about baseball and the next thing you know, when Jerry really started becoming huge, he didn't want to travel by himself and he asked me to travel with him. You spend that much time together on the road [and] we became very close."
He didn't stay a security guard for long! In 2006 when the former mayor of Cincinnati went off to compete on Dancing With The Stars, Wilkos was tapped as a substitute host. After 10 seasons of working side-by-side, Steve left the show to start his own eponymous series, which he has led for more than 15 seasons now. Taking right after his friend!
Related: Caitlyn Jenner Announces Her Mother Has Died
We're sure The Steve Wilkos Show host is just one of many friends and former colleagues devastated by this news. While confirming the death, Jerry's lifelong friend and spokesperson for the family, Jene Galvin, told Us Weekly:
"Jerry's ability to connect with people was at the heart of his success in everything he tried whether that was politics, broadcasting or just joking with people on the street who wanted a photo or a word. He's irreplaceable and his loss hurts immensely, but memories of his intellect, heart and humor will live on."
Those wishing to pay their respects have been encouraged to commit an act of kindness for someone in their orbit, Jene added:
"To remember Jerry, the family asks that in lieu of flowers you consider following his spirit and make a donation or commit to an act of kindness to someone in need or a worthy advocacy organization. As he always said, 'Take care of yourself, and each other.'"
What a lovely idea to honor the TV personality. We are sending love to all those mourning this loss. You can hear more from Steve (below):
R.I.P.
[Image via FayesVision/WENN]