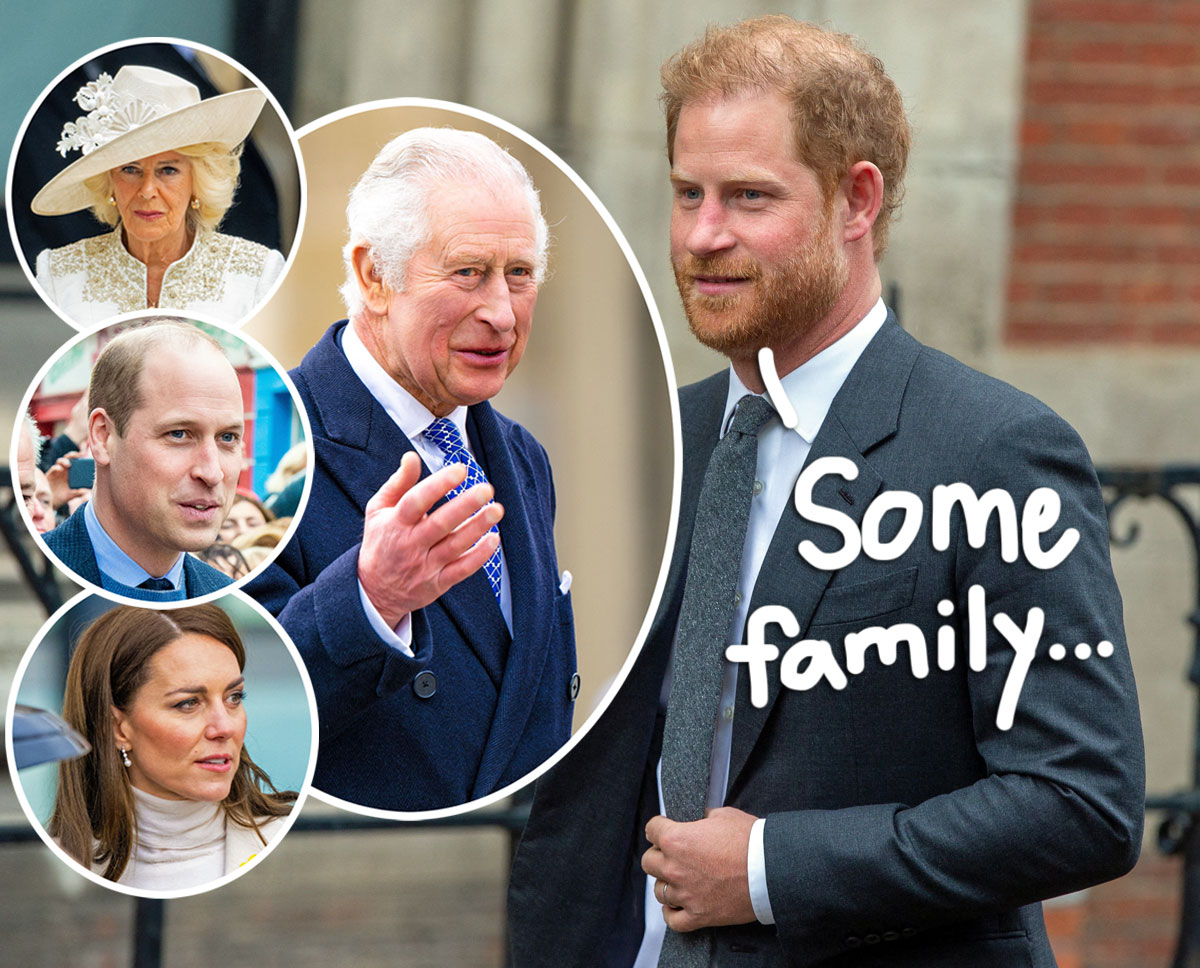 Prince Harry is making the trip to the UK for his father King Charles III's coronation next month, but this doesn't mean the family is any closer to reconciling.
According to a source for Entertainment Tonight on Sunday, members of the royal family are still very skeptical when it comes to the 38-year-old, who quit his job as a working royal in 2020 and has since put his family on blast in various projects. The insider explained:
"Relationships between Harry and Meghan [Markle] and the family are still very tense."
Tense hardly describes how bad things are between these family members!!
Related: Prince Harry & Meghan Markle Slammed As 'Utterly Selfish' By Former Friend!
This ongoing feud will be clear as day during the coronation, we bet! The royal family reportedly has no interest in being very friendly with their estranged relative, particularly after everything he's put them through over the last few years. The source continued:
"The family will be cordial because the King wants his son at his Coronation but there will be no meaningful conversation as there's still a lack of trust given the revelations in his book and the Sussexes Netflix documentary and the allegations in the Oprah [Winfrey] interview."
As Perezcious readers know, Harry and Meghan have called out the royal family for allegations of racism and mistreatment in several interviews and other projects since leaving the UK. It's gotten very nasty! So, it's no surprise their family is holding a grudge. Interestingly, another source said the royals are surprised the Duke of Sussex decided to attend without his wife, Meghan Markle, who will be staying home with their children to celebrate Prince Archie's fourth birthday. The second confidant expressed:
"There were still several members of the family who expressed surprise she had decided to stay home."
Really? They're surprised?! It's not like they made it an easy yes!
Related: Prince Harry 'Torpedoed' Relationship With Royals With Latest Legal Battle!
We have a feeling Prince William and Princess Catherine were not among those sad to see Meghan skip the historic event. They are both said to be very relieved the Duchess won't be attending, royal expert Eloise Parker previously told the outlet:
"I think there's bound to be some relief from William and Kate [Middleton] that Meghan won't be attending the coronation simply because less emphasis is going to be on them, who's looking where, who's lip reading, what's going on between them."
She added:
"There's such a fever of interest in these relationships and the truth is we're never going to see a Real Housewives moment between these women. Everything is going to be kept firmly under wraps and I think for Kate, the fact that Meghan isn't attending, helps her keep it that way."
Royal expert Tom Bower also said on Wednesday's episode of GB News that the Princess of Wales "prevented Meghan from coming," saying:
"[She] said she 'wouldn't have her there under any circumstances.'"
So, yeah, it's safe to assume she and William threw a little party when Buckingham Palace made the official announcement. LOLz!
Meanwhile, we'd think the only ones disappointed are Princess Beatrice and Princess Eugenie, who are close with Meghan and likely among the few people who will gladly hang out with Harry during the event. The others are either too salty about the feud or concerned that Harry's going to try to get some insider information to leak later. Gonna be the most awkward coronation to date! Thoughts?!