Genero: Suspenso – Drama / Pais: Inglaterra / Duracion: 84 mins / Director: Tom Shankland / Guion: Tom Shankland / Reparto: Eva Birthistle, Freddie Boath, Raffiella Brooks, Stephen Campbell Moore, Jake Hathaway, William Howes, Eva Sayer, Jeremy Sheffield, Rachel Shelley, Hannah Tointon
VALORACION: (87/100)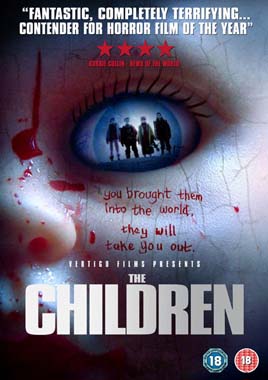 RESEÑA: Una tranquilas vacaciones navideñas familiares se convertirán en una pesadilla cuando los niños empiecen a cambiar de actitud hacia sus padres y a desarrollar habilidades extrañas O_O
CRITICA (Antigua): Contra todo pronostico esta peli Inglesa titulada The Children se convierte en uno de los tapados de este ultimo tiempo, una peli que uno ve la tapa y puede llegar a pasar totalmente desapercibida ante nuestros ojos pero ese es un grave error porque te perdes de mucho. The Children es una genialidad por como el director maneja la situaciones que se dan en la película, algo que parece una simple reunión familiar gracias a la pericia del director en el manejo de cámara y edición mas el extraño comportamiento de estos pendejitos logra una perfecta aura de tensión y de que en cualquier momento puede pasar alguna fatalidad. Es ahí donde radica el gran merito de esta película, que el desarrollo es tan natural e impredecible que uno puede esperar casi cualquier cosa en cada minuto que pasa. Otro de los méritos es que no se recurre a una clásica cinta Slashers de las tantas que hay, no hay clichés de ningún tipo lo que le da una gran frescura a la trama.
El guión es interesantisimo porque no solo nos muestra la transformación de estos pendex y como se van convirtiendo de santos angelitos a demonios sin escrúpulos sino también por una sub-trama que involucra a el Tio y a la Sobrina…y que sobrina ;D, interpretada por la debutante Raffiella Brooks que aquí entrenos el papel no es para el lucimiento ni nada parecido pero la mina puede llegar a tener futuro. En un momento The Children pasa de un fin de semana en familia con pendejos mal educados a un fin de semana fatal, todo en un abrir y cerrar de ojos. De repente todo es dolor, confusión y angustia medido y orquestado con gran maestría por Tom Shankland.
La película no es solo tensión, también hay lugar para un poco de sangre y escenas que no le recomiendo a ninguna madre modelo impresionable ;D. Las actuaciones si podrían haber dado un poco mas de si, los personajes adultos tienen un protagonismo pero no central ni tampoco los nenes, The Children esta creada de una manera en donde los personajes giran entorno a la trama y no al revés como muchas veces pasa.
El final no se queda atrás y nos ofrece un desenlace totalmente sorpresivo, un poquitin desprolijo pero sorpresivo que logra su objetivo de cerrar por todo lo alto a esta brillante película. Me parece que ya deje todas sus virtudes bien claras, una película totalmente recomendable si quieres ver algo diferente, buenisima dirección, trama que te deja en vilo hasta el final, muertes horribles…etc etc. ¿que mas? vos sabes que nunca me equivoco, miarala, un salu2.
CAPTURA
TRAILER
DESCARGA DIRECTA
Calidad: 720
Audio: Ingles
***
COMPARTE ESTE ARTICULO! – MIRA ABAJO LOS COMENTARIOS.
ADVERTENCIAS Y REGLAS antes de comentar en BLOGHORROR
• Comentar con respeto y de manera constructiva.
• No se permiten links de otros sitios o referencias a sitios de descarga. 
• Tratar de hablar de la pelicula en cuestión, salvo ocasiones especiales. Nada de interminables debates políticos, religiosos, de genero o sexualidad *
• Imágenes están permitidas, pero siempre con moderación y que no sean demasiado grandes.
• Los comentarios de usuarios nuevos siempre son moderados antes de publicarse.
• Por ultimo, las reseñas y criticas en BLOGHORROR pueden contener humor negro-ácido, que de ninguna forma debe ser tomado en serio! y que tienen como fin el puro entretenimiento satírico.
• Disfrute su estadía 😉
Continue Reading