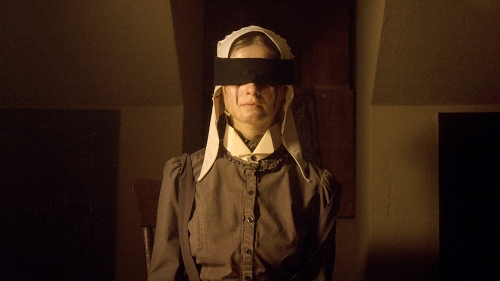 La estrella de Orphan, Isabelle Fuhrman, aparece en la película de terror de época The Last Thing Mary Saw, ambientada en el año 1843.
La pelicula tiene como protagoinista a Rory Culkin (Lords of Chaos), Stefanie Scott (Insidious: Capítulo 3) y Judith Roberts (You Were Never Really Here).
La película ha sido adquirida por Shudder y se va a estrenar el 20 de enero en la plataforma directamente.
Escrita y dirigida por Edoardo Vitaletti, "The Last Thing Mary Saw" comienza en Southold, Nueva York, en 1843: La joven Mary (Stefanie Scott), con la sangre goteando detrás de la venda atada a sus ojos, es interrogada sobre los acontecimientos que rodean la muerte de su abuela. A medida que la historia retrocede en el tiempo, somos testigos de cómo Mary, criada en un hogar represivamente religioso, encuentra una felicidad fugaz en los brazos de Eleanor (Isabelle Fuhrman), la criada de la casa.

Su familia, que cree ver, hablar y actuar en nombre de Dios, considera la relación de las chicas como una abominación, que debe ser tratada con la mayor severidad posible. La pareja intenta seguir en secreto, pero siempre hay alguien observando, o escuchando, y el salario del pecado percibido amenaza con convertirse en muerte, con la tensión sólo aumentada por la llegada de un enigmático extraño (Rory Culkin) y la revelación de fuerzas mayores".
"Es un gran honor unirme a la increíble lista de películas de Shudder. Durante años han subido el listón de la narrativa de género que invita a la reflexión, y estoy encantado de colaborar con ellos en el lanzamiento de The Last Thing Mary Saw", añadió el guionista y director Edoardo Vitaletti.
Lo que han presentado es un teaser, que sugiere un ambiente enrarecido y muy folk-horror que tanto está de moda. La estaremos esperando.
COMPARTE ESTE ARTICULO! – MIRA ABAJO LOS COMENTARIOS.
ADVERTENCIAS Y REGLAS antes de comentar en BLOGHORROR
• Comentar con respeto y de manera constructiva.
• No se permiten links de otros sitios o referencias a sitios de descarga. 
• Tratar de hablar de la pelicula en cuestión, salvo ocasiones especiales. Nada de interminables debates políticos, religiosos, de genero o sexualidad *
• Imágenes están permitidas, pero siempre con moderación y que no sean demasiado grandes.
• Los comentarios de usuarios nuevos siempre son moderados antes de publicarse.
• Por ultimo, las reseñas y criticas en BLOGHORROR pueden contener humor negro-ácido, que de ninguna forma debe ser tomado en serio! y que tienen como fin el puro entretenimiento satírico.
• Disfrute su estadía 😉
Continue Reading