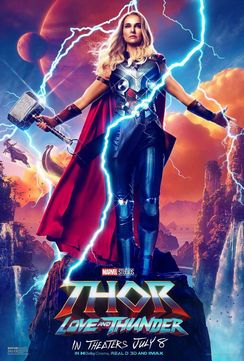 THOR: amor y trueno – Genero: Accion – Cienfica Ficcion – Comedia Pais: USA Duración: 118 minutos Director: Taika Waititi Guion: Taika Waititi, Jennifer Kaytin Robinson. Historia: Taika Waititi. Cómic: Stan Lee, Jason Aaron Reparto: Chris Hemsworth, Natalie Portman, Christian Bale, Tessa Thompson, Chris Pratt, Taika Waititi, Jaimie Alexander, Karen Gillan, Dave Bautista, Pom Klementieff, Russell Crowe, Sean Gunn, Akosia Sabet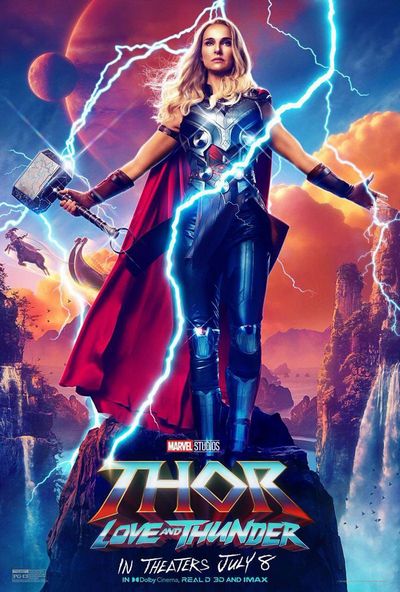 VALORACION: (77/100)


RESEÑA:
Thor: Amor y Trueno" encuentra a Thor (Chris Hemsworth) en un viaje diferente a todo lo que ha enfrentado: una búsqueda de la paz interior. Pero su retiro se ve interrumpido por un asesino galáctico conocido conocido como Gorr el carnicero de dioses (Christian Bale), que busca que todos los dioses se vayan a la verga.
Para combatir la amenaza, Thor reclama la ayuda de la Reyna Valquiria (Tessa Thompson), Korg (Taika Waititi) y su ex novia Jane Foster (Natalie Portman), quien -para sorpresa del Thor este- empuña su martillo de carne, el Mjolnir. 
THOR: amor y trueno
CRITICA:
Como un espectador que ha seguido casi al completo el universo Marvel desde que comenzó con Iron Man, hay que decir una cosa, a partir de Endgame, se ha producido un quiebre y cambios a nivel de historias en el MCU. Muchas veces los cambios son para mejorar, mientras que otros no lo son.
La cohesión que supo tener Marvel giraba en torno hacia una batalla definitiva, que fue la de Thanos. El villano unía todos los universos como un enemigo común y se fue introduciendo lentamente con cada entrega. Una vez que este villano muere en Endgame, hay una sensación de que el universo no tiene un rumbo fijo claro, así tuvimos la última entrega de Doctor Strange o esta de Thor Amor y Trueno, que aportan poco al universo, más allá de aportarle a sus propios personajes principales.
El riesgo de esto es que las distintas entregas del Marvel Universe pierdan real interés de aquí al futuro, porque esta película de Amor y Trueno es totalmente intrascendente, y solo encantará a los leales fans de Marvel y los fans de Thor, no mucho más.
Pero para, ¿Es entretenida? Si, lo es. ¿Es peor que Ragnarok? También. Sin embargo, eso no la hace mala, sigue siendo una película entretenida y fresca, con referencias al universo Marvel y que no tiene mucha vergüenza en reírse de sí misma. Esto no es habitual dentro de Marvel y de las películas de superhéroes, solo lo hace la saga Guardians of the Galaxy, la última entrega de Thor Ragnarok y el Escuadrón Suicida de James Gunn, esto de mezclar epicidad, heroísmo y comicidad en partes iguales, donde nada es tan rígido y serio como habitualmente es el cine de superheroes.
Taika Waititi tiene bien estudiado la formula y lo aplica, con momentos entretenidos y distendidos, más pensado hacia los fans de Marvel que al espectador casual, y aquí viene el gran 'conflicto'. Thor: Amor y Trueno no es una película para el espectador que no está habituado al universo Marvel ni al casual que no ve este tipo de películas, primero porque no entiende las referencias, y segundo porque no está habituado a un film de acción y superhéroes que suela meter gags, memes y parodias.
Pero lo más importante, no es una película para amargados…mejor dicho, el cine no es para amargados…si sos un vinagre y nada te conforma, busca otra forma de entretenerte o revisionar clásicos que sabes que no te van a fallar. Es decir, si no te reíste con el cameo de Matt Damon y la obra teatral, sos un amargo, es así de sencillo. Si no te causa gracia las cabras que son sacadas de un famoso meme de Internet ¿Quien eres y donde quedó tu sentido del humor? xD
Acá abro un paréntesis, porque es algo vengo notando en los últimos tiempos, la gente está muy inconformista en general, nada les llena, hay una sobreoferta de películas y series brutal, entonces nos ponemos exigentes y parece que las películas que son un de 6 o 7 puntos ya no valen la pena y son basura. Películas como la última entrega de Thor ya las hubo igual, con el mismo tono, y fueron bien valoradas, pero parece que el público que vio Ragrarok hace 5 años, o vio Guardians of the Galaxy hace 8 años desapareció, ya no está ese público, fue reemplazado por otro que dicen que son basura por meter humor.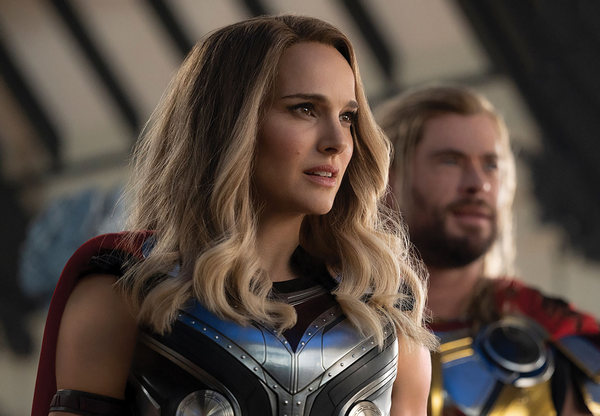 El film tiene humor, tiene acción, buenos efectos especiales, tiene un reparto brutal (Crowe y Bale impecables), no tiene un guión extraordinario o nunca visto, eso es cierto, pero tampoco es que el cine de superheroes esté repleto de grandes guiones y que te hagan replantearte tu vida. No encuentro, con más de 30 años viendo cine, donde este lo 'desastroso' de esta película. 'Desastroso' es Suicide Squad de David Ayer, no esto, aprendamos a ser equilibrados en la crítica.
No es una gran película, no es lo mejor que ha hecho Marvel, creo que incluso es la que tiene el menor presupuesto, pero creo que para el fan de Marvel y que les gusta el cine de superhéroes es una película entretenida y correcta, que tiene todos los condimentos que se le puede exigir, siempre que te guste su tono de comicidad al estilo Guardians of the Galaxy. Si no estás en el 'mood' y esperas algo super-serio al estilo Batman de Matt Reeves, te equivocaste de película.
En definitiva, a pesar de que esta última entrega de Thor no sea la mejor de la saga ni aporte grandes cosas al MCU que sean destacables, más allá del regreso de Natalie Portman para darle un cierre a su personaje, es entretenida, es muy 'fast-food' y plantea cosas interesantes sobre el futuro de los dioses, nuevos personajes y villanos que podrían aparecer. Nos vemos en cualquier momento.
TRAILER

FICHA TECNICA:
 Calidad: 1080
Audio: Ingles
 


SUBTITULOS
 ****
COMPARTE ESTE ARTICULO! – MIRA ABAJO LOS COMENTARIOS.
ADVERTENCIAS Y REGLAS antes de comentar en BLOGHORROR
• Comentar con respeto y de manera constructiva.
• No se permiten links de otros sitios o referencias a sitios de descarga. 
• Tratar de hablar de la pelicula en cuestión, salvo ocasiones especiales. Nada de interminables debates políticos, religiosos, de genero o sexualidad *
• Imágenes están permitidas, pero siempre con moderación y que no sean demasiado grandes.
• Los comentarios de usuarios nuevos siempre son moderados antes de publicarse.
• Por ultimo, las reseñas y criticas en BLOGHORROR pueden contener humor negro-ácido, que de ninguna forma debe ser tomado en serio! y que tienen como fin el puro entretenimiento satírico.
• Disfrute su estadía 😉
Continue Reading