Resurfacing juicy pop culture scandals, especially ones that faded decades ago, surely makes for entertaining TV. Hulu's Pam & Tommy holds nothing back in its replication of the 1990s sex tape theft that made headlines for months. Qualities exclusive to this decade are part of what makes this series and story so satisfying, though they may not always be shown exactly as they actually were.
Now that the entire series is streaming, keep reading for seven times the series cleverly inflated '90s culture and other aspects.
The Fascination & Ignorance of the Internet
The leaking of the celebrities' infamous sex tape would not have occurred without the speed and then confidentiality of the internet. To emphasize their invasion and blind-sidedness, so was the newness of the internet. The show includes characters' exaggerated confusion about what the internet is and how it worked, including but not limited to Pamela (Lilly James), Tommy (Sebastian Stan), and the distributor of the tape himself, Rand Gautheir (Seth Rogan). It is not necessarily accurate that all who came across as truly clueless about the internet and its power were. Early in the show, Tommy consoles Pam with the solution of asking, "Where else can it go?" In the 1990s, your introduction to the internet was something people could recall, so making this a strong element to the show assists the storyline while embracing it as a key facet to the time's culture.
Erin Simkin/Hulu
Pamela Anderson's Idolization of Jane Fonda
Although Pamela Anderson has referred to looking up to Jane Fonda in recent interviews, the two celebrities do not necessarily have any documented interaction from around this time. They both share experiences of being unfairly criticized by the media and facing the challenge of being taken seriously within modeling careers. In Episode 3, ironically titled "Jane Fonda," Pam meets with a PR agent to discuss a movie feature. When asked to share her career goals, Pam gushes with admiration for Jane Fonda and her diverse success across modeling, acting, and feminist activism. This foreshadows the positions Pamela will only be forced to take more and more as the stolen sex tape gains popularity and harsher criticism towards her increases. Fonda may have had more prominence in the 1960s, but at the peak of Pamela's, she was of the generation to most recently look back on and be inspired by.
Erin Simkin/Hulu
List of Celebrities Who Had Beef With Tommy
In Episode 4, "The Master Beta," the distraught couple meets with a private investigator, hoping to get to the root of their sex tape's theft. When asked, "Who has beef with you Tommy?" he rattles off some big names as potential suspects. He has no reason to think people such as Bret Michaels, Axl Rose, Gene Simmons, or John Stamos could have stolen his sex tape other than them just being hot-heads of the decade. But the resurfacing of these names, and suggestion that they were involved in a memorable '90s scandal, immerses the scene deeper into the cultural period where it evolved.
Erin Simkin/Hulu
Third Eye Blind Taking Mötley Crüe's Studio Space
In Episode 5, "Uncle Jim and Aunt Suzie in Duluth," Tommy heads to his typical recording spot to blow off steam. When he realizes the nicer studio, usually reserved for him, is occupied, he fights with the studio director and storms in himself, demanding to know who the band is. Nonchalantly, a member tells him they're Third Eye Blind.
The band's Stephan Jenkins confirmed this didn't happen to Variety. "Mötley Crüe and I've never been in the same studio," he said. "I recorded my whole first album in Northern California. So we were across the state from each other at the very least." But to accentuate the relevance of Tommy Lee and his band's decline at this time, the Mötley Crüe drummer is conveniently faced with a familiar rock and roll competitor.
Erin Simkin/Hulu
Conversation With the Legal Teams
In Episode 6, "Pamela in Wonderland," Pam meets with a legal team defending Bob Guccione (Maxwell Caufield). While she is prepared to discuss the crime committed against her, she is met with the opposite. Hendricks (John Billingsley) only asks Pam extremely offensive and irrelevant questions, like "How old were you the first time you first publicly exposed your genitals?" in addition to making her watch parts of her own sex tape with everyone present. Given that it was legally confidential information, writers of Pam & Tommy were not replicating an accurate conversation. However, following the tape's leaking, Anderson did receive almost unanimous backlash and was considered guilty for having her own privacy invaded. The content included of Pam being interrogated represents the disregard for women's agency and sexual shame that was rampant in the 1990s, while sexual liberation was ironically promoted for men.
Erin Simkin/Hulu
Tommy Lee Burning Rand's Cash in Front of Him
In Episode 7, "Destroyer of Worlds," Tommy meets with Rand and taunts him with the $27,000 he owes. After belittling him and letting him know how much he hurt his wife, Tommy burns the money, throwing it over the fence. There's no proof that this interaction and the burning of cash actually happened, based on what Gauthier told Rolling Stone in 2014. Fabricating a wild diss on Tommy's part amplifies the tension that existed between him and Rand and makes clear the kind of rambunctious figure the rockstar was in the height of his career.
Erin Simkin/Hulu
Rand Gauthier's Remorse
In Episode 7, "Destroyer of Worlds," Rand's ex-wife, Erica Boyer (Taylor Schilling), and her girlfriend, Danielle (Medalion Rahimi), share their opinions of the tape: They found it to be a creative and meaningful recording, rather than the enticing exposure many others thought it to be. This perspective stirs some guilt in Rand, as up until now he was only concerned with being arrested for the illegal distribution. The exposure of two innocent people was never a thought that crossed his mind.
When he confesses to his ex-wife that he is the infamous thief, he justifies the action by claiming that Tommy Lee was simply the last guy to take advantage of Rand's "kindness" before he lost it. His face shows he knows he did something wrong, just as a viewer rooting for Pamela's justice would want to see.
Gauthier admitted to having no regrets about his stealing in that Rolling Stone interview. "They're in love and a couple and they're just having fun with each other, and I think that's great," he said. He also claimed to have brought something positive to Tommy Lee: "I made his career, is what happened."
Since Rand defended his sabotaging of the couple and considers it deserved karma to this day, it is not completely realistic to assume he would have demonstrated any remorse in the thick of this fight. However, to portray Rand as a victim would be a disservice to the message of the show, which is that the story of Pam and Tommy is one of deliberate violation, an unfair justice system, and an inaccurate depiction of revenge porn.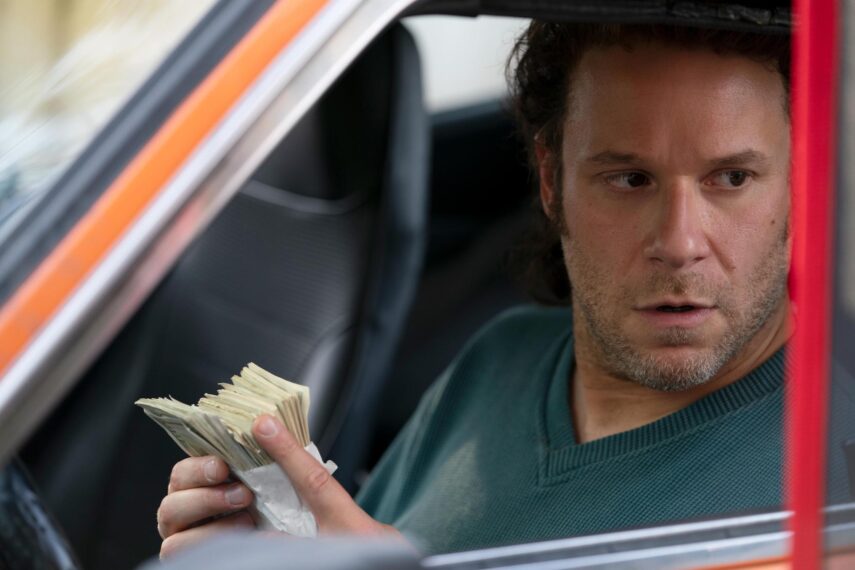 Erin Simkin/Hulu
Pam & Tommy, Streaming Now, Hulu