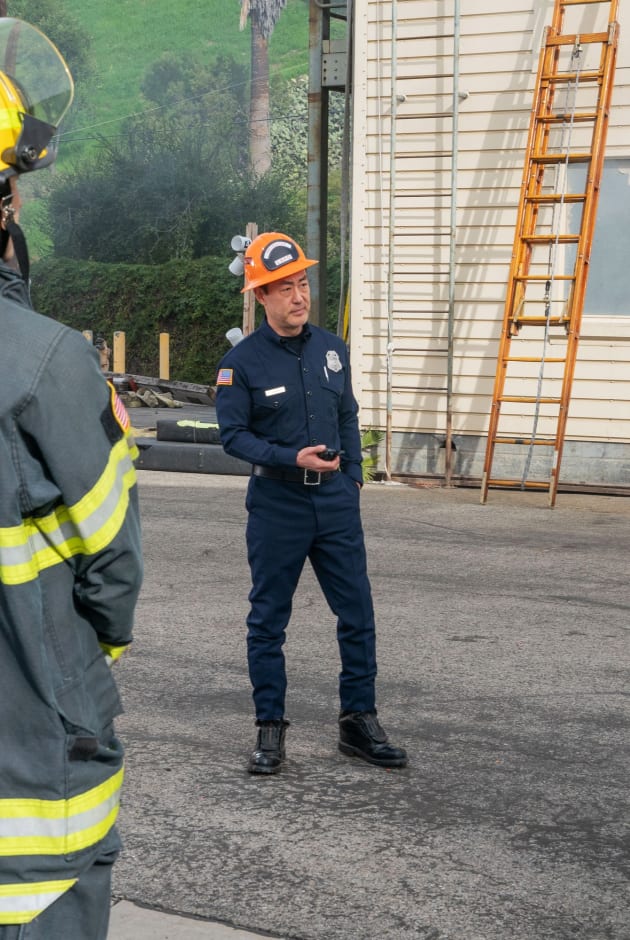 It's time for the annual performance reviews, and all of us in the workforce can relate to the anxieties that can pop up around that time of year.
For Chimney, a look into his performance will have him headed back to the fire academy, where he'll run into someone he and the audience are familiar with.
Might 9-1-1 Season 6 Episode 14 finally see the return of Ravi? The answer is a resounding YES!
We haven't seen Ravi since 9-1-1 Season 5 Episode 18, and the masses have sorely missed the fan favorite. We haven't heard much about his whereabouts this season, but as we head into the final episodes of 9-1-1 Season 6, it's the perfect time to welcome him back.
It's also always an excellent time for a Chimney-centric storyline!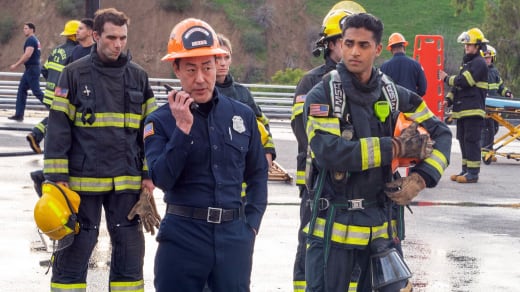 Welcome Back to the Fire Academy
Since 9-1-1 returned from hiatus, much of Chimney's journey has centered around his family, with the arc involving his father and the con lady coming to steal from him and Maddie's house.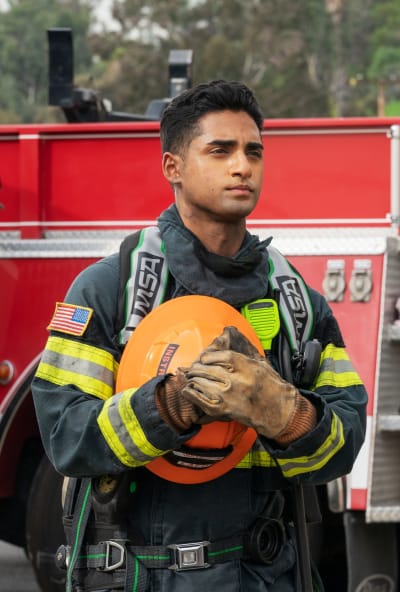 Seeing a different story for him as he returns to the academy will be nice. But the why behind his reemergence at the academy is anyone's guess. Bobby's performance review will send him there, but what could Chimney learn by returning with the up-and-coming crop of firefighters?
It's never too late to re-train or even re-learn skills, and even though Chimney is a seasoned vet at this point, it's not above him to want to get better. So, perhaps he'll head back there to brush up on some of his skills.
And while he's at the academy, he'll surely come into contact with many young and eager men and women looking to join the coveted LAFD. And who better than Howard 'Chimney' Han to meet and help you along your way?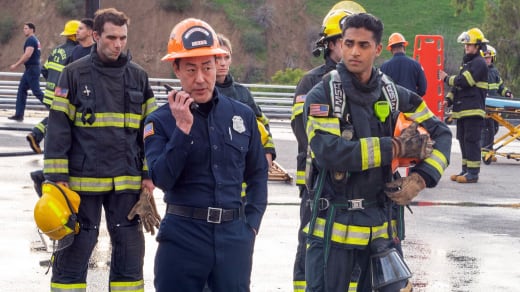 Ravi Returns
As previously stated, Ravi has been very missed!
A lovable and knowledgeable probie, Ravi was a great addition when he joined the team during 9-1-1 Season 4. He fit in very well with the other established dynamics, and he caught on quickly with the audience.
Hopefully, we'll hear what Ravi has been up to and spend some good quality time with him. Having him back will only enhance the series, and seeing him with Chimney will be a lot of fun, as the two always had a nice rapport.
Here's hoping we'll be seeing much more of Ravi as the season whines down and finally delve a little deeper into the firefighter, as to this point, we haven't fully gotten to know the real Ravi Panikkar as much as we'd like to.
Getting Back Out There
When we spoke with EP Kristen Reidel after 9-1-1 Season 6 Episode 10 about what was coming up for Eddie in the back half of the season, she told us, "We've got some fun stuff planned for Eddie. He's going to, I think, finally be ready to step back out into the dating world.
"And there's going to be a little bit of a trial and error with that. So, we can have some fun. Because he really did kind of jump from mourning Shannon into a full-blown relationship with Ana, and he didn't take a lot of time to play the field.
"So, I think we'll see him go out on a date or two and maybe try and find someone who could recapture that feeling that he once had."
Knowing that his aunt will return during this hour and get invested in his personal life sounds like perhaps she will be encouraging him to date again. And it's been a minute since he put himself out there.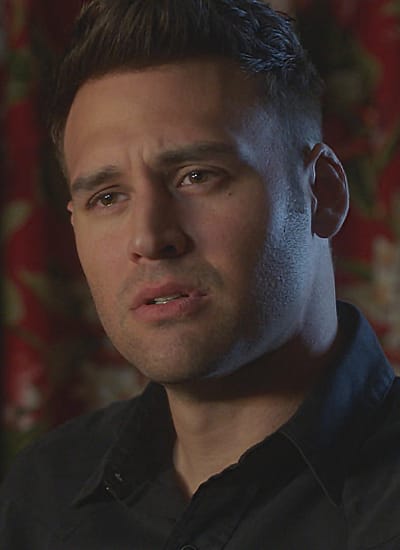 Since breaking up with Ana, Eddie has been content with being single, but dipping a toe or two into the dating pool could get him ready to take the plunge again. Or he could stay pat in his decision to remain single for now.
There are a lot of interesting possibilities here. And 9-1-1 does love a silly dating plot!
Frankly, it will be nice to see Eddie get a storyline of his own, as it feels like it's been a while since he had a story just for himself.
Maddie Helps A Struggling Teenager
Maddie is a remarkable dispatcher, and it sounds like we'll see her back in the seat during this episode when she helps a teenager suffering a panic attack.
Nothing is scarier than feeling like you're losing control, which is precisely what a panic attack can feel like. Sudden anxiety can hit you like a ton of bricks, and sometimes there is no easy way to come down.
Maddie has a knack for calming people with her kindness and compassion, and it's one of the many attributes she brings to her job. There's no one better to help you through an emergency than Maddie, so we look forward to seeing how she can help the panicked teen.
Big Time Emergencies
A few emergencies are on tap for this hour, including one at a commercial bakery and one at a bodybuilding competition.
As seen in the preview promo for the episode, it looks like a man's bicep implodes, and Athena has a hell of a time trying to keep the crowd in control. Some of the best emergency sequences involve Athena and the 118 working together, so we expect big things here.
This has all the makings for a classic 9-1-1 emergency, complete with wacky characters and over-the-top scenarios, as only this show can deliver.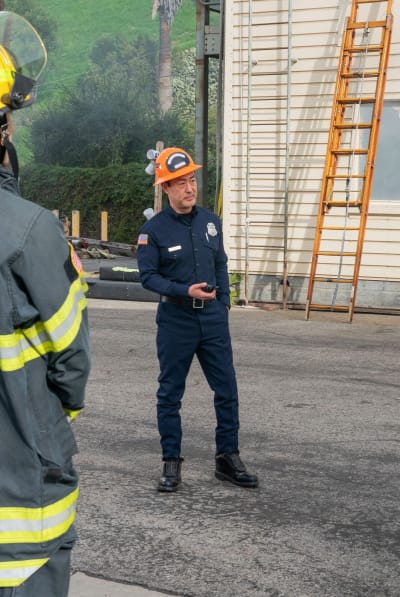 "Performance Anxiety" will surely be another packed episode, which is what we've come to expect from the series. We're interested in what you're excited to see from this hour and, with only five episodes left this season, what storylines you're eager to see before time runs out.
Check out the promo below and hit the comment section with all your commentary, and remember, 9-1-1 airs at 8/7c on FOX.
You can follow our reviews here for the rest of the season. And don't forget to watch 9-1-1 online via TV Fanatic.
Whitney Evans is a staff writer for TV Fanatic. Follow her on Twitter.