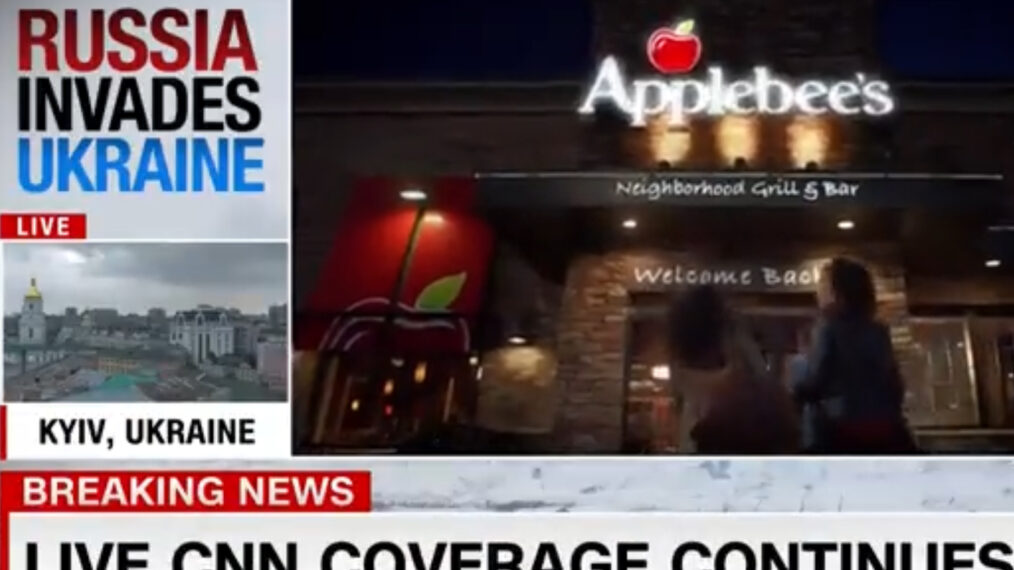 After viewers slammed CNN for airing a lighthearted Applebee's commercial during the Russia-Ukraine war coverage, the restaurant chain has pulled its ad units from the network.
The news comes after CNN aired a jovial Applebee's ad on a split-screen as air raid sirens sounded in the Ukrainian capital of Kyiv on Thursday.
Applebee's has since pulled its ad units from the news channel and apologized to viewers, though the company was not to blame for the placement of the ad.
"We are deeply concerned about the situation in Ukraine," an Applebee's spokesperson told Forbes reporter Marty Swant. "When we were made aware that our ad was placed in this manner, we immediately reached out to CNN to pause our advertising on their network. It never should have aired, and we are disappointed in the actions of the network."
I asked Applebee's about the now-viral ad that aired on CNN today during the live broadcast of Russia's attack on Ukraine and just got the following statement: pic.twitter.com/q3rxA4cJxN

— Marty Swant (@martyswant) February 24, 2022
As can be seen in the video below, the upbeat ad appeared as the Russian invasion of Ukraine played out in a small box on the left side of the screen. The jarring image saw a dancing cowboy shaking his booty to the Zac Brown Band's song "Chicken Fried" while the cameras tracked the Ukrainian capital.
WW3 sponsored by Applebees.

We're living in an episode of South Park.

— NUFF (@nuffsaidny) February 24, 2022
Applebees: Lets take some ad space on CNN. What could go wrong?

CNN:pic.twitter.com/f0fE4BM6Ss

— Josh Gross (@josh3302) February 24, 2022
This missile attack is brought to you by Applebees!!

THIS is CNN… pic.twitter.com/JIUIhrQBHh

— ForAmerica (@ForAmerica) February 24, 2022
Applebee's wasn't the only ad unit sharing screen time with the devastating news coverage. In another instance, a cheerful commercial for the Sandals resorts appeared on a split-screen, accompanied by Bob Marley's hit "Everything's Gonna Be Alright."
— Megan (@MeganMakinMoney) February 24, 2022
According to Adweek, WarnerMedia, which owns CNN, has said that these "squeezeback" advertisements have now been removed from the coverage of the Russia-Ukraine conflict.