A Knife and No Coin
Season 5 • Episode 8
[Warning: The below contains MAJOR spoilers for Yellowstone Season 5 Episode 8 "A Knife and No Coin."]
Heading into the Yellowstone midseason finale, Jamie (Wes Bentley) was planning to call a vote to impeach John (Kevin Costner) as governor. Did he go through with it?
While John goes to support Rainwater (Gil Birmingham) and protest the pipeline being built under the reservation, Jamie goes before the people of the legislature and assembly and calls for his impeachment, citing his actions (regarding the airport and taxing non-residents) as only in his best interest. They'll have devastating consequences for their constituents, Jamie claims.
"This is why I said he's not fit for this office," John says upon hearing the news. But truth will prevail, right? That's what Clara (Lilli Kay) thinks, but John knows better. It's "menace" that will win this, and he'll teach her how to fight with it.
With a vote of 67-33 in favor, John is going to be subjected to the first impeachment tribunal in the state's history. Beth's (Kelly Reilly) reaction is exactly what you'd expect as soon as she finds out: "That motherf**ker" and a visit to Jamie's home.
Beth breaks in, Jamie tries to throw her out, and she hits him, insisting that he resign the next day — or the sheriff will get copies of photos of him disposing of his father's body. But that's when he drops a bombshell on her: She can't expose what he did without revealing the "century's worth of our family's secrets" that are at the bottom of the canyon, a.k.a. the train station, about which she's just hearing for the first time. Rather, according to Jamie, he is the one protecting the ranch for future generations, including Tate (Brecken Merrill) and Jamie's son — and yes, he mentions that she doesn't have kids, but really, Jamie, we really wouldn't do that, considering you're the reason why that's the case.
"The greatest threat to that ranch is our father, and you know that, too. So I will remove the threat," Jamie says. For Beth, this means war, and as she warns Jamie on her way out, it's "just beginning."
Beth then immediately goes to see John to question him about the train station, and he doesn't deny its existence. "It's the trash can for everyone who's attacked us," he explains. "Where do you think the men who attacked you in your office and attacked our ranch went? You're shocked we found a way to circumvent the consequences of defending ourselves? I'm shocked we need a way. But we do, we always have. Unless we're willing to walk away from 120 years of our family bleeding into this ground, we always will."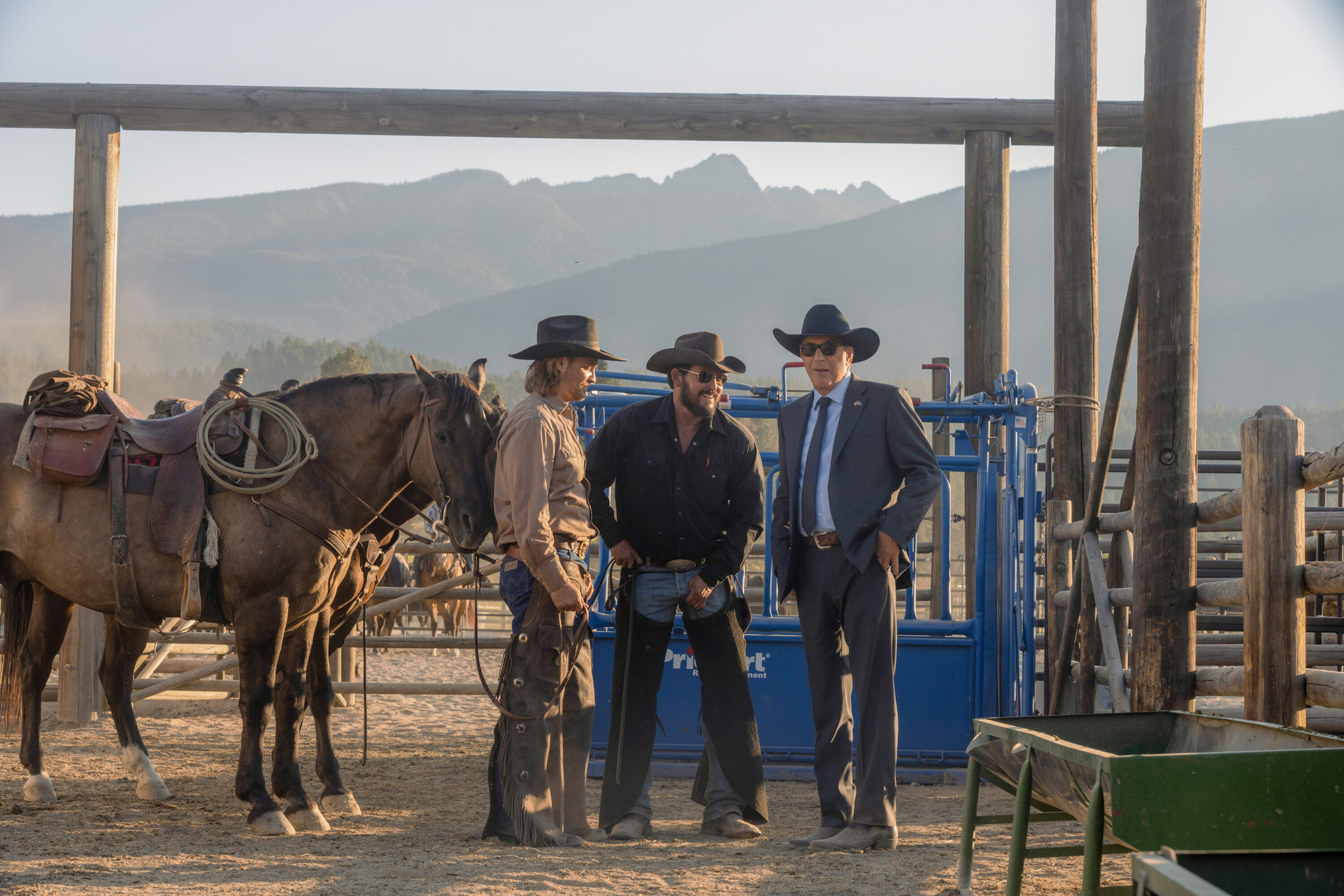 Paramount Network
John knows that Jamie knows about it and will use everything he knows to destroy him. But Beth has an idea: "If there is a place our enemies go and nobody ever knows they went, then they will never come back. Then I think that's the place for Jamie. What do you think, daddy?" John sits forward.
Meanwhile, as Sarah (Dawn Olivieri) tends to Jamie's bruises, she wonders what Beth will do next. Try to have him killed, he knows, and yes, he's serious. Jamie asks if she knows anyone, if there's a group with experience with this kind of situation, and Sarah says to just assign himself security. "That's playing defense. What if I want to play offense?" he asks. Sarah says there are companies — one in New York, one in Virginia — with professionals, and it will look like a heart attack or car accident. Jamie wants to meet with them, to see how they'll handle it, but Sarah assures him he doesn't want to do that. Instead, he should tell her what he wants, and she'll get it done.
Could Beth or Jamie really play a role in the other's death? We'll have to wait to find out — and Summer 2023 can't get here fast enough!
Elsewhere in the midseason finale:
Jimmy (Jefferson White) returns! We catch up with him still working (and doing great) at the 6666 Ranch (and still with Emily, played by Kathryn Kelly). And he's happy! (Also: The episode was dedicated "In Loving Memory of Dr. Glenn Blodgett, Horse Division Manner at The 6666 Ranch.")
John turns to Monica (Kelsey Asbille) with his request for her and Kayce (Luke Grimes): for his son to watch over the ranch — and the family to set up at East Camp — while he's in Helena and Rip (Cole Hauser) is in Texas with the herd. When she brings that to Kayce, he admits that the choice he saw was between the ranch and her. But since East Camp wasn't in his vision, maybe this way they can have both, she suggests.
In the flashbacks, Rip (Kyle Red Silverstein) is given the "choice" to take the brand or not. It means "you will have a home 'til the day you die or this ranch is no more," John (Josh Lucas) tells him. Rip returns to the bunkhouse, branded.
Yellowstone, Season 5 Returns, Summer 2023, Paramount Network