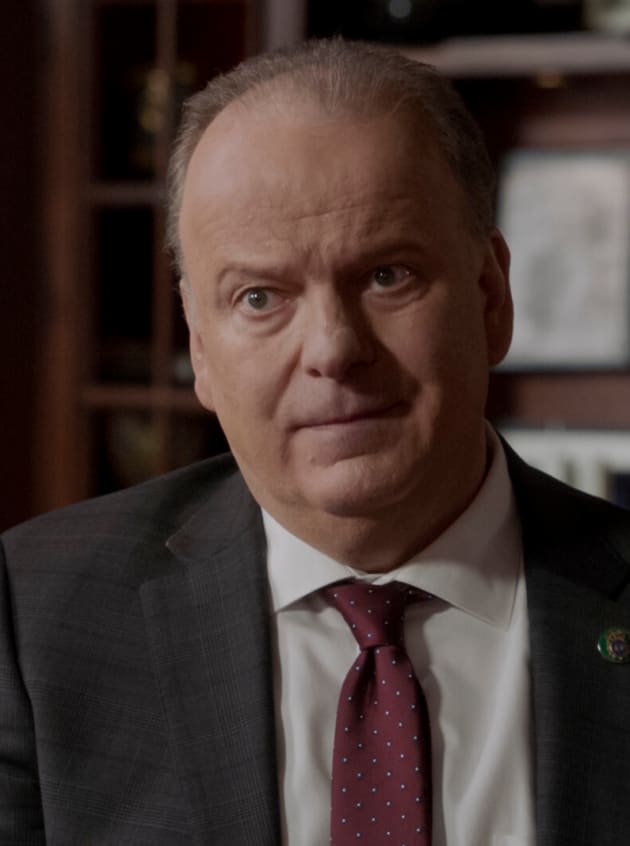 If you were worried the writers forgot Erin's running for DA, don't be.
The DA's race is heating up. For the second week in a row, Erin'll have to face a difficult choice while getting more deeply involved in politics.
Blue Bloods Season 13 Episode 11 spoilers suggest Erin may need to make a deal to get a key endorsement — but will she do it?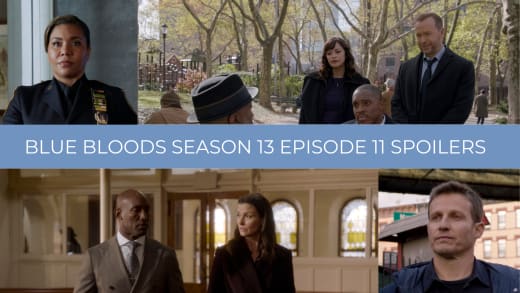 Pastor Isaiah Clay is an influential Harlem pastor, so getting his endorsement would be a substantial win for Erin's campaign. It would also help her win votes from those who may fear that she supports tough-on-crime policies that disproportionately affect Black people.
But Clay won't offer his endorsement for free. He wants a professional favor. Erin might not be comfortable with an endorsement that feels like a quid pro quo, but can she afford to turn him down?
Erin's already struggling with playing political games; she didn't like the image consultant's ideas on Blue Bloods Season 13 Episode 10, and this will feel even more like she's selling her soul.
She's not wrong to feel that way. Endorsements shouldn't be pay-to-play; either an influential figure believes in a candidate, or they don't. If endorsements can be bought, then what are they worth?
Erin needs to talk with Frank about her concerns. Although his position is appointed, so he doesn't have the problem of constantly needing to appeal to voters, he has had to learn how to deal with the politics of his job. Otherwise, he'd have been gone long ago since he often butts heads with the mayors responsible for his continued employment.
She also needs to think about why she's running, what she hopes to accomplish, and how she can stay true to her values and win the election.
Elsewhere, Danny and Baez catch an interesting case: the death of a chess hustler.
Chess hustlers are a New York City fixture; they hang out in Washington Square Park, among other places, and offer to play people for money.
Many are insanely talented players, and it's easy for an overconfident tourist to lose money quickly; this could be a strong motive for murder.
Hustlers may be homeless or poor, and many have had run-ins with cops, so they probably won't be too eager to talk to Danny and Baez.
Spoilers say the detectives will encounter resistance from another source: the victim's son.
Dealing with the families of people whose lives were stolen from them is one of the hardest parts of being a homicide detective. It takes a certain amount of sensitivity and finesse, which Danny doesn't always display.
Luckily, Baez is back from her holiday, so she can help rein him in. Hopefully, she'll be able to get the man to cooperate with the investigation.
Jamie also has a compelling storyline this time around.
While the spoiler video suggests he'll be trying to negotiate with a hostage taker, that's the tail end of the story — Jamie will struggle with guilt and remorse over an arrest he made years ago.
He likely sent an innocent person to jail when he was a rookie cop, and now that person is taking hostages either as retaliation or to try to secure their release.
TV shows often depict innocent people who become so desperate to escape trouble that they take hostages.
This could be another story of that nature, but it would be more original and compelling if the perp became a hardened criminal in jail and is now wreaking havoc even though they were innocent of the crime that got them locked up.
Jamie shines at dealing with emotionally and mentally ill perps. He's talked people down and averted tragedies in the past, but he hasn't had much opportunity to do that since he began working in more of a leadership capacity.
This'll be the first time since his promotion to Sergeant that he gets to do what he does best, and I can't wait!
Finally, Frank grapples with what is sure to be an emotional story when Sid asks him to assist a disabled officer who has a connection to Danny.
Danny might have worked with this officer in the NYPD or know her from his military days. Either way, this may lead to a controversial decision for Frank.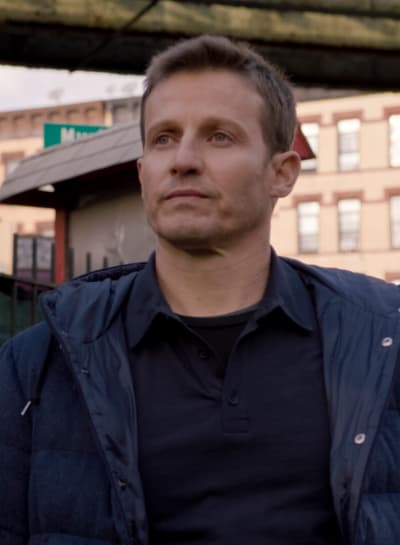 Frank once faced off with a physically disabled detective who wanted to return to active duty despite needing a wheelchair, which Frank believed was too dangerous. Will he deny whatever this new request is, too?
Danny might disagree with Frank's decision, especially if he's the one who pulled strings to get Sid to introduce her to Frank. The Sunday dinner conversation could be uncomfortable if he's unhappy about it.
In these cases, Henry usually has some words of wisdom. He's also not above calling Frank out if he thinks Frank is being unreasonable or uncharitable.
What do you think, Blue Bloods fanatics? Will Frank and Danny get into it over this disabled officer? Will Erin accept Pastor Clay's offer? And which storyline excites you the most on Blue Bloods Season 13 Episode 11?
Hit the big, blue SHOW COMMENTS button and let us know!
The next new episode of Blue Bloods airs on January 20, 2023, but you can watch Blue Bloods online any time you want.
Jack Ori is a senior staff writer for TV Fanatic. His debut young adult novel, Reinventing Hannah, is available on Amazon. Follow him on Twitter.