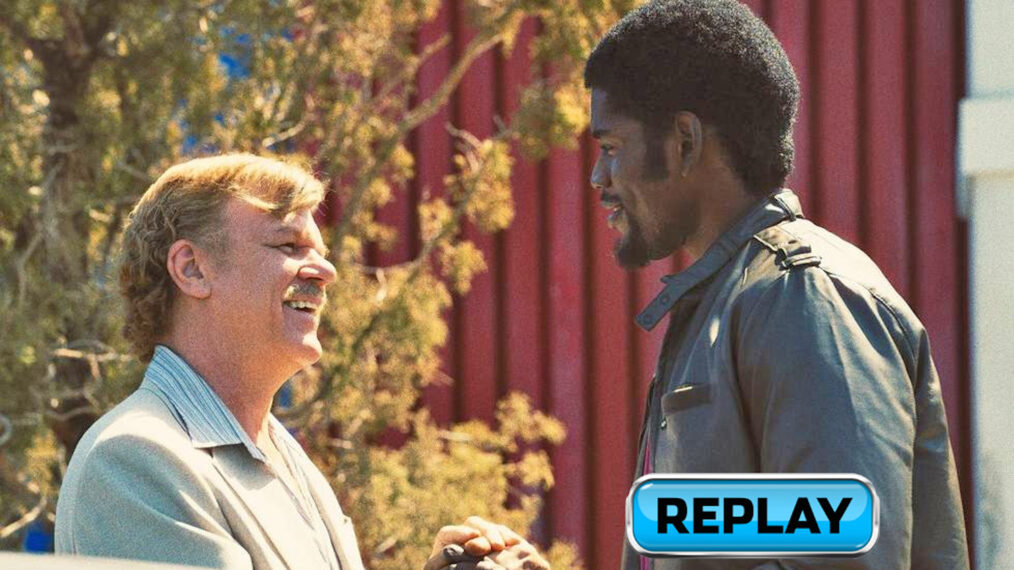 Welcome to our weekly column Can't Miss Episode of the Week! Every Saturday we'll be spotlighting a different episode of television from that week that we thought was exceptional and a must-see. Check back to see if your favorite show got the nod — or to learn about a new one! Spoilers ahead.
You don't have to be a basketball fan to enjoy HBO's Winning Time: The Rise of the Lakers Dynasty. Take it from someone who knows nothing about sports. The new series from Adam McKay (director of The Big Short, Vice, and Don't Look Up), which premiered on May 6, tells the story of the beginning of the Lakers' success as a basketball team, but also the rise of popularity for the NBA as well.
The first scene takes place in 1991 when Lakers point guard Earvin "Magic" Johnson (Quincy Isaiah) finds out that he has contracted HIV. The scene, in comparison with what is about to come, is quiet and dressed in hues of beige and grey as Magic moves through the clinic. It's a scene that's going to loom over us, but until then, we get to rewind to 1979 when Magic first arrives in LA in hopes of becoming their first draft pick.
The league Magic enters is a mess. It has low ratings, and a perception that a lot of people aren't watching because there are too many black people in the sport. (I, personally, had no idea the NBA was ever anything less than hugely popular.) McKay uses his signature style of fourth wall breaks to explain to us who everyone is, and while I worry it's going to become a nuisance over the course of the series, it's a useful device, like it was in The Big Short, to introduce viewers to this world. In one scene, Jerry Buss (John C. Reilly), who is about to buy the Lakers, talks to the camera to tell us the personal history of Jerry West (Jason Clarke), head coach for the Lakers, and as he does the words "Jerry West: Has never been happy" appear on the screen. It's funny, but also, in that moment, we understand all we need to know about West, and it gives his actions context for the rest of the episode. (This is so much better than McKay's approach in Vice, which seemed to assume that viewers already knew and understood everything about the history he was recounting and he could just comment on it. *Ahem,* I did not know that era of American history well, and I left the theater very confused.)
A welcome contrast to McKay's gaudy gimmicks is newcomer Isaiah as Magic. He infuses his character simultaneously with a timid vulnerability, just a kid entering the overwhelming world of pro-ball, and confidence–he doesn't hesitate to negotiate with the Lakers management for what he's worth. The episode promises us this feel-good Cinderella story, while making sure we don't forget the much more dire times on the horizon with that opening scene, but none of it would work if we weren't invested in Magic as a character. He's the heart of the show. When he has a moment where he's questioning whether he's ready for this big step, his dad, Earvin Sr. (Rob Morgan), tells him "If you're not ready ever, I don't care. I love you." The camera gets real close on Morgan's face so that the scene feels intimate, and Earvin's unconditional love comes through Morgan's insanely strong performance. It's the best scene of the episode.
Warrick Page/HBO
The other pillar of the show besides Magic is Buss, who represents excess itself. Excessive sex in the playboy mansion, excessive love for basketball, and excessive ambition as he makes bold claims about how he's going to turn this team, and the NBA by extension, into something popular. Of course, we know he achieves it, or we wouldn't be watching this show, but it's still fun to see how the sausage gets made. The episode is titled "The Swan," and as Buss goes into his final negotiations to buy the team, he explains what that means. "You know why I love swans?" he asks the audience. "The most graceful bird on Earth, but underneath the water, they're paddlin' up a f***in' storm." It sure is fascinating to watch him paddle.
Other observations we thought made this episode stand out:
The show has to depict an era and environment rife with racism without being too preachy. It does this excellently by inserting little microaggressions, like calling Magic "boy." It's not a big statement, but it's the kind of thing that chips away at a person, and we can see it chip away at Magic as he swallows his pride and keeps his cool.
Winning Time: The Rise of the Lakers Dynasty, Sundays, 9/8c, HBO