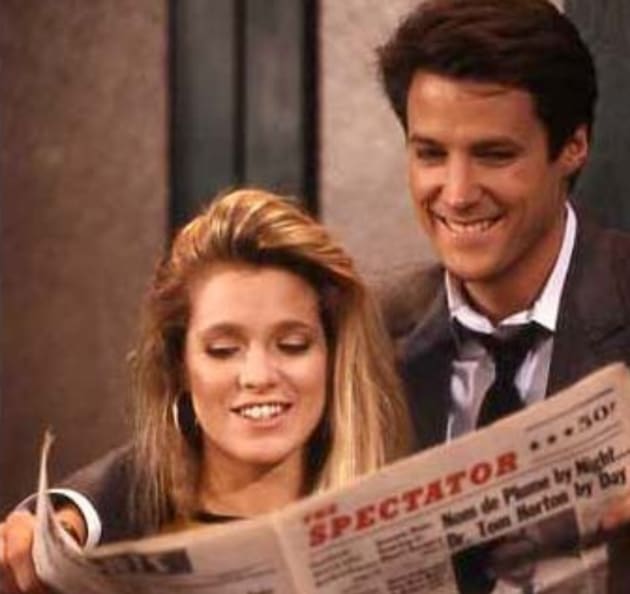 Sarah's never had good luck. Her first baby died, and she raised one that wasn't hers for a year before learning the truth.
After that, she was kidnapped and given drugs, turning her into a ghost that hated the Hortons.
She might have thought she got rid of her bad luck charm when she divorced Xander. But Days of Our Lives spoilers for the week of 2-27-23 say otherwise. On the same Salem day, Sarah will learn that her divorce never went through… and that she's pregnant!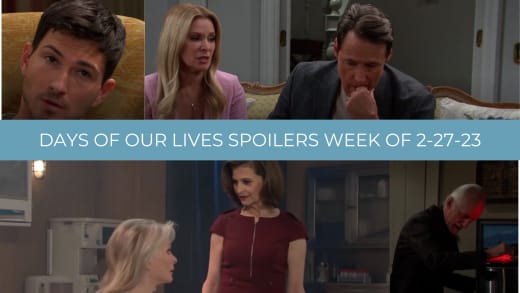 Sarah's moved on (or backward, depending on your point of view!) with Rex, only to learn that someone at the courthouse lost her divorce papers, so she's still married to Xander.
This silly development can't be accidental, can it? Bonnie was eager to rip up those papers; what stopped her from interfering with their transmission to the court after Sarah foiled that plan?
The lack of security EVERYWHERE in Salem has gone beyond ridiculous
People walk in and out of the prison complex whenever they want.
Mischief makers routinely change DNA test results, smother patients with pillows, and switch dying patients with body doubles.
And now, someone stole Sarah's divorce papers, or an incompetent clerk misplaced them.
And that's not all — Sarah will be the latest Salemite to discover an accidental pregnancy, and most likely, she won't know who the father is.
She slept with both Xander and Rex recently, and Xander will undoubtedly want to use the existence of a baby and the lack of a divorce to convince Sarah to stay together.
This is the 21st century. As Eric tried to tell Nicole before Jada's off-screen abortion, people can co-parent without marriage. Of course, in the 21st century, birth control exists — you'd think one of Salem's top doctors (two if Rex is the father!) would use it.
Please scroll down to check out all eight Days of Our Lives spoilers for the week of 2-27-23.

Marlena, Kate, and Kayla awaken to find they are Megan's prisoners.
We're finally out of the afterlife (hallelujah!). But have the women jumped from the frying pan to the fire?
Megan appears to be Days of Our Lives' answer to Joe Mascolo's death — she's got all of Stefano's evil, calculating ways. She even has his trademark cackle!
Now that she has the three women in her clutches, Megan says it's time for "Phase Two." But what is she planning on doing with them?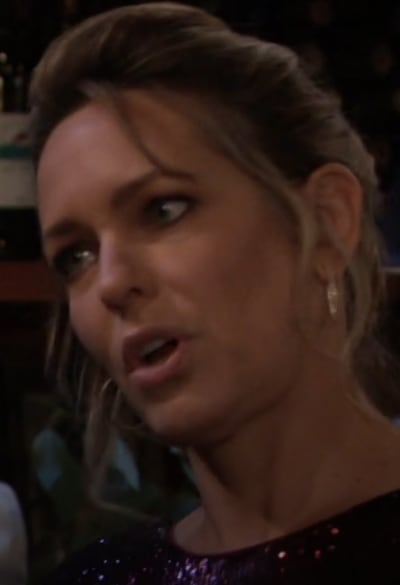 Nicole reminisces about her 25 years of knowing Eric.
Congratulations to Arianne Zucker on 25 years with Days of Our Lives! The series plans to air a tribute to Nicole and Eric's relationship on February 27 in honor of this milestone.
I wish they'd honor Nicole as a character. She's had many storylines and been involved with many men, not just Eric. At the very least, they should balance this with flashbacks of Nicole and EJ's previous misadventures!
Hopefully, this isn't set up for Nicole and Eric to reconcile again. She JUST admitted to EJ that he's far better for her than Eric is. No flip-flopping, Nicole!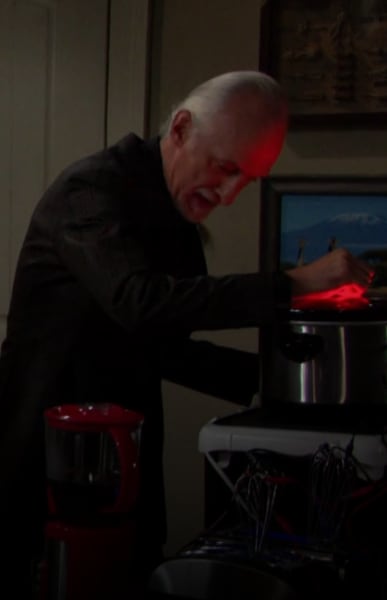 The plan to deprogram Stefan goes horribly awry.
Rolf is "operating" on Stefan with a hand mixer, waffle iron, and other assorted kitchen tools. What could go wrong here?
Brady's behavior has been so obnoxious that some fans hope Rolf will accidentally brainwash HIM into hating Chloe. Could their dream come true?
It would also be fitting for Stefan to lose his feelings for Gabi or desire Chloe even more intensely now.
EJ and Nicole plan their revenge on Stefan.
EJ plans to give Stefan a taste of his own medicine, but will Stefan be in any state to experience anything?
After the botched brainwashing, he may have already received quite the dose of karma! This is the second time Stefan has been held against his will and forced to undergo a failed deprogramming.
Still, EJ and Nicole won't let anything stop them from exacting revenge. But will EJ have second thoughts if Stefan is in bad shape from these Rolf experiments?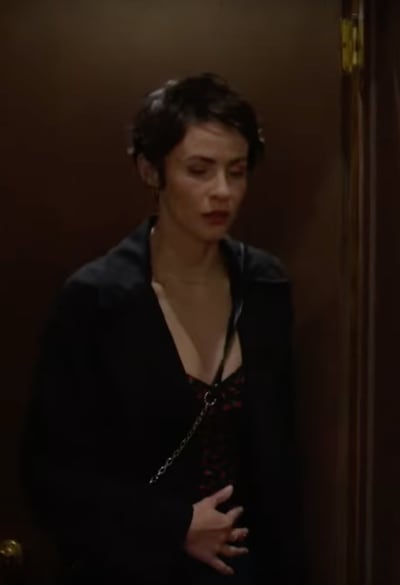 Sarah learns that she is pregnant — but who's the father?
As discussed above, Sarah discovers a surprise pregnancy immediately after learning that she and Xander are still married.
Xander will try to use these two events as a reason to reconcile.
Meanwhile, Rex assumes he's the father. And even if he isn't, there's no reason he and Sarah can't raise the baby together other than Xander refusing to work out a custody agreement.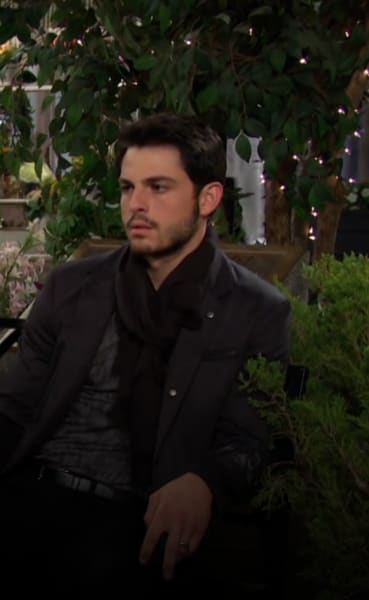 Sonny says goodbye to his family.
Sonny decided over a week ago to move to New Zealand with Will, and Allie is tagging along. In Salem, it's still the same day, so Sonny has time to say goodbye before he takes off.
He'd better be back when Victor dies, assuming Days of Our Lives eventually writes John Aniston's death in rather than leaving Victor "upstairs" indefinitely.
Sonny's departure means Alex is the only one of Justin's sons on canvas. Ugh.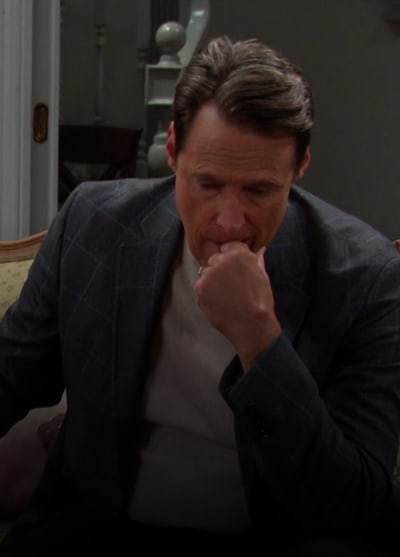 Jack and Jennifer again leave Salem.
Jack and Jennifer are recurring characters at this point, but this is the worst time for them to leave!
They gave into Gwen's blackmail, went out to dinner, and now are leaving town, taking the compelling story that didn't happen with them.
Jack and Jennifer should stay and fight for their paper! Maybe they will visit JJ, though — can they bring him back with them?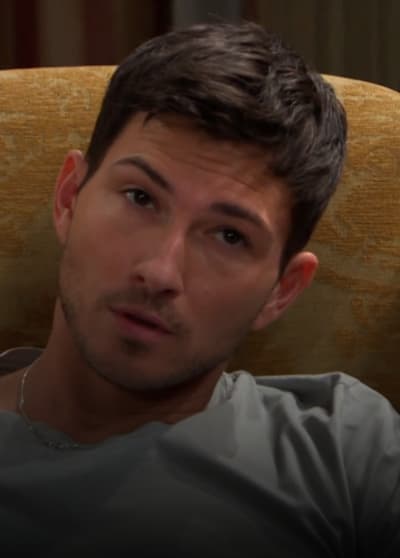 Maggie's news throws Alex off.
Since DAYS tapes six to eight months ahead of airtime, it's too soon for the series to address Victor's death.
But could the showrunners have been aware that Aniston was too ill to return and start setting the groundwork for the inevitable?
Or will Maggie's news be about Philip being alive and on his way back to Salem?
What do you think of these spoilers, Days of Our Lives fanatics?
Hit the big, blue SHOW COMMENTS button and let us know!
If you'd like to discuss already-aired episodes of Days of Our Lives, check out the latest Days of Our Lives reviews and Days of Our Lives Round Table discussions.
Days of Our Lives streams exclusively on Peacock. New episodes drop on weekdays at 6 AM EST / 3 AM PST.
Jack Ori is a senior staff writer for TV Fanatic. His debut young adult novel, Reinventing Hannah, is available on Amazon. Follow him on Twitter.