[Warning: The below contains MAJOR spoilers for FBI: International Season 2 Episode 12, "Glimmers and Ghosts."]
Christiane Paul returns to FBI: International for an episode that gets very personal for Katrin Jaeger.
The investigation into the murder of a former asset of the Stasi — a huge network of informants and collaborators who spied on family, friends, and neighbors — in East Germany leads to Jaeger opening up to Scott Forrester (Luke Kleintank) about her own family's history. She grew up in East Berlin but remembers her family being happy until the day her father found a listening device in the living room. Then, when she was 7, her father took her to a park, sat her on a bench, and went to get hot chocolate … only to never return. He abandoned them and escaped over the wall. Her mother was arrested on suspicion of complicity, and that was the end of her family.
But it turns out the man who put Jaeger on the path to who she is today, Simon, was the Stasi director. His arrest comes as part of the case — a young man going after the Stasi for what was done to his parents — and he turns his gun on himself, only for there to be no bullets. She was hoping he'd do it, Jaeger admits to Jamie (Heida Reed) after. Then, once she's told Simon that no one will remember him (and left the watch he gave her behind), Jaeger is joined by Scott at the bench where her father left her — and yes, that's hot chocolate in the cups.
Paul breaks down that powerful episode for Jaeger. Plus, will she be back?
This was quite the emotional episode for Jaeger, from opening up to Scott to finding out about Simon and being completely blindsided by that last scene in the park.
Christiane Paul: That's the worst thing that could happen for a person, right? If you reveal someday that all your childhood is just a lie, that the person you trusted most is a liar and is actually responsible for the death of your family, this is something you can't really imagine. This is really bad. And I was just so grateful that Derek Haas did this for me and wrote such a Jaeger-centric episode where she really could do something emotionally profound, a deep dive into her character. But of course, it's a horrible discovery she had.
I grew up in East Berlin, too. I was 15 as the wall came down, and I experienced something with my family too, and this is really hard, and sometimes you don't even believe this because I grew up with a kind of normal childhood. I couldn't really feel the dictatorship I grew up in, but at one point, after the wall came down, you discover all the crimes which happened and even what happened to your own family. And this is just unbelievable and unbearable in a way, and you're just lost because all the values you grew up with [are] gone immediately. And this is actually what happens to Jaeger — 40 minutes is very short to tell a story like this, [one that] is actually very profound and horrible at the same time.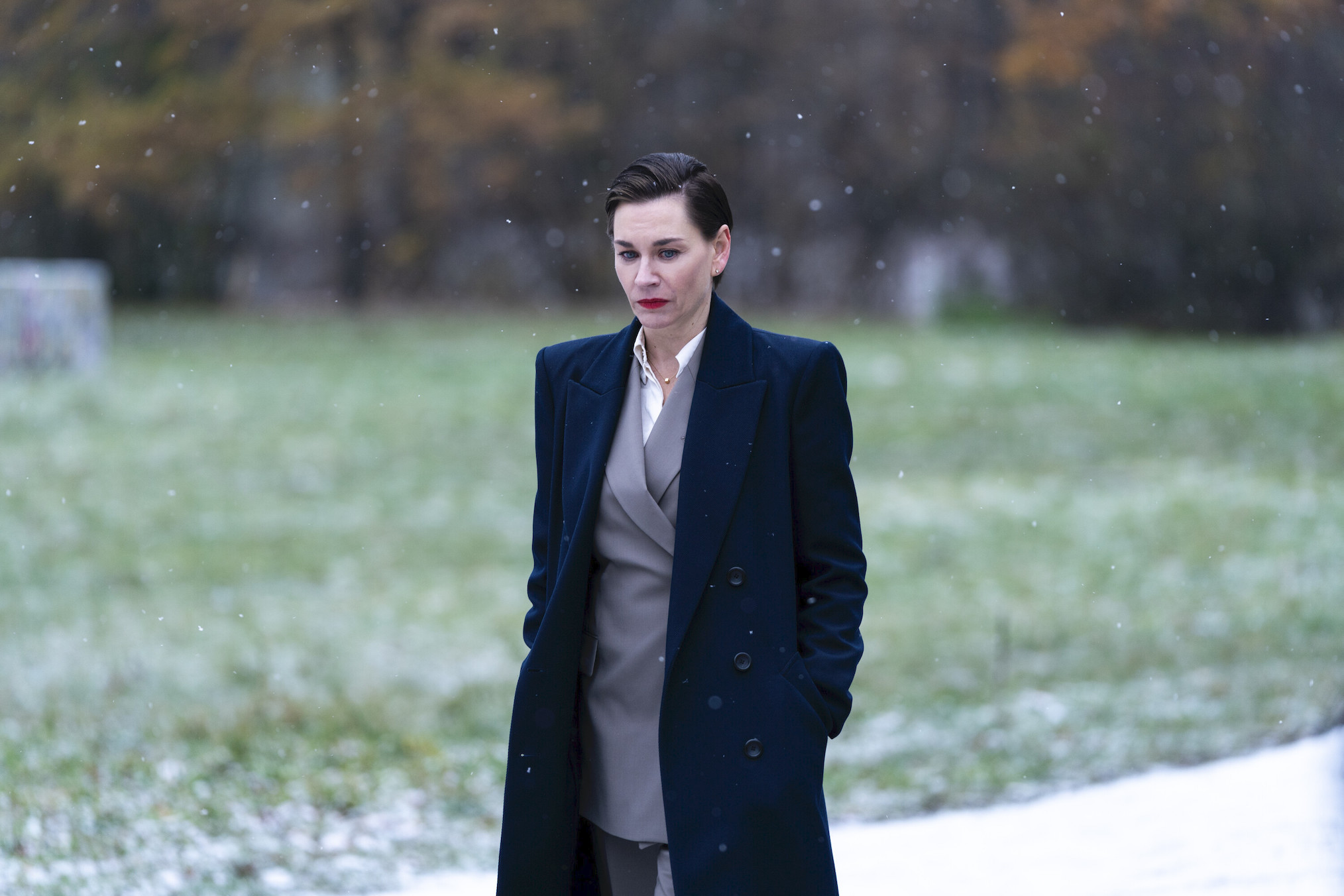 Julia Terjung/CBS
But for me, it was a wonderful opportunity to show this part of Jaeger's character, really to have a hurt heart deep inside, this little child, this little girl she actually is when she goes back to this bench where she sat with her father. There, she's actually the girl again, still longing for a solution or something that could cheer her up or help her in her grief, but of course, she never will find it. It's gone forever.
I love that Scott was there with her in that last scene because she needed him there for this entire case, but especially for that moment, right?
Yes. And it's so funny, you can't really see, but she's telling the story about the hot chocolate, and Scott is actually bringing hot chocolate. For Jaeger, it's in the first moment, it's really a pain. "He's behind my back now, what should I say? I'm really moved." But of course, like you said, she's really happy that he joins her at that moment and is a supporter again and shares this moment with her, [which] gets very intimate, I would say.
Going back to that blindside of Simon being the director, Jaeger has that line about how no, she didn't know the gun wasn't loaded and hoped he'd do it, which, wow, but also very understandable considering what he was responsible for. Then there was her confronting him in the interrogation room. How is Jaeger feeling about how that all went down at the end of the episode with Simon?
In the scene in the interrogation room, it's done for her, and she doesn't want to give him any of her emotions at all. She's just cold and doesn't want to be hurt again and doesn't want to make any connection at all. It's done for her. And like I said, I think it's hard to imagine what would really happen if you discovered such a truth about your life.
So, of course, I think the line "I would prefer the gun was loaded" says something about her mental status at that moment. She isn't politically correct at all. She knows that it's not allowed, but that would be really a relief because her parents are dead, and this guy is responsible for that. So in that moment, she's so full of anger and revenge that she would love that he killed himself, but that's not an option for Jaeger in this position she actually is in.
But at the moment in the interrogation room, I think she just wants to actually make clear what she says, that you will be just forgotten. Nobody will think about you. You're just gone like the wind, like the sand. Nobody will think about you, nobody will love you anymore. It's just gone. And I think that's the hardest penalty someone can have.
Will we see you again this season?
I don't know; probably maybe next season. I don't know what the plans are.
I feel like there's so much more to explore about Jaeger's past that we've started to hear about her father and everything. I have so many questions about her family.
Yeah, that's really exciting. I think they did a really good job building such a universe of her past. I liked it a lot. I really appreciated that they did that, to be honest.
What was the most emotional scene to film from this episode?
The scene in the park in the end and the moment where I tell Scott the story of what happened at that bench, going really back into this moment of what I experienced as a kid. If you go into something emotionally, that's a hard work. And that was really special for me to do this and to bring it to life.
FBI: International, Tuesdays, 9/8c, CBS