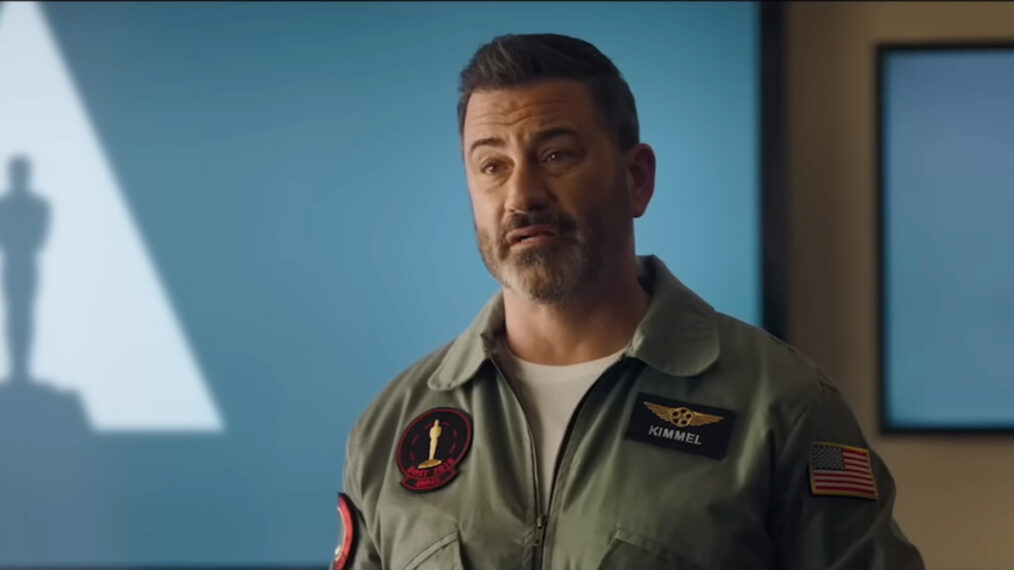 Is Jimmy Kimmel ready to host the Oscars for the third time? According to Jon Hamm and Charles Parnell, absolutely not.
The late-night host introduced the first trailer for the upcoming awards ceremony during Monday's (February 13) Jimmy Kimmel Live!, which featured a hilarious parody of the Best Picture nominated Top Gun: Maverick, including Hamm and Parnell reprising their characters from the film, Beau "Cyclone" Simpson and Solomon "Warlock" Bates.
In a scene similar to the one involving Tom Cruise's Pete "Maverick" Mitchell, Kimmel stands in front of Hamm and Parnell and explains why he is right to host the Oscars, admitting, "I have to admit, I wasn't expecting to be asked to host again."
"We asked a lot of people before you," Hamm states before reeling off a long list of people that turned the role down, including Billy Crystal, Chris Rock, and Whoopi Goldberg. "Steve Martin, Steve Carell, Steve Buscemi, Steve Austin, Steve Seagal, Steve Urkel, Steve from Blue's Clues," he continues. "That's just the Steves."
There is also a reference to last year's infamous slap when Will Smith took to the stage and hit Chris Rock. "ABC has tasked us with finding a host who is unflappable and unslappable," says Parnell, to which Kimmel responds, "That's good because I can't get slapped… I cry a lot."
Kimmel then explains his plans for the evening, including a potential song and dance number. Hamm and Parnell immediately shut that idea down. And so, the late-night host throws to a video detailing how the night will play out.
"I'd probably start with something self-deprecating to break the ice, joke about how I'm wearing two sets of spanx, maybe something about the magic of storytelling; they love that. And then I'll lead a standing ovation for someone old, and if I make it out, there's only four or five hours left until we give Best Picture to, hopefully, the right movie."
During the 2017 ceremony that Kimmel hosted, the night ended with La La Land mistakenly receiving the award for Best Picture before the error was realized, and Moonlight rightfully took the prize.
Hamm and Parnell still do not seem sold, and so nine-time Oscars host Billy Crystal pops into the room to vouch for Kimmel. "Give the kid a shot," he says as Kimmel reminds him he's hosted the show twice before. "Really?" Crystal remarks. "I didn't see it."
95th Annual Academy Awards, Sunday, March 12, 8/7c, ABC