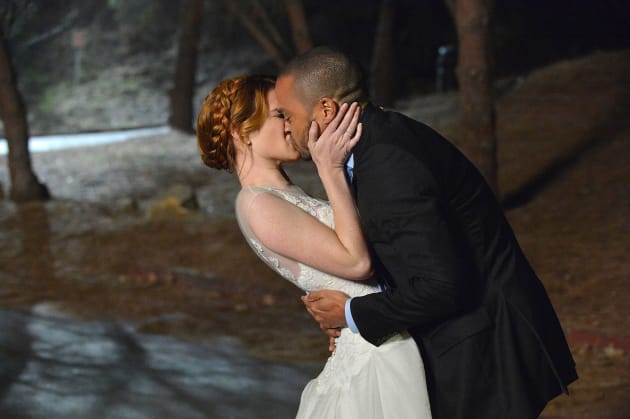 Ah, relationships!
They are so much fun when all parties are into the arrangement and can be quite beautiful, actually. But like there is beauty, there must also be ugliness.
In Only Murders in the Building Season 3 Episode 3, we swooned over Oliver and Loretta's new attraction to each other, and theirs was an example of a healthy relationship thus far.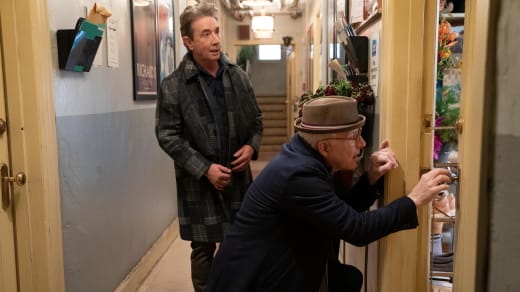 They built each other up and saw everything great about the other person that the rest of the world fails or refuses to see.
Only Murders In the Building Season 3 Episode 4 delivered a drastically contrasting look into Charles and Joy's relationship. It showed all the wrong reasons they were together and why the relationship might be doomed.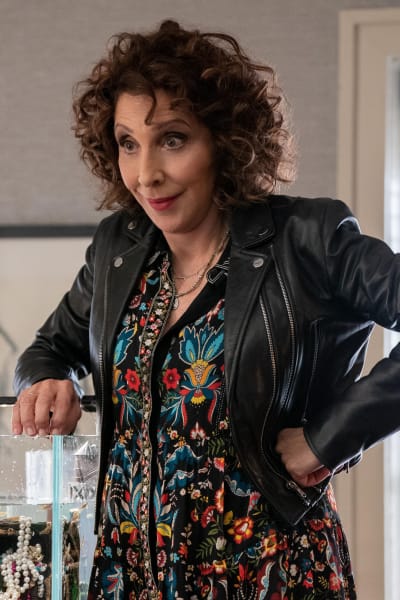 There are red flags everyone must be on the lookout for when in a relationship with someone.
There can be something in their language, demeanor, interests, or in Charles' case, pets.
I've never had fish for pets, but I'm confident that anything in the double digits is too many. They had been going out for at least a year. It was weird that Charles didn't know Joy was obsessed with fish.
Moving in together is excellent because one gets to be close to someone they love, but it might also be the poison to that love. Some love is best suited when people are far from each other, and Charles and Joy's was one of them.
Joy has an outgoing nature, which can be overwhelming to some people. It indeed overwhelmed Charles into agreeing to move in.
Andrea Martin got the opportunity to shine in the episode. We had seen small glimpses into Joy in Only Murders in the Building Seasons 1 and 2, but the character was a mystery.
She took center stage in Charles' life and Ben's murder later on.
Charles had a lot going on, and the pinnacle of his engagements was in Oliver's production. He was saddled with a meaningless part that would incredibly stress him out.
I don't know much about theatre and whether the white room is real, but that must be scary.
Douglas explained why blacking out (or white in this case) is terrifying for a theatre performer.
The white room is a stage thing. In TV, if you screw up, you get another take. In theater, there's no net. You blank out, that's it. You're a polar bear in a global warming documentary, hanging on to a tiny piece of ice in the middle of the sea, waiting to die.

Douglas
Charles had always had stage fright, but this was on another level.
Only Murders in the Building Season 3 has seen Mabel, Charles, and Oliver lack cohesion in their otherwise strong trinity when solving murders.
If the murder had happened somewhere else far from Oliver's production, he might have cared for it, but it affected his show directly.
His leading man was dead, and now they were looking into his cast for their pool of potential murder suspects. What did he do to deserve this fate?
He, however, had to join them to help them find the killer because the faster they did, the faster his production could resume. So, they set their sights on Kimber.
In my Only Murders in the Building Season 3 Episode 3 review, I didn't believe Kimber was the killer based on wobbly evidence for a minute. However, her words pointed us in another direction, and for the first time, there was an intersection between the writers and me.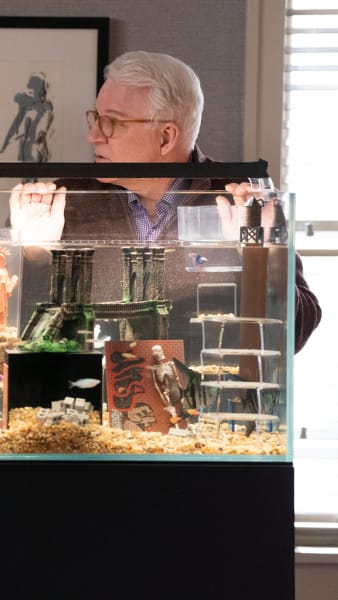 The episode pointed us in Joy's direction, and even before Mabel and Oliver barged in on the white proposal, there were some red flags.
The first was, of course, the fish. They were just too many fish, and she wanted more.
Then she had a peculiar obsession with Charles. She had worked as a makeup artist for a long time, and it would be a fair assumption that Joy was infatuated with Charles, the star she only saw on her makeup table on a blue moon.
Based on how he acts, one can also assume that Charles wasn't the friendliest with people when he was at the peak of his fame. She had waited for a long time and finally got her chance.
Like many obsessed fans, there are no limits to what they can do to protect the object of their affection. It was no secret that Ben had a fraught relationship with most cast members, Charles included.
By her own words, Joy had vowed to protect Charles.
I'll look out for you, Charlie. Just like I did with Ben Glenroy. He knew if he touched one hair on your gorgeous little head, he was going to have to deal with me.

Joy
Kimber revealed that an excellent makeup artist had helped cover up Ben's mark, and who is the most experienced makeup artist we know?
The red lipstick was the final nail. Joy wore lipstick so red it shone brighter than her personality, and when Mabel found it, she admitted it was hers.
Ah! You found my lipstick. This, if this wasn't already the best day of my life. Nothing I hate more than an incomplete set.

Joy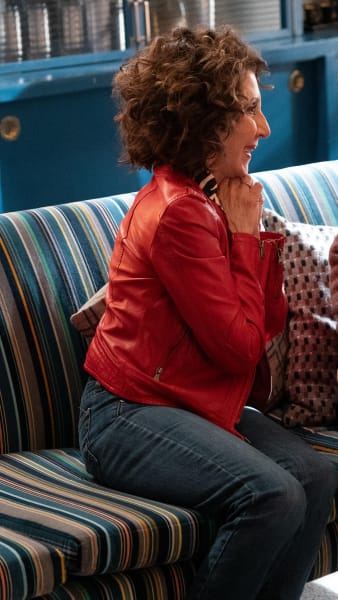 If Joy is the killer, Charles might look at another woman romantically. What luck is it to be attracted to a murderer two times in a row?
The episode didn't offer clues as to who else might be the killer, so apart from Joy, Dickie is still the strongest alternative.
Every episode of Only Murders In the Building has such excellent humor. I thought of naming the top three funniest moments in every review, and what better time to start than now?
The third place goes to Oliver for when he called Charles a lousy actor. Seeing Oliver dig into Charles is never tiring because Charles makes it easy. Oliver has a way of delivering insults such that before someone realizes it, he's moved on.
Oliver: Kimber's one of the few cast members who can actually sing.
Charles: I take offense to that.
Oliver: That was my intention.
The second place goes to Mabel's feeble attempt at girl talk. What was that? Who told her that a mumbo jumbo direct from the internet or RuPaul's Drag Race is what girl talk is?
Mabel: Hey, Mama. Yeah, we're like uh .. yass and work and slay and yass, over here, like, yeah.
Kimber: Yes, Queens!
Selena Gomez delivered it perfectly, even if it was nonsensical.
The first place goes to Cinda Canning. Cinda's return was probably the best thing in the episode. She explained where she had been, and she had begun an organic business selling stuff to people.
You know, it's amazing the amount of steaming horseshit you can feed the American public if you tell them it's organic?

Cinda
Her characterization of Americans and their easy duplicity with "organic living" was hilarious.
Tina Fey's delivery was plain and serious, making the scene a hundred times funnier. It must have been the experience gained working all those years at SNL.
She may or may not owe me a keyboard. I was drinking something when the scene came on, and I spurted it out onto a nearby keyboard. Time will tell if it is ruined, but it would be so worth it.
"The White Room" delivered a lot of laughs which was quite uplifting.
Con-granny-tulations!

Mabel
What did you think?
Do you buy that Joy is the killer? Is there anyone apart from Howard and Dickie that you think might be the killer? Let us know in the comments section.
Denis Kimathi is a staff writer for TV Fanatic. He has watched more dramas and comedies than he cares to remember. Catch him on social media obsessing over [excellent] past, current, and upcoming shows or going off about the politics of representation on TV. Follow him on Twitter.