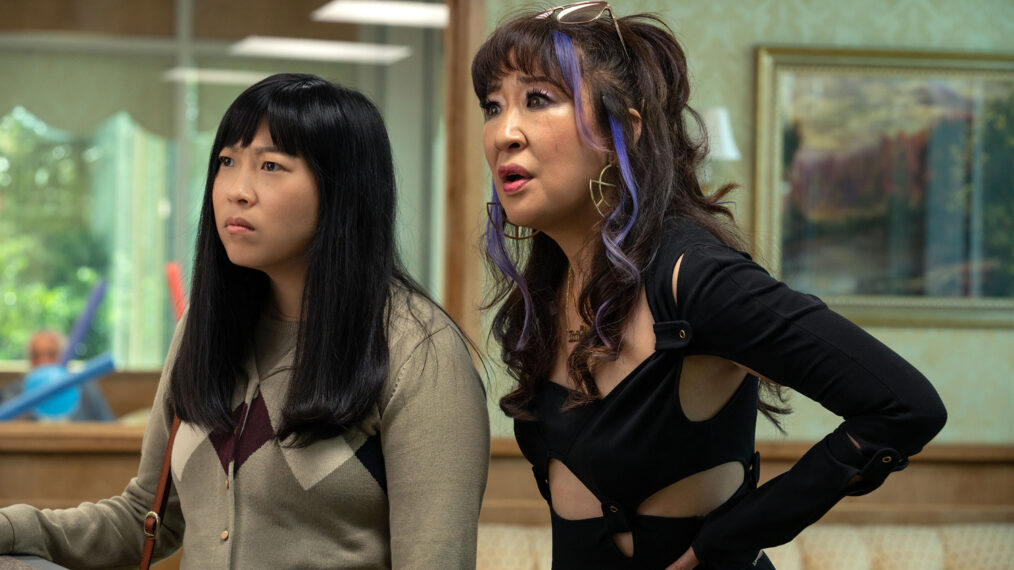 We know Sandra Oh can do pretty much anything, from her dramatic work as determined Dr. Cristina Yang on Grey's Anatomy and passionate MI6 agent Eve Polastri on Killing Eve to her comedic turn as wound-up professor Ji-Yoon Kim on The Chair. In the movie Quiz Lady, she brings the funny as chaotic Jenny, a wayward soul with big dreams who's stuck in a messy reality.
Part of that mess is being estranged from her introverted, quiz show–obsessed sister, Anne (Crazy Rich Asians' Awkwafina). "For Anne, Jenny is this disruptive, embarrassing element that she would like to keep out of her life," director Jessica Yu says, "and then Jenny sees Anne as a charity project."
(Credit: © 20th Century Studios /Courtesy Everett Collection)
Once the siblings reconnect, they quickly have more than personality clashes to worry about when they discover that they're on the hook for gambling debts their mother owes some unsavory lenders. And that's not all: Anne's beloved overweight dog, Mr. Linguini, is kidnapped, which shatters her world. "He's the one who didn't leave [Anne] and is the family member who provides stability [for her]," Yu explains.
Salvation could come in the form of Anne's obsession with (and prowess at) the Can't Stop the Quiz show. Given her "armchair champ" status, why hasn't she auditioned? "That's certainly a question Jenny asks, but the idea of being under pressure is not something Anne needs," Yu notes. Still, with debts to pay and a dog to save, the sisters' only hope is making Anne a winner on the (fictional) series.
With a cast including Will Ferrell as the modest Can't Stop the Quiz host (who's come to feel like a father figure to Anne via her TV), Jason Schwartzman as the smug current champ Ron, and Holland Taylor as Anne's cranky neighbor Francine, this film should be a jackpot for viewers.
Quiz Lady, Premieres Friday, November 3, Hulu
This is an excerpt from TV Guide Magazine's 2023 Fall Preview issue. For more first looks at fall's new shows, pick up the issue, on newsstands now.