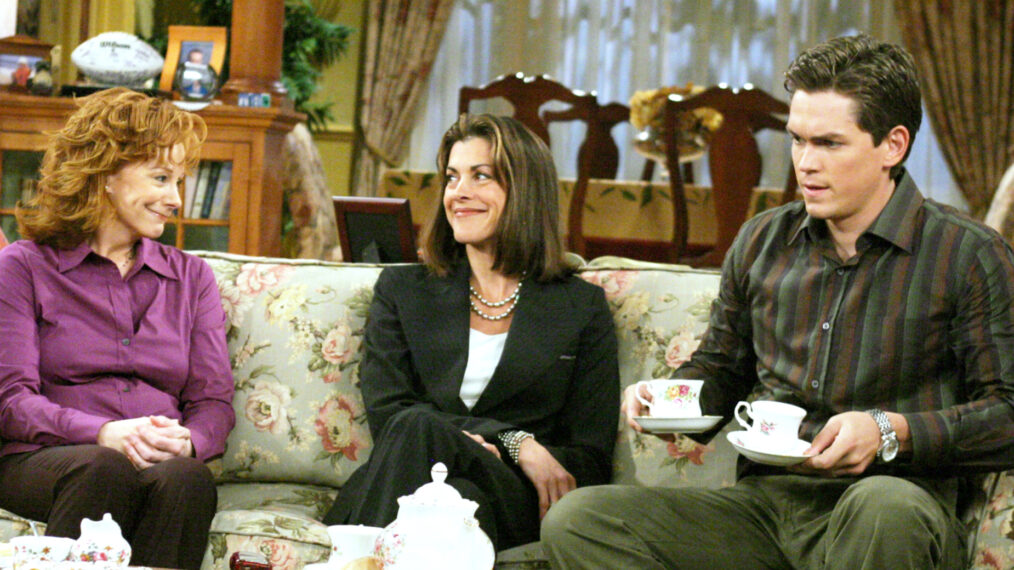 Reba McEntire got fans talking last year when she teased plans to revive her popular sitcom Reba, but it's not just the viewers who are excited; her former castmates are also hoping for the news to be true.
Steve Howey, who played McEntire's onscreen son-in-law in the WB/CW series, has told Entertainment Tonight he "would do anything" to bring back his character Van Montgomery.
"Yeah, I mean, I don't even know because when I played Van on that show, I was in my early 20s," says the actor, who is currently starring in True Lies on CBS. "And to see where Van is now and where the family is, I mean, I would do anything. Reba says, 'Jump,' and I'll say, 'How high?'"
McEntire referenced the potential revival during an appearance on The Bobby Bones Show last July, where she said they've "really been trying hard to do a reboot," adding, "I really want to work with the people that I got to work with during that six and a half years."
Reba originally premiered on The WB in 2001, where it aired for 5 seasons, before moving to The CW for its sixth and final season. The show revolved around Reba Hart (McEntire), a middle-aged suburban mom from Houston, whose life is thrown into chaos after her husband of 20 years decides to divorce her when he gets his dental hygienist pregnant.
The show starred Christopher Rich as Brock Enroll Hart, Reba's ex-husband; JoAnna García Swisher as Cheyenne Montgomery; Reba's oldest daughter; Scarlett Pomers as Kyra Eleanor Hart, Reba's other daughter; Mitch Holleman as Jacob "Jake" Mitchell Hart, Reba's youngest son; and Melissa Peterman as Barbra Jean Hart, the dental hygienist who Reba's husband leaves her for.
In 2021, García Swisher told People she would love to be part of a reboot, stating, "I think it's been more than just thought about and something that I think we would all really love to be a part of."
"It's very much in our hearts and our minds and topics of conversations," she continued. "I can assure you that if someone came to all of us and said that they wanted to do it, we're all there ready with all of the stories."
McEntire recently starred in the Lifetime movie The Hammer alongside her former Reba co-star Peterson. She told E! News that the pair of them discussed the idea of a Reba reboot while on set, though McEntire remained doubtful that it would happen.
"We talked about that a lot," the Grammy-winner singer said. "I don't think that's ever going to come to fruition, but maybe one of these days."
McEntire shared similar doubts last September when she appeared on Good Morning America. "Unfortunately not. I thought we were getting really close," she explained. "But nope. Not gonna be able to do it for right now. But we'll keep seeing if we can get in there somewhere."
A number of popular sitcoms have been revived in recent years, including the Sex and the City spinoff And Just Like That, Night Court, Beavis and Butt-head, Party Down, and the upcoming Frasier reboot.