We're in the home stretch of Titans now, and it's good to be back.
Usually, I'm not fond of two-episode drops, but Titans Season 4 Episode 7 and Titans Season 4 Episode 8 go hand-in-hand to usher in the final conflicts as we head toward the finish line.
Titans hasn't been the most consistent series, but the two-part midseason premiere was the most fun I've had watching the show in a long time.
The series has benefited from scaling back the number of characters per episode. It allows us to dig deeper into their motivations and ponder what's to come before their stories wrap up.
Caul's Folley reminded me very much of Westview from WandaVision, and that's not a bad thing.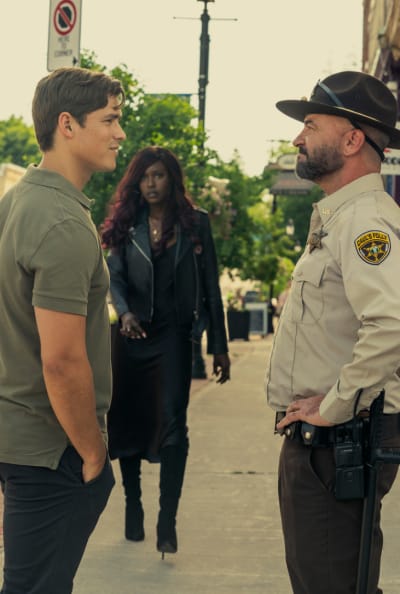 There was some initial apprehension, but the story of this town being used to hide the horn that can bring Trigon back to decimate the world was far more interesting than I first expected.
Connor handing over the book from Lex to lead the team to Caul's Folley was a surprise because, truthfully, Connor has become a bit of a red flag. After all, he's adamant about embracing his Clark Kent and Lex Luthor DNA.
It has presented interesting moral conflicts for Connor, but the team has been too trusting of him for my liking.
We know Lex Luthor has been a nuisance every time he's been on the screen, so it wouldn't be surprising if he was pulling strings from beyond the grave.
There was also a great deal of emphasis on the book being for Richard and everything else being reserved for Connor in private.
It's an interesting problem, and while it's hard to rule Connor as a villain, his joining forces with Brother Blood at the end of the midseason premiere doesn't instill hope that Conner has his former friends' best interests at heart.
Then again, we need to remember that Conner is still in his infancy because he was scientifically created.
Who he was on Titans Season 2 is not who he is on Titans Season 4, but I'm invested in finding out where he lands and, more importantly, what he's up to.
Sebastian and Mother Mayhem's plan to get the magical horn and proceed with the next phase of their master plan should have been far easier, and if anything, the constant hurdles painted them as some of the most incompetent villains on the show.
Sebastian being unable to kill Rachel and getting injuries in the same place he was hitting felt very reminiscent of The Vampire Diaries, the first show Joseph Morgan got to play a villain on.
I was surprised at Sebastgian's willingness to kill Rachel because Rachel did help him through his trauma earlier in Titans Season 4.
She was the one person who could get through to him, so it must have been painful to witness this heightened version of the brother she tried to help.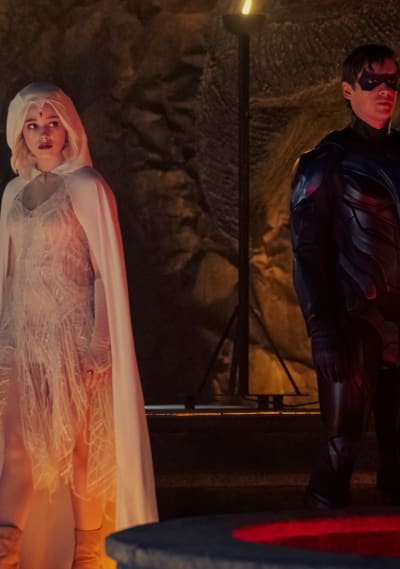 The best part of them being unable to kill each other is that they'll probably get to have a massive battle at the end of the series, one that may or may not include their father.
It has to be building to that, right?
The prophecy claiming Kory would save the world from Trigon but dying in the process was an excellent way to harken back to the beginning of the series when there was uncertainty surrounding her mission to Earth.
Kory has been through a lot throughout her time on Earth, and while I haven't always agreed with the creative decisions, it was about time we got some Dick and Kory goodness.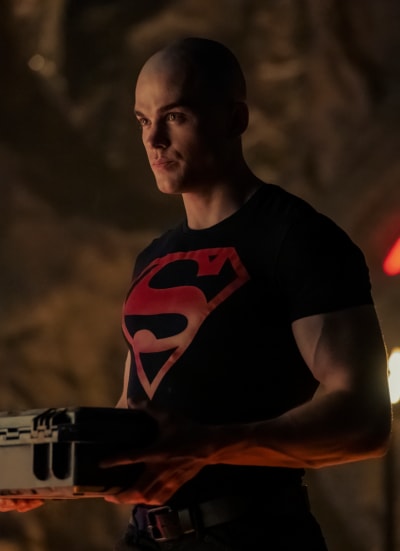 They're such a formidable force together, and the series has had that on the back burner for too long.
Dick's willingness to make recordings to avoid becoming Ted forever seemed desperate, but Kory's lack of care about becoming Carol seemed more about forgetting that her life could be coming to a close.
Watching Dick and Kory in the house seemed more like a hint of the life they could have, and with Kory thinking she would die saving the world, why wouldn't she want that life?
It was obvious Kory wouldn't listen to Dick's recording, allowing her to break free of the Carol persona, but it seemed to give her a renewed interest in pursuing a relationship with Dick.
Could these two finally get together? We've been burned in the past, Titans fanatics, but we can hope.
The addition of Megan and her family allowed viewers to understand the multi-faceted nature of the town and its existence.
I rolled my eyes when Rachel got kidnapped, but hearing that the father and daughter wanted out of the town gave us an emotional attachment to the well-being of the people who lost their minds to preserve the magical horn.
Tim and Bernard helping from outside the town was crucial to the team's survival.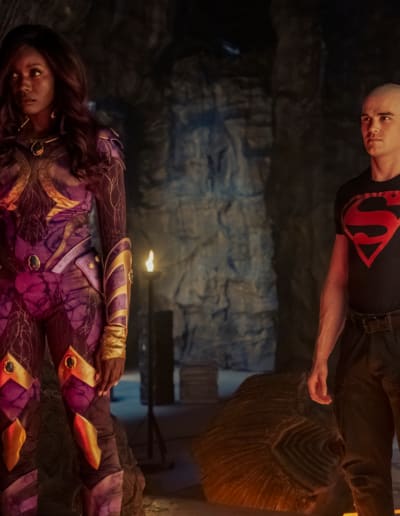 Bernard saying they should just be colleagues or friends was driven by his worry that something terrible would happen to Tim while on a mission because, let's face it, the fights are getting deadlier each episode.
I wasn't surprised they slept together because it was apparent they would both be unlocking the adjoining room.
It remains to be seen where they go from here, but I doubt it will be plain sailing from here on out.
The show is building to a conclusion, and while this wasn't always planned as the last season, you can tell the creatives wanted to do a reset if the show landed a renewal.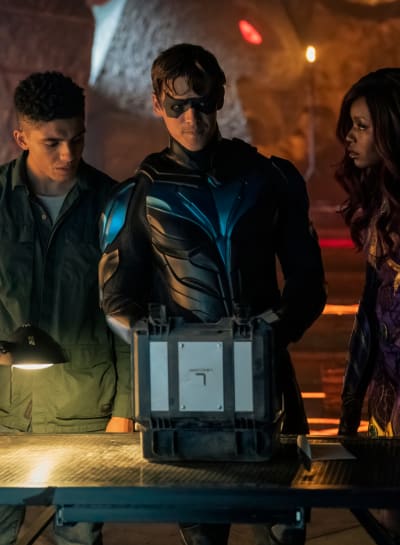 What are your thoughts on the midseason premiere?
Do you think the team should be watching out for Conner?
Hit the comments.
Catch new episodes every Thursday on HBO Max.
Paul Dailly is the Associate Editor for TV Fanatic. Follow him on Twitter.