Sparking a romance with a hot footballer (or soccer player, to you Yanks) on the striving AFC Richmond team — which she won from her nasty former husband who dumped her for a younger model — and then plotting revenge on her ex when he bought a rival team and stole Richmond's tactical coach, has kept the English long-stemmed rose awful busy. And yet she still makes time for watching the telly!
OK, with the exception of liking to watch TV, all of that behavior is obviously chalked up to Ted Lasso's vengeful but irresistibly loveable Rebecca Welton, not the down-to-earth and very funny Emmy-winning Hannah Waddingham. When she's not watching TV, she's looking to be on it. The in-demand actress says she's "looking at a lot of projects at the moment. I do like if it's something dramatic that it has humor laced into it, so finding something that ticks both those boxes off can be quite difficult. I've been extremely spoiled by the Ted Lasso writers!" (Lasso, in its third season, is available on Apple TV+.)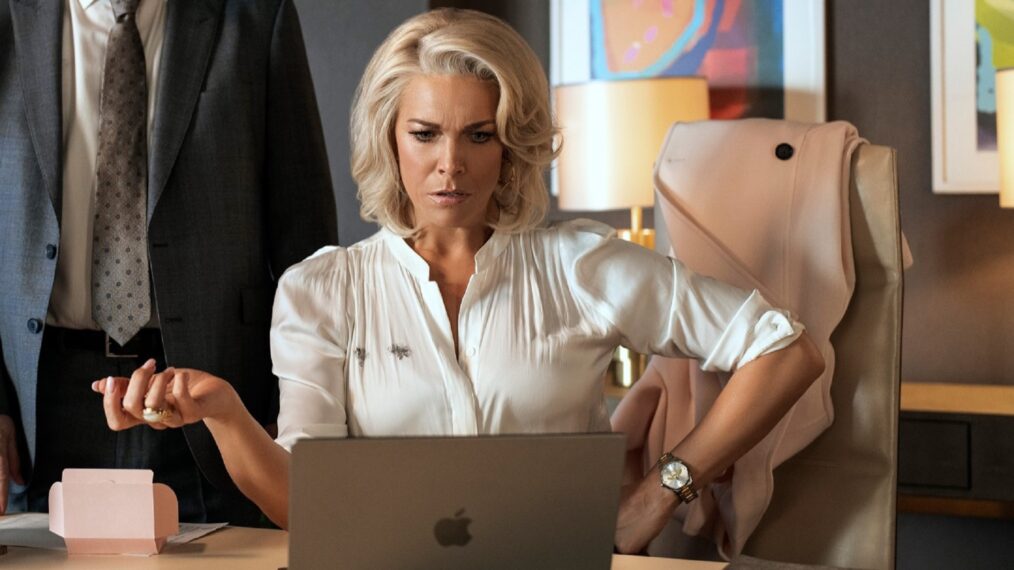 Apple TV+
Luckily for Waddingham and the rest of us, she said yes to Tom Jones, a new PBS adaptation of the bawdy 1749 British novel of the same name. She perfectly plays a wealthy unhappily married aristocrat who takes a shine to the handsome young Tom and will do anything to capture and keep him. (Available on PBS's Masterpiece on April 30)
Here's what Waddingham is watching right now:
Apple TV+
The critically praised American crime drama miniseries is based on an autobiographical novel about a convicted drug dealer Jimmy Keene (Taron Egerton), who is offered a reduced sentence to convince a serial killer (Paul Walter Hauser) that he was guilty of multiple murders of underage girls.
"I'm very much enjoying Black Bird with Taron Egerton at the moment. He's really showing a different side of himself," Waddingham gushes of the Rocketman and The King's Man actor. "It's really beautifully acted with [the late] Ray Liotta and Greg Kinnear."
Succession (HBO)
Claudette Barius/HBO
This irresistible, multi-award-winning, black comedy-drama follows the schemes and power plays of media magnate Logan Roy (Brian Cox) and his viperish nest of adult children.
Waddingham shares, "I'm incredibly in the Succession camp. I haven't been able to get my teeth into Season 4 yet, but that's top of my list. I would have loved to come in and be absolutely vile. I'd give Shiv Roy (Sarah Snook) a run for her money, maybe have a fling with one of the Roy brothers just to annoy her! [Laughs]"
The 67th edition of the live beloved and wacky performance fight-off between countries is back, this time in Liverpool, England, with two semi-finals on May 9 and 11 and the final on May 13.
"Next up for me is presenting the Eurovision Song Contest [along with British singer Alesha Dixon, Ukrainian singer Julia Sanina, and talk show host Graham Norton] to the world, which is great fun. This, along with many other things that are in the pipeline, I never thought would come my way. Which is so gorgeous," she reflects.