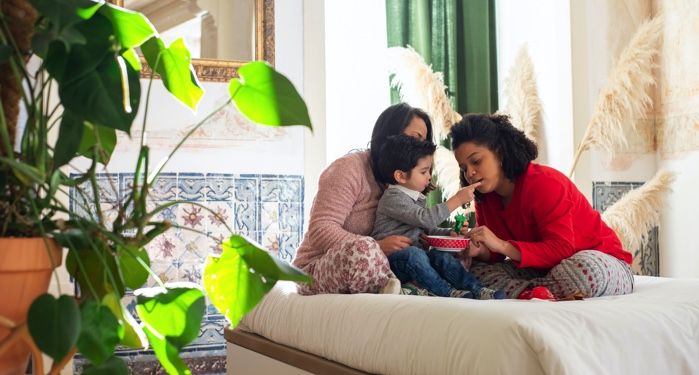 This content contains affiliate links. When you buy through these links, we may earn an affiliate commission.
Parenting can be a deeply fulfilling and exciting experience, but it can also be stressful or even scary — especially if you're at the beginning of your parenting journey. Parenting and pregnancy books can help with navigating uncertainties but often, they don't reflect the questions and experiences that are unique to queer families.
Nothing compares to seeing yourself and your family's needs addressed in the books you read. These eight LGBTQ parenting and pregnancy books are written for and in many cases by LGBTQ parents, from help guides to memoirs and even poetry. Whether you're a prospective parent looking for answers to your questions on building a family or a queer parent looking for books that reflect what you're going through, you'll find plenty of recommendations here.
Once you've gone through this list, you can find contemporary fiction recs about LGBTQ parents here. For more books focused specifically on pregnancy, you can find the best LGBTQ-inclusive pregnancy books here.
Plus, read the essay "I Don't Want Kids, So Why Am I So Into Books About Queer Parenting?" by Book Riot contributor Laura Sackton. In it, she reflects on the lack of queer parents she saw in books during her teens and twenties and how, in her thirties, books about queer parents gave her hope and catharsis.
8 LGBTQ Parenting and Pregnancy Books
Advice columnist S. Bear Bergman shares essays on how to treat people with compassion and respect, particularly from his perspective as a Jewish and transgender man, a parent, and a husband. Each guide is accompanied by thoughtful illustrations by Saul Freedman-Lawson.
Our Queerest Shelves Newsletter
Sign up for bookish LGBTQ+ news and recommendations!
Thank you for signing up! Keep an eye on your inbox.
By signing up you agree to our terms of use
Through interviews of over 40 families, sociology professor Katie L. Acosta examines the legal challenges and social alienation LGBTQ stepparents face. She also offers an analysis based on these interviews of how queer stepfamilies take steps to make the best decisions they can to protect their children, despite navigating a system that often does not recognize their family structures.
Drawing on their expertise as queer midwives, Marea Goodman and Ray Rachin offer a fertility and pregnancy guide written to meet the needs of queer families as well as solo parents. Of special consideration in Baby Making for Everybody are transgender and nonbinary parents, whose experiences and questions are often excluded from pregnancy guides.
In this poetry collection, Lambda Award-winning author Hasan Namir reflects on his and his husband's experience with surrogacy and their son's newborn years. Addressed as a letter to their son, he recounts how excited they were to meet him and how much joy their son brought to their lives when he arrived.
English professor Francesca T. Royster reflects on her experiences with adoption as a queer Black woman married to a white woman. She explores the joy her family brings her, the complexities of the adoption process, and the challenges she faces raising her daughter, who is Black, in a deeply prejudiced society.
Essayist Krys Malcolm Belc reflects on his pregnancy and early parenthood with very few resources available that applied to what he was going through as a nonbinary person. He also examines his discomfort with being placed by others under the category of mother.
Written for LGBTQ parents and prospective parents alike, this book written by clinical psychologist Abbie E. Goldberg offers a guide to building a family, including going through the process of pregnancy, surrogacy, or adoption; finding inclusive healthcare providers and child care; and raising a child while navigating the societal barriers that queer parents face.
Actor B.D. Wong reflects on a life-changing moment and the aftermath at the beginning of his parenting journey in the late 1990s. When the surrogate mother carrying his twins prematurely went into labor, he spends the next three months in the NICU facing uncertainties about his family's future.
Looking for more parenting book recommendations? Find more here: