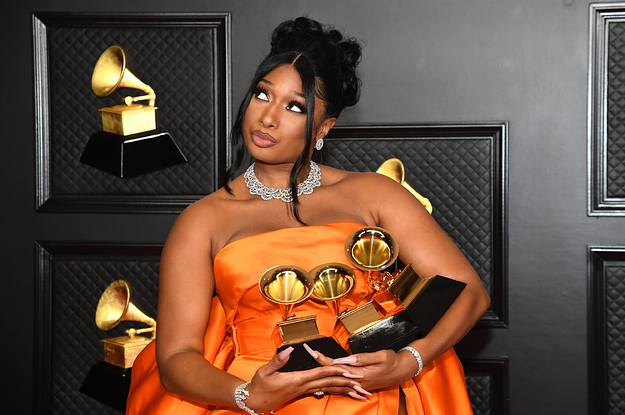 Megan Thee Stallion is many things: Grammy-winning rapper, the queen of HOTTIEWEEN, and now, a soon-to-be college grad!!
Posting pics of a bedazzled graduation cap to Instagram, Megan captioned, "2021 finna graduate collegeeee taking my graduation pics today I can't wait for y'all to see."
"Real smart girl shit," commented her BF Pardi Fontaine.
Shareif Ziyadat / Getty Images for 40/40 Club
Last year, Megan told People that she'd been taking online courses at Texas Southern University for her bachelor's degree in health administration.
Suzanne Cordeiro / AFP via Getty Images
"I want to get my degree because I really want my mom to be proud," she said. (Megan's mom Holly Thomas passed away in 2019 after a battle with brain cancer.) "She saw me going to school before she passed."
Kevin Mazur / Getty Images for The Recording Academy
"I really wanted to be an administrator over a hospital, but I knew I still wanted to be Megan Thee Stallion. I was like, 'What can I do?'" she added. "I was like, 'You know what, I'm gonna open an assisted-living facility and use the money that I make from rapping to open it. Then I'm gonna let my classmates run it."
Congrats, Megan!!
Gotham / GC Images / Getty Images
BuzzFeed Daily
Keep up with the latest daily buzz with the BuzzFeed Daily newsletter!