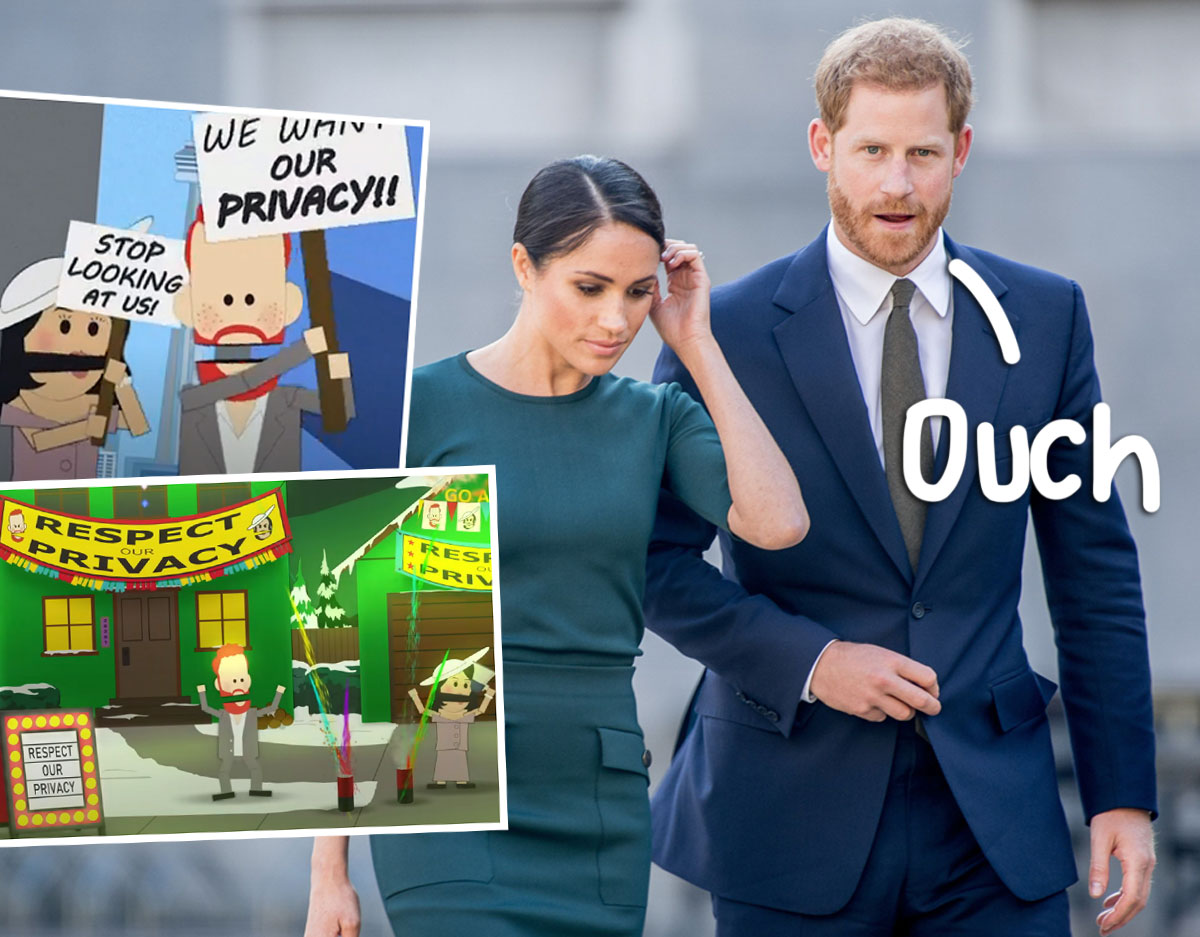 South Park has taken aim at Prince Harry and Meghan Markle!
On Wednesday night's new episode of the Comedy Central series, the show put the Duke and Duchess of Sussex on blast, slamming Harry's memoir Spare, calling Meghan an "Instagram-loving bitch," and so much more!
In the episode, cartoon versions of Harry and Meghan (who are not named directly, but it's pretty obvious who they were meant to spoof) appear on a Canadian talk show. They enter while carrying picket signs demanding privacy before telling the host how thrilled they are to be on TV, which is clearly meant to roast them for being hypocrites.
Related: Harry & Meghan Erased From Queen's Commonwealth Trust Site!
After insinuating the couple didn't really care about the death of Queen Elizabeth II, the show goes on to mock the 38-year-old's memoir — retitling it "WAAAGH," as in, Harry's whining about growing up as royalty. The skit then cuts to Meghan insisting the memoir was her idea since the royal family and journalists are "stupid." But the punchline is that, in writing the book, Harry's become somewhat of a journalist himself by reporting on the lives of royals. Lastly, the creators put Meghan on blast for starring in a TV show, appearing on magazine covers, and running in some high-profile circles — despite wanting privacy. And Harry, of all people, was the one to hit hardest, saying:
"My Instagram-loving bitch wife has always wanted her privacy."
Damn! Harsh AF! The skit ends with the renegade royals storming off set to find someplace to live like normal folks… only to fly away in a private jet. They are then seen outside of their home causing a scene in their pursuit of privacy. Ch-ch-check it out (below)!
Jeez! Not holding back at all!! Thoughts?! Sound OFF (below)!
[Image via South Park/Comedy Central/YouTube & MEGA/WENN]