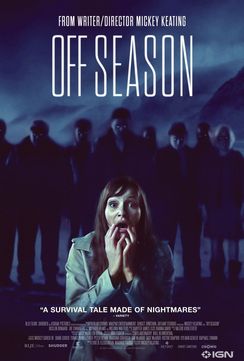 OFFSEASON – Genero: Terror Pais: USA Duración: 83 minutos Director: Mickey Keating Guion: Mickey Keating Reparto: Richard Brake, Melora Walters, Jocelin Donahue, Joe Swanberg, Jeremy Gardner, Jess Varley, Amanda Grace Cooper, Jonathan Medina, Eliza Shin, Ken Luzadder, April Linscott, Anthony Azar, Andrew Varenhorst, Andrew Vilar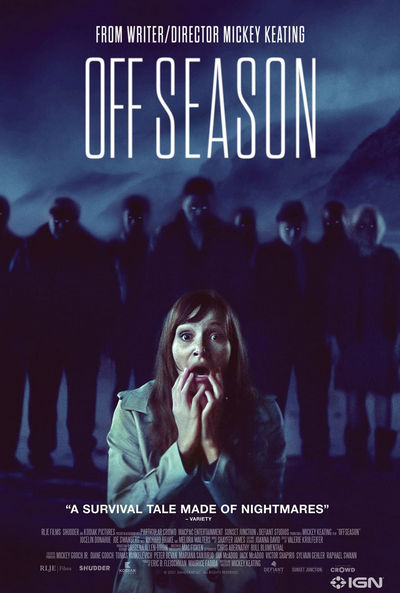 VALORACION: (66/100)


RESEÑA:
Al recibir una misteriosa carta en la que se le informa de que la tumba de su madre fue profanada, Marie regresa rápidamente a la isla remota en donde viva y en la que está enterrada su madre. Cuando llega, descubre que la isla está cerrada por la temporada baja y los puentes están levantados hasta la primavera, lo que la deja varada.
Marie no tarda demasiado en darse cuenta, y no hace falta ser muy listo, que algo va mal en ese pueblo, que parece tener más niebla que Silent Hill.
OFFSEASON
CRITICA:
¿Deberíamos incluir a Offseason dentro de una larga lista de malas adaptaciones del universo Lovecraft a la gran pantalla? Es posible.
El film de Mickey Keating tiene algunas buenas intenciones cuando se trata de la ambientación, acercándose a lo que podría ser un Silent Hill, con un desarrollo y tono que se torna algo surrealista en un pueblo que se cae a pedazos.
El envoltorio llama la atención desde los primeros instantes, un viaje en carretera lleva a la protagonista y a su esposo al lugar indicado, para darse cuenta que la isla está a punto de cerrarse, aun así, insiste en entrar, solo para encontrarse con un pueblo casi muerto donde la gente actúa de forma extraña.
Los primeros compases son prometedoras, pero hay problemas.
Offseason no consigue dos de sus objetivos principales. La primera es que es una pésima adaptación del mundo de Lovecraft, a pesar del esfuerzo en cuanto a su ambientación y de incluir a una criatura mítica de la mitología. La trama no tiene ninguna tipo de sorpresa y se antoja un tanto forzada. Por supuesto, tampoco tiene nada que ver con La sombra sobre Innsmouth, más allá de tomar prestado la representación de un pueblo decadente.
El segundo problema es el más grave. Que sea o no una adaptación de X cuento o libro puede dejarse pasar si el film es bueno, pero acá pasa todo lo contrario. Offseason no llega a ser ni una decente película de terror. Keating se esfuerza en la ambientación, lograda a medias y, aparentemente, con recursos limitados. Sin embargo, falla en el ritmo de la película y en las interpretaciones, a pesar de contar con gente de experiencia como Jocelin Donahue en el protagónico, o gente como Richard Brake o Joe Swanberg como el novio.
Donahue es buena actriz, ya comprobado en otros films del género como The House of The Devil o Summer Camp, pero aquí no se la ve bien a pesar de sus esfuerzos como actriz. Keating tiene una dirección bastante irregular, con algunos buenos planos y secuencias, pero en otros parece un amateur. ¿Ejemplos? Los silencios incómodos cuando Donahgue se encuentra con un evento que la sorprende o la asusta se repiten y no quedan bien, falta más agilidad ahí, tampoco los diálogos ayudan demasiado a dar una buena interpretación. La conversación que se genera entre la protagonista y el hombre del puente en la segunda mitad del metraje es el ejemplo perfecto de malos diálogos, y mala dirección en general.
El terror brilla por su ausencia más allá de 2 o 3 secuencias buenas. La escena final es posiblemente la mejor de la película en este sentido, lamentablemente no pudimos ver mas de esto durante el resto del film.
En definitiva, una película fallida con dos o tres pasaje rescatables y una ambientación mediadamente lograda, pero no mucho más. Sin dudas, decepcionante para los amantes de Lovercraft. No recomendable, un saludo a todos y nos vemos en la próxima.
CAPTURAS
TRAILER

FICHA TECNICA:
Calidad: 1080
Audio: Ingles



SUBTITULOS
****
—
COMPARTE ESTE ARTICULO! – MIRA ABAJO LOS COMENTARIOS.
ADVERTENCIAS Y REGLAS antes de comentar en BLOGHORROR
• Comentar con respeto y de manera constructiva.
• No se permiten links de otros sitios o referencias a sitios de descarga. 
• Tratar de hablar de la pelicula en cuestión, salvo ocasiones especiales. Nada de interminables debates políticos, religiosos, de genero o sexualidad *
• Imágenes están permitidas, pero siempre con moderación y que no sean demasiado grandes.
• Los comentarios de usuarios nuevos siempre son moderados antes de publicarse.
• Por ultimo, las reseñas y criticas en BLOGHORROR pueden contener humor negro-ácido, que de ninguna forma debe ser tomado en serio! y que tienen como fin el puro entretenimiento satírico.
• Disfrute su estadía 😉
Continue Reading