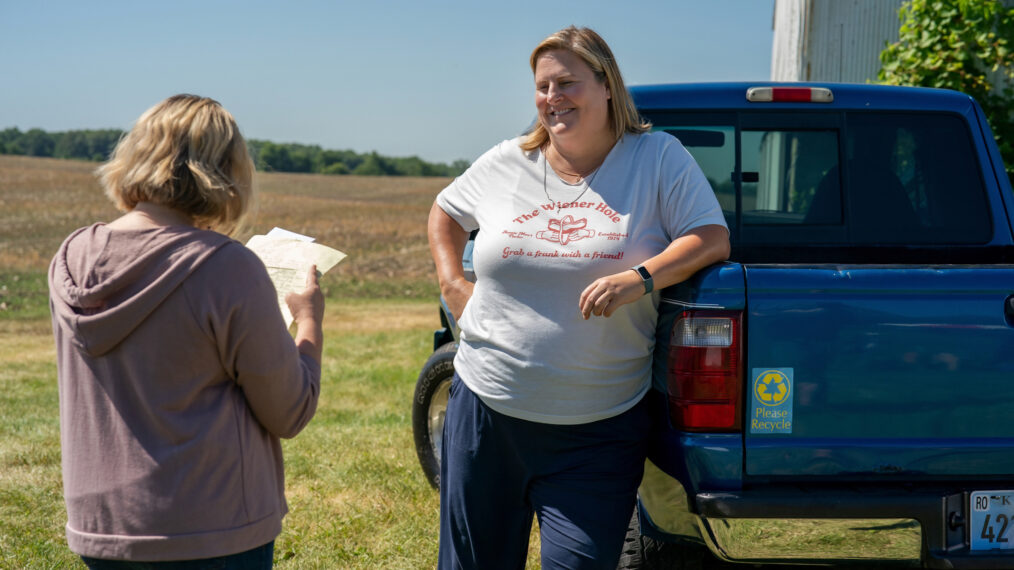 HBO's offbeat comedy Somebody Somewhere stars Bridget Everett as Sam, who's struggling with doubt and self-worth while trying to find her place in the world after the death of a sister Holly.
The first season ended with Sam, who's back living in her Kansas hometown, crooning two songs that capture the heartfelt series' unique, idiosyncratic spirit. The first, belted out on a party bus, is hilariously brash and raunchy like Everett's beloved downtown alt-cabaret shows. In the second, she serenades her newfound bestie Joel (Jeff Hiller) inside a barn on her family's farm, with an ode to how their friendship helped save her.
In Season 2, Sam tries to make sense of her life and works on her relationship with other sister Tricia (Mary Catherine Garrison), but "long-standing resentments and secrets get in the way," Everett says. Still, Sam is figuring out "how to love and let go," with her chosen family of outcasts, including Fred Rococo (Murray Hill), by her side.
Here, the self-described "alt-cabaret provocateur," who's appeared on Inside Amy Schumer, Lady Dynamite, and Patti Cake$, spills the tea on Season 2.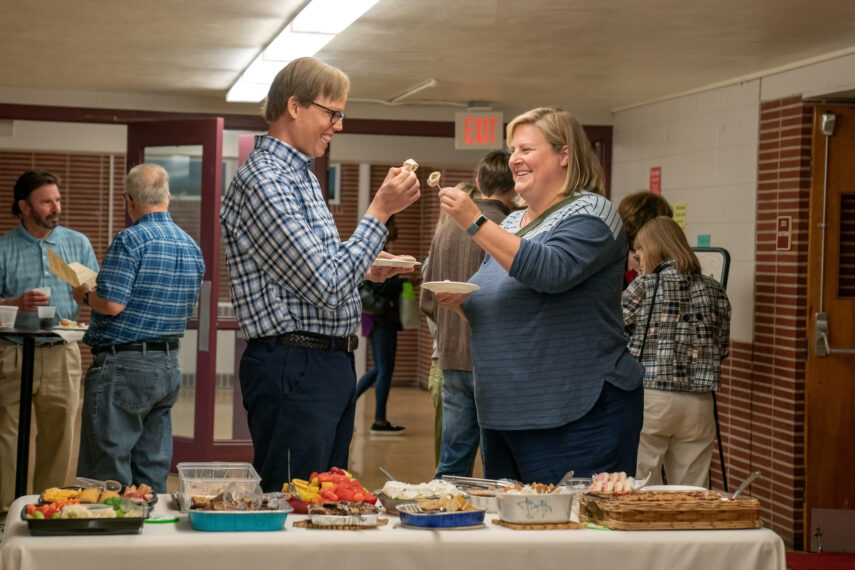 HBO
How has Sam's friendship with Joel — and the other members of her newfound chosen family — changed her from the first season?
Bridget Everett: Sam struggles with self-worth and belonging, especially on the heels of her sister Holly's death. She had given up on herself and was floating through life. Joel made her feel special, important, worthy. He gave her a sense of belonging, and with his undeniable warmth and charm, brought her back to life.
What are the dynamics between Sam and Joel when Season 2 begins?
Sam and Joel are in a bubble. Happy and drinking the occasional teeny-tini. They have their own language and have fallen even deeper in love with each other. They are the best of friends.
What's Sam's journey in Season 2, and how does it differ from the first season? What do you love about getting to tell this story of loss and friendship?
Sam is more present, more alive, and more involved in her relationships this season. She's learning how to love and how to let go. It's exciting to see her really engaged with those around her and facing things about herself with the help of Joel, and her sister Tricia, that have always been too painful. I think there's no way through loss without a community of people to help put you back together. Having lost my own sister, I can relate to that feeling. It was my friends who kept the lights on. This show, for me, is a love letter to the healing power of friendship.
How does her relationship with her family members, especially Tricia, evolve in the second season?
Tricia is so important in season 2, and Mary Catherine Garrison is phenomenal! Due to family circumstances, Sam and Tricia find themselves kind of stuck with each other, learning how to move beyond just co-existing. As they move closer to understanding each other, long-standing resentments and secrets get in the way.
Why do you think people have responded to the show so strongly? What about the series feels unique to you?
I'm not sure why people responded so strongly. My best guess is that people can identify with that feeling of letting life slide by, and how terrifying it can be to take a real chance on yourself again… and of course, there is Joel. The kind of friend to hold your hand and make you whole again. This show feels unique to me in its simplicity. What we always found most interesting was what was happening in the cracks of the story. It's not a largely plot-driven show. Just people talking.
How have fans of your hilariously filthy and irreverent cabaret shows reacted to Somebody Somewhere? What aspects of it have they been surprised by?
I think they've been surprised by the depth of the show… and so was I! But it's exactly where I want to be and my audience has come along for the ride. They're rooting for me and they are the only reason I have the confidence to be doing this TV show.
Music is central to the series. What do Sam's songs allow you to communicate about the character and her journey that you couldn't with just words?
The music is everything. It's Sam's heart. It's her first love. She struggles with how to connect with people, but music is a great equalizer for her, and without it, she's rudderless.
Somebody Somewhere, Season 2 Premiere, Sunday, April 23, 10:30/9:30c, HBO and HBO Max