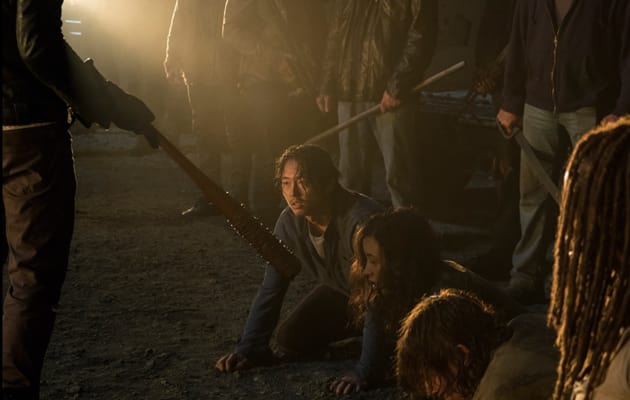 Kristen might think she's weaseled out of trouble yet again, but she's wrong.
Brady kicking her out was only the beginning of her problems. Steve is on the warpath after Kayla's unnecessary death and wants to get the people responsible.
Days of Our Lives spoilers for the week of 1-16-23 say that Steve will confront Kristen and get what he needs to send her away for a long time. This should be one epic confrontation!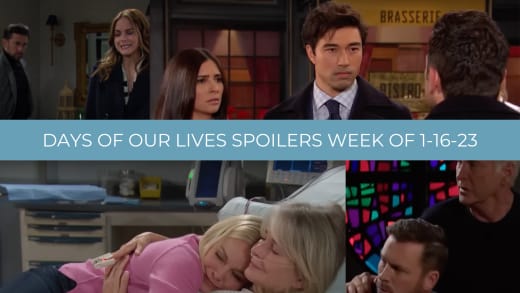 Steve's always had the potential to be a hothead, especially when it comes to his family. Without Kayla there to help him, he could easily go off the rails.
But he's not going to lash out at Kristen simply for the sake of lashing out. Instead, Steve will channel his pain and anger over Kayla's death for a constructive purpose: tricking Kristen into confessing on tape.
Steve will corner her and get her to admit to everything so he can bring Rafe the taped confession. But will this plan work?
The fight between Steve and Kristen in the spoiler video suggests that Steve will make the same error many Salemites do: instead of walking away once he has the goods on Kristen, he'll gloat and show her that he recorded everything.
Kristen will get physical, trying to grab the recording device out of Steve's hand. Why, why, why does it always end up like this?
The good news is that it won't work. Steve's a seasoned detective and has been dealing with unhinged villains like Kristen for years. Despite his misstep, he won't lose the recording.
Spoilers for later in the week say Kristen will try to flee with Rachel. This is why Brady should have taken steps to protect Rachel from Kristen long ago.
Rachel is already a spoiled brat growing into a mini-Kristen; if Kristen manages to get away with going on the run with her, all hope for that child ever to turn herself around may be lost.
Meanwhile, a few other explosive confrontations are coming up! Li and Stefan come to blows in the Square, and Sonny finally comes to his senses about Leo.
It'll be an exciting week; please scroll down to check out the complete list of spoilers.
Stephanie cries on Chad's shoulder over Alex.
This is the most unsurprising spoiler ever. Stephanie and Chad both know that Alex turned Stephanie's phone off to stop Chad from calling while Kayla was dying.
Alex was insecure and jealous. Now, he's not only paying the price but he's managed to push Chad and Stephanie closer together.
Let's hope he at least avoids following Stephanie around with balloons and tearful speeches about how he wants another chance. It was bad enough when Rex did that with Sarah; we don't need a rerun.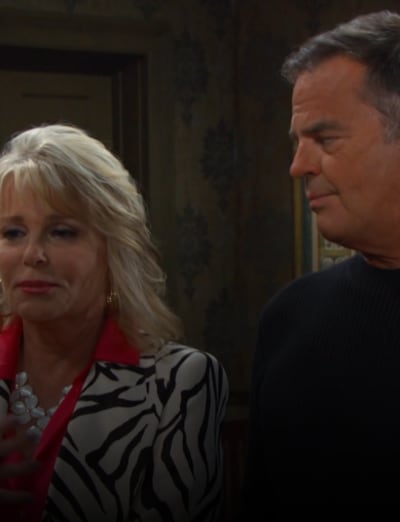 Bonnie gives Sarah surprising advice.
If you thought Sarah was done with Xander, think again. She might hold off on filing for divorce.
Justin thinks she should think it over more before she files the papers, but Bonnie will be the one who gets Sarah to change her mind.
Although Xander contributed to Susan's death and Bonnie's PTSD, Bonnie feels it would be hypocritical to hate him after the awful things she's done in the past. She will encourage Sarah to let the whole thing go as if kidnapping is no big deal.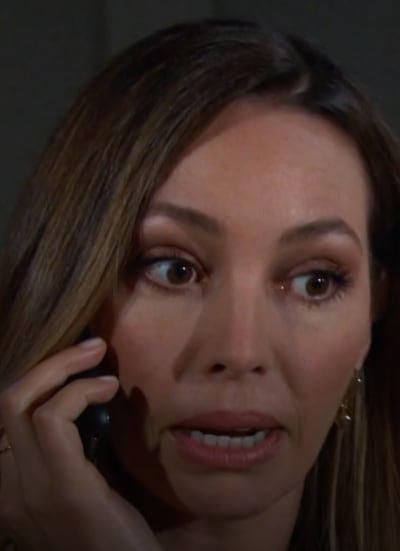 Gwen tries to help a drunk Xander.
After listening to Bonnie, Sarah is ready to forgive Xander, but she might not be after she walks in on him and Gwen!
It's all innocent. Gwen will check on Xander and find he is a drunken mess.
Naturally, Sarah will wander in just as Gwen is helping Xander get in the shower. Any bets on how loudly she screams at Gwen about hooking up with "her" man?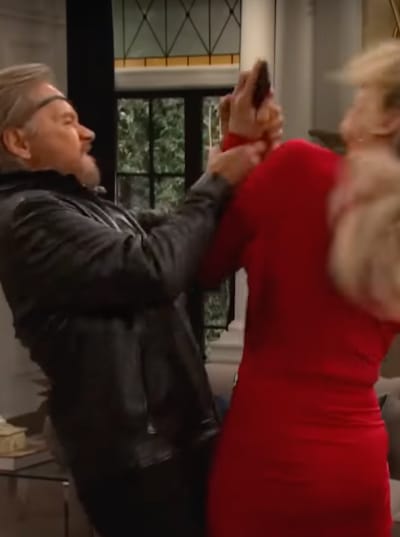 Steve confronts Kristen.
These will be some of the most exciting scenes of the week! But for goodness sake, Steve, save the gloating.
Of course, if Steve quietly walked out with the recording, we wouldn't have the fun of Kristen throwing a tantrum while trying to get it back from him.
Get her, Steve! It's about time someone does.
Stefan and Li get into a fight.
The spoiler clips on this one leave us with so many questions.
Why is Gabi with Li, who she doesn't want anything to do with? Why is Stefan confronting Li about removing Stefan's feelings for Gabi? Has Stefan managed to get unbrainwashed, or what?
When Brady decked Stefan, Chloe convinced Stefan not to press charges. But Li may not be so lucky, although another clip suggests they have a second confrontation where Stefan is the one to punch Li.
After learning she will be arrested, Kristen takes Rachel and prepares to flee!
Hopefully, the cops are prepared for this possibility!
While Brady is probably spending most of his time in the hospital with Marlena, it would be awesome if he helped set Kristen up to fall.
Learning that Brady is the one who led to her arrest would be sweet, sweet revenge as Kristen is led away in handcuffs.
Marlena's family isn't ready to say goodbye.
Get ready for more tearjerker scenes!
Although it's unlikely that Deidre Hall is exiting Days of Our Lives permanently so soon before her 5,000-episode milestone, Marlena's headed toward death.
Her family will be heartbroken, and so will her many fans.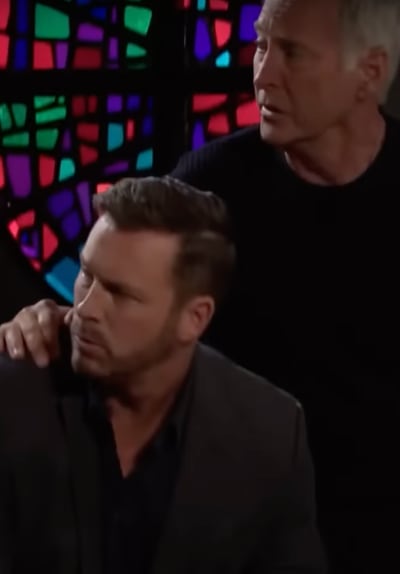 John asks his family to help with a special surprise for Marlena before she dies.
John plans a unique rooftop slideshow for Marlena as she slips into unconsciousness.
He needs help from his family, which unfortunately brings Johnny and Chanel closer together.
This shouldn't be a threat to Allie and Chanel. Johnny's moved on with Wendy!
Could we please resurrect Marlena and the other poisoning victims instead of this ridiculous triangle?
What do you think, Days of Our Lives fanatics? Is Marlena's death heartbreaking or an unnecessary pseudo-tragedy? Will Kristen get arrested before she can escape? And how epic will the Steve/Kristen confrontation be?
Hit the big, blue SHOW COMMENTS button and let us know.
If you'd like to chat about already-aired episodes of Days of Our Lives, check out the latest Days of Our Lives reviews and Days of Our Lives Round Table discussions.
Days of Our Lives streams exclusively on Peacock. New episodes drop on weekdays at 6 AM EST / 3 AM PST.
Jack Ori is a senior staff writer for TV Fanatic. His debut young adult novel, Reinventing Hannah, is available on Amazon. Follow him on Twitter.