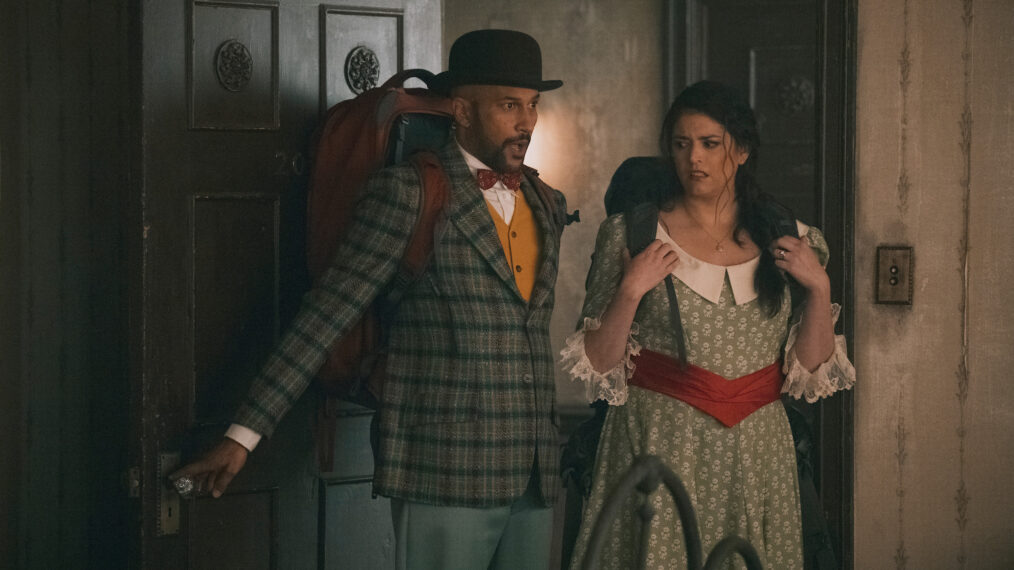 [Warning: The following contains MAJOR spoilers for Schmigadoon! Season 2 Episodes 1 and 2.]
They say play what you know, but Keegan-Michael Key had to pretend to hate musicals in Schmigadoon! Season 1. Much to his glee, that's no longer the case in Season 2, based in the seedy, magical town of Schmicago. In fact, it's Cecily Strong's show tunes-loving Melissa who finds herself disliking the new era in which they land.
Inspired by the Broadway musicals of the '60s and '70s — the era of Fosse and Sondheim and Bacharach and more — Schmicago is a dark, dangerous place where murderers run free and the truth hardly matters. When this tale starts out, Melissa and Josh are married and their true love found in Season 1 is the strong foundation of their lives. But life's other disappointments make their happy ending less than ideal. They seek out Schmigadoon to get their whimsical serotonin fix, but instead wind up in a place where Josh is blamed for a murder he didn't commit.
"You have blood on your hands, and someone just saw you, and this is not the kind of musical I wanna be in!" Melissa cries in the Season 2 premiere (the first two episodes are streaming now on Apple TV+). To get out of dodge, she must free Josh from prison. Who better to help than the best lawyer in town, Jane Krakowski's Bobbie Flanagan (imagine if Chicago's Roxie Hart and Billy Flynn were one person). Her advice: get cast in the club's cabaret show and get insider details on how the chorus girl could have met her bitter end.
Apple TV+
Through a Chorus Line-inspired audition process, Melissa snags the open role, and she gets to fulfill her musical theater dreams performing the campy "Bustin' Out" trio with Dove Cameron (as a spoof of Cabaret's Sally Bowles) and Ariana DeBose (as her companion Emcee). Her efforts are moot, as Josh's cellmate (Aaron Tveit's Topher, the lovechild of Pippin, Hair, Godspell, and Jesus Christ Superstar) helps break him out of prison.
The "Bustin' Out" number is one of the season's early delights, and in another change from the season before it, this number (and many of this season's others) have Strong and Key leading the pieces as opposed to witnessing them in confused wonderment. Strong and Key dished on the joys of filming Season 2 to TV Insider ahead of the premiere, and both say that — like their characters' arcs this go around — Schmigadoon! has made them grow in their talents.
"There's a confidence that you build, especially when you're doing musical stuff, because you don't really have an option," Key said. "You have to jump in fully. And I know that that's something that she and I both have experienced in the improv world, but this is not [that]."
Strong, also a former theater kid, saw the dancing as one of this show's biggest challenges. But she looks effortlessly comfortable on stage with professional theater vets Cameron and DeBose — a point of pride.
"There's a protective barrier when you're doing sketch comedy that's like, 'Well, this is comedy in the end.' I could be the best singer on SNL, but there's still a protective barrier there," she explained. "To have to go do it with these people that are geniuses, you really have to throw yourself in and just go for it. And whether we succeed or not, you still just have to go for it. It's real here."
Apple TV+
"Especially for Cecily," who has more dance numbers than Key this season, the Key & Peele alum said there's "choreography that you have to know. You've gotta nail it on the numbers."
"If I may say," he turned to his co-star and said, "to watch your growth, to watch you do that number ["Bustin' Out"] and just nail it, it has to increase your reserves of confidence. It just has to. For myself, I feel more now like I could go out and do other things that are in other genres as well because of being able to do this."
Strong gets more memorable musical moments as the season continues, and expect a delightful group number with both of the stars on the horizon. With every episode, Melissa and Josh grow more and more fond of this era. This was a relief to Key, because he could finally have all of the fun he wanted when filming these musical numbers. But Josh liking the musicals was more of a natural progression for the character rather than a personal request to composer and co-creator Cinco Paul, Key admitted.
"I think he just figured it out from last season, because the director kept on telling me, 'Stop bopping your feet! I hear you humming, Keegan. Remember you hate it. You hate the musicals,'" Key recalled with a laugh. "I would like to think in the interim, what happened is that Melissa took Josh to see musicals, and he is like, 'I'm gonna give it a chance. I'm gonna give every single one a chance. Every one we go to, I'm gonna watch it.' And I think that he, whether he admits it or not, now has an affinity for musicals. He has no qualms about going back to this world."
Neither do we.
Schmigadoon!, Wednesdays, Apple TV+