Change is the only constant might sound like a cliché, but it is worth repeating because it is as true today as it was one hundred years ago.
It comes in many ways, and one of those ways is growth, whether physical or mental. As people grow, they move on to other things in their lives, and that transition is never always easy.
Some sacrifice their futures for comfort, while others blow up their lives when they leave their comfort zones.
We will discuss events from The Chi Season 6 Episode 5, so if you're yet to get caught up on the episode, beware of spoilers. Otherwise, let's dive into it.
The hour was set against the prom backdrop as the kids prepared to make an event out of most — if not every — high schooler's dream.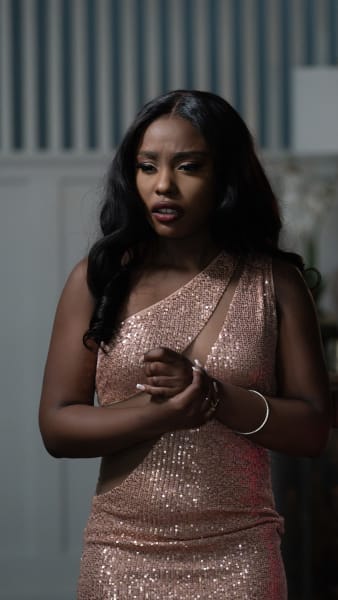 A lot came up in the days and hours leading to the event, but the most shocking was that Kevin was considering leaving Chicago for LA. It was a lot for someone who'd never been away from the city on a potentially permanent basis.
It was everything he knew; everyone he loved was localized in that city. Unsurprisingly, he felt like he was abandoning a part of himself or betraying people he loved.
But some opportunities are too good to pass up. There are even more in a place like LA, and sacrificing that because of a city would have been a stupid decision.
When he asked for advice, Emmett wanted him to stay in Chicago, and if he had stayed because of the reasons Emmett gave, that would have been an asinine thing to do.
Emmett: Don't you want to build your legacy in the city that raised you?
Kevin: Listen, I'm not trying to abandon Chicago. I just, I just want to see what's out there.
Emmett: The city is all we got. If we keep leaving it, it won't be no real niggas left.
Kevin: Yeah.
Emmett: Chicago is the shit, man.
Chicago has always been the show's star; it's in the name.
I'm all for loyalty and allegiance, but devotion to a city would be misplaced. It is everyone's challenge to grow and move on, especially from where we grew up, because we risk falling into the same cycles and behaviors everyone around us fell into.
It is vital to broaden someone's horizons; if you're getting paid for it, even better.
Even though we will miss Kevin, he will still be in our hearts. Now, get that money, Kevin!
Kevin: Might be moving to LA.
Papa: What's in LA?
Kevin: Might want to take this gaming thing to another level.
Jake: You should go.
Papa: Damn, Jake. What about his family? What about Maisha? What about us?
Jake: Man, we ain't going nowhere.
Prom also saw Jemma and Tierra bond, and oh my god, was that a plot twist.
It also made sense why they had initially not taken a liking to each other because they were too similar. They felt threatened by the other person.
They were both badass women who were all about the grind. They would stop at nothing to ensure they got what they wanted, even if that meant manipulating Daddy.
Jemma was like a mini-Tierra.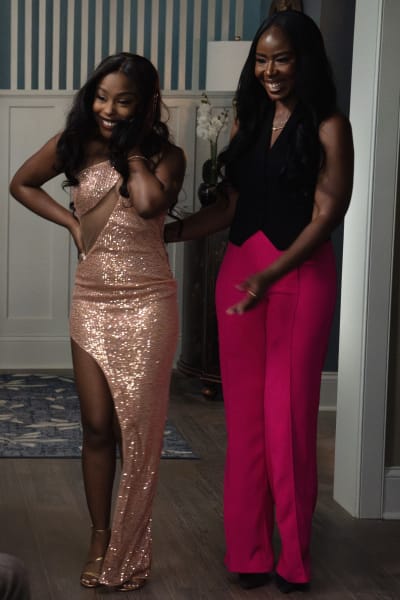 Seeing Jemma walk down the stairs looking like a copy of Tierra was hilarious. Her dad's reaction was valid because a teenage girl has no business looking like that. She didn't even use a foundation that matched her skin tone.
Bakari had a lot happening from all sides, with prom coming up and Douda's guns. He was looking to impress Jamal because he wanted to be with Lynae, and Jamal's reputation preceded him. If Jamal was to say no, that would have been the end of it.
Pastor Jackson's advice was what he needed, and the meeting was cordial. But even then, Jamal's worries materialized on a small scale.
Lynae and Maisha could make all the excuses about Bakari, but it didn't matter the justification for what he was involved in. Eventually, the downsides of a lifestyle catch up with someone, and being stopped in Douda's car was a mild version of what could have happened.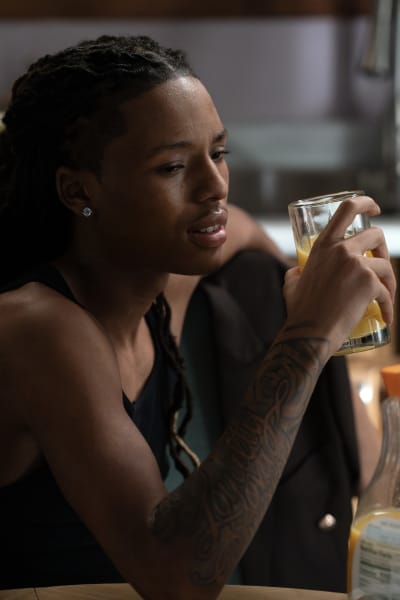 I kept replaying scenarios in my mind of something that could happen to Lynae because of Bakari's line of work, and it all ended with her lying in a pool of blood after catching a bullet.
There was some sadness in the episode where Pastor Jackson was concerned.
If y'all don't get out of here before I decide that prom is the work of the devil and tell y'all you can't go …

Pastor Jackson
We witnessed a certain change in him after the dinner on The Chi Season 5 Episode 3, and he stopped riding Papa hard on everything and offered sound advice that didn't involve threatening hail, brimstone, and the belt.
Maybe it was the subconscious knowledge that Douda declared war on him, and we were waiting for the other shoe to drop.
How Pastor Jackson has grown from someone no one thought about to someone worth caring for has been the biggest surprise for me.
On the Douda front, he was still alive and kicking, but the promise of his downfall remained.
Emmett tried to take a stand but didn't achieve the intended results as he was too deep with the devil. He knew just how easy it was for Douda to kill someone, and having that gun on his neck, he was convinced it was over for him.
He was lucky Douda had some use for him; otherwise, we'd be planning a funeral.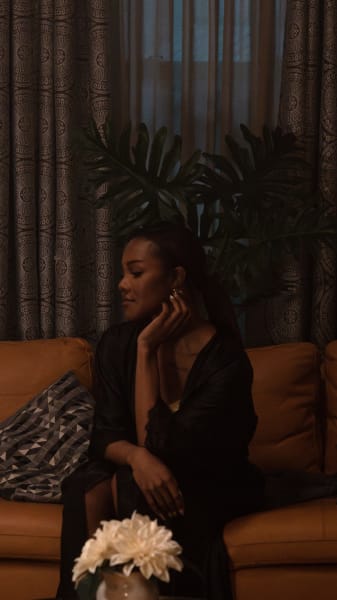 Things were not better at home because the day-to-day stress caught up with him and Keisha.
Raising four children at their age was no mean feat. People raise over five children and don't get as overwhelmed, but their case was unique. All the children were a few years apart, so they were learning as they went and didn't know what to anticipate.
It was like doing the same thing repeatedly every few days while trying to meet every child's needs.
The stress had Keisha behaving like Nina, and once you find yourself embodying some traits you hate from your parents, it is a clear sign that life has officially worn you out.
She opted for therapy, which might be the only thing that saves her from insanity.
Extra Thoughts from the Side of the Train Tracks
The Chief of Staff and the realtor were engaged! No wonder Andre advised Emmett to talk to Kesha because he knew what would have happened if he decided without asking Quincy.
Quincy: Hey, everyone, this is my fiancée, DeAndre. You're late.
DeAndre: My bad.
Quincy: Yeah, but you missed my toast.
DeAndre: You want to do it again when I get home?
We learned about them for a few minutes, and man, they were cute together. The Chi has always been great with queer representation, but this might be the first time we see a queer male couple with a proper storyline.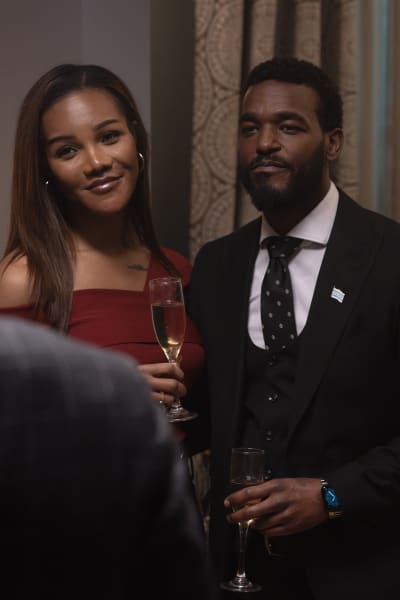 It just sucks that it is tied to Douda because we know how things end with him. I hope they're not treated as disposable when Douda comes to collect.
Shaad finally gave in to his desires, which was very disappointing. To his credit, he had held out for a while. I hope things don't end badly for him, as I haven't rooted for someone this much.
It's like our whole lives, man. We've been told we gotta be the provider, the protector, pipe layer. But I mean, sometimes it's just cool to support these women…. If you can't handle that right now, you better speak up or forever hold your peace.

Darnell
Kenya has a kid! Papa is about to find himself in Anthony Soprano Jr.'s shoes. Will Pastor Jackson's disapproval fuel Papa to seek freedom from his dad's religious influence?
Emmett and Tiff need to draw clear boundaries in their relationship. Otherwise, they'll blow up their lives for nothing.
Q's sister is not messing around. She will get Douda.
"One of Them Nights" was a perfect blend of fun and shocking developments, which made it entertaining to follow as events unfolded.
What did you think?
Chime in in the comments section.
Denis Kimathi is a staff writer for TV Fanatic. He has watched more dramas and comedies than he cares to remember. Catch him on social media obsessing over [excellent] past, current, and upcoming shows or going off about the politics of representation on TV. Follow him on Twitter.