A riveting chapter of sports history continues as Serena Williams moves onto the third round at the U.S. Open. Summer movie hits Elvis and Jurassic World Dominion begin streaming. Alan Cumming's hip East Village club in NYC showcases a gallery of LBGTQ comedians. A three-part docuseries explores the sordid allegations surrounding actor Armie Hammer and other dark secrets of his powerful family.
Jamie Squire/Getty Images
US Open Tennis
We're witnessing an indelible moment in sports history as Serena Williams continues what she insists is her farewell run toward the title at the Billie Jean King National Tennis Center. (The legendary King is front and center at every match, watching the queen beat the odds.) In the third round, Serena faces Australia's Ajla Tomljanovic, currently ranked #46 in women's singles. Considering how Serena took down #2 seed Annet Kontaveit on Wednesday in a thrilling three-set match, the Aussie has her work cut out for her.
Jurassic World Dominion
A summer blockbuster comes to streaming, pairing stars from two generations of Jurassic popcorn thrillers, when Chris Pratt and Bryce Dallas Howard appear alongside original Jurassic characters played by Laura Dern, Jeff Goldblum and Sam Neill. Critics weren't kind to this installment, but gluttons can nonetheless look forward to an extended edition on the streamer with 14 extra minutes and an alternate opening. The special edition also features behind-the-scenes footage and the short film Battle at Big Rock. So settle in for a long night of dinosaur action.
Elvis
Also available for streaming after a June launch in theaters: director Baz Luhrmann's top-grossing (in domestic dollars) film to date, a flamboyant and frenetic biopic about the iconic Elvis Presley (Austin Butler in a star-making turn) and his manipulative manager Col. Tom Parker (Tom Hanks, hamming it up). Lurhmann, a master of flashy bells and whistles, makes sure Presley's trajectory from sexily euphoric youth to tragically addicted adult never lags throughout the movie's nearly three-hour length.
Josh Going
Club Cumming Presents a Queer Comedy Extravaganza
Best known for his role as a power lawyer on The Good Wife and his sensational Tony-winning breakthrough in Cabaret, Alan Cumming has enjoyed a side career as a club/bar owner in New York's East Village, with Club Cumming a destination for those seeking daring cabaret and comic entertainers. Cumming pulls back the curtain for a 75-minute special showcasing seven rising LGBTQ comedians, ranging from the manic Joe Castle Baker (trivia note: son of Home Improvement star Patricia Richardson) to the droll Julia Shiplett to the musical performance-art tap dancing of Zach Teague and Drew Lausch ("failed musical theater majors with no outlet"), plus Nori Reed, Pat Regan and Larry Owens. It's the next best thing to being there.
David Livingston/Getty Images
House of Hammer
Not to be confused with the horror-movie factory, this three-part docuseries digs into the disturbing allegations against fallen movie star Armie Hammer, whose career derailed in 2021 after accusations of bizarre cannibalistic festishism, sexual assault and emotional abuse. Hammer also widens out to explore the dark legacy of his powerful family, descendants of the Armand Hammer oil fortune.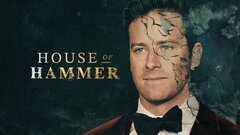 Inside Friday TV:
RuPaul's Secret Celebrity Drag Race (8/7c, VH1): It's a night of duets as the incognito celebs are paired with Drag Race royalty, including Katya, Eureka, Gottmik, Silky Nutmeg Ganache, Morgan McMichaels and Violet Chachki.
An Apple a Day: Or should we say, a full day's worth of programming on Apple TV+, which presents the finale of psychological thriller Surface and the Season 3 finale of British parenting comedy Trying, just renewed for a fourth round. Apple's lineup also includes the sixth episode of the harrowing Hurricane Katrina docudrama Five Days at Memorial and the fourth episode of the dark comedy Bad Sisters, in which youngest sis Becka (Eve Hewson) takes center stage, revealing her animus toward brother-in-law John Paul (Claes Bang) while coming to a realization about her new beau.
Devil in Ohio (streaming on Netflix): Bones' Emily Deschanel is back as a different sort of doctor—a hospital psychiatrist from the Buckeye State—in an eight-part limited-series thriller in which she shelters a young cult escapee (Madeleine Arthur) by inviting her to stay with her family. Mistake!
Fakes (streaming on Netflix): Much lighter in tone, this 10-episode caper dramedy features two besties (Emilija Baranac and Jennifer Tong) who stumble into becoming fake-ID impresarios, addressing the camera as they recount their brush with the law. The 100's Richard Harmon is their shady dealer.
Buy My House (streaming on Netflix): It's Shark Tank with real estate, as homeowners pitch their properties, hoping to sell to a high-powered panel including Redfin CEO Glenn Kelman, Corcoran Group CEO Pamela Liebman, NFL Linebacker Brandon Copeland and investment property mogul Danisha Wrighster.
Dated & Related (streaming on Netflix): Adding a new cringe element to the seemingly endless dating-show genre, this series lives up to its creepy title by sending brothers and sisters along to act as wingmen/women and observers while singles seek soulmates on camera. Because that always works so well.