The second season of Winning Time: The Rise of the Lakers Dynasty sees some serious soul-searching. After reaching the highest of highs the NBA champs face the question if they could reach the top of the mountain again, let alone stay there. The HBO sports drama, based on the book "Showtime: Magic, Kareem, Riley and the Los Angeles Lakers Dynasty" of the 1980s" by Jeff Pearlman, picks up after the Finals in 1980.
Then moves through 1984 right up to the big return showdown on the court between Quincy Isaiah's Magic Johnson and Sean Patrick Small's Larry Bird. However, Magic faces obstacles on and off the court along the way. And it's Adrien Brody's Pat Riley who helps him realize his true potential. The player-coach relationship only grows stronger on their path to respective greatness.
Before the SAG-AFTRA strike, Brody and Isaiah tell us about how the two's characters' dynamic mirrors their own.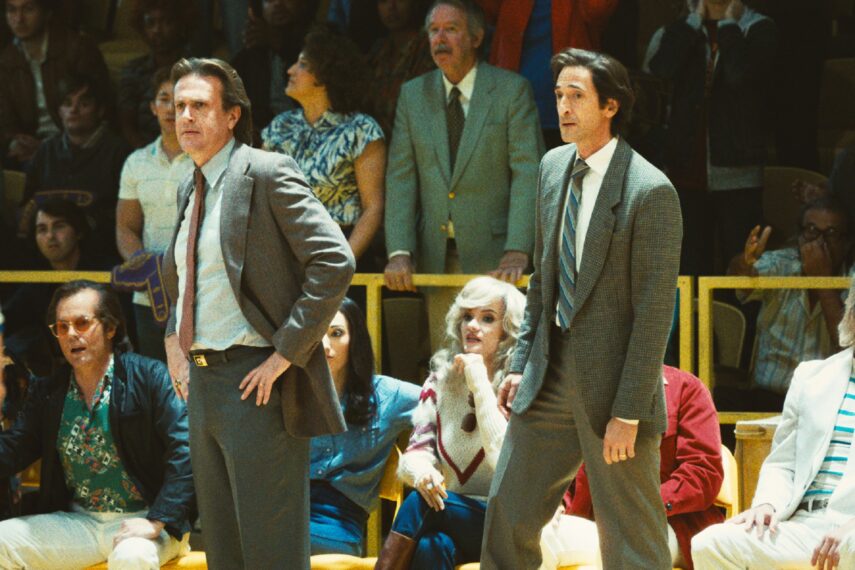 HBO
How was it getting into the Pat Riley we become to know with the fancy suits and slick back hair? Not to mention those fiery pep talks. 
Adrien Brody: It was really gratifying. I was chomping at the bit since season 1 and when I signed up for this project. I couldn't wait for Riley's arc to enter this territory. I feel like for me growing up and watching him, it was this indelible picture of him as this iconic coach. The physicality. The look, the hair as you mention. All of that is a representation of the confidence the man earned and possessed.
He didn't quite possess that in the earlier stage as he was finding his way back to who he was actually destined to be. Frankly, he was such a remarkable asset to the sport. It was very exciting. I'd done a lot of research even going back to season 1 that I wasn't able to apply then. Reading Riley's books it's really clear he is a man who understands the importance of teamwork, the psychology of the game, and human nature. He has grown to become somebody that many of us admire. I hold him in very high regard.
HBO
Quincy, talk a bit about Magic's journey this season as he really starts to understand the important part his family plays. They are looking out for him. You see him mature a bit, and that reflects on the court as well. 
Quincy Isaiah: You really do get to see him grow up. When we first meet Magic he is a teenager. By the end of this, he is about 24, 25. That is a big gap. I know for me, I grew up a lot in those years. For him, he had this height of his career. Having the success he had, these lulls where he hurts his knee or where he and Cookie [Keely] (Tamera Tomakili) are not in a good place. His family is helping take care of him. It shows just how big and how pivotal those moments were in helping him to become a man, develop as a more mature person, and become a leader.
He becomes a full-fledged person as opposed to just this basketball player and this identity of just winning. I think at a certain point everybody has this identity crisis they have to go through where the thing they are identified with most early on is taken away from them. Who am I now? We get to see a little bit of that in his fight to get back to the status of an elite basketball player.
You see these two's evolutions happening concurrently as you're growing into your respective roles on the team. How would you describe how Magic and Pat's relationship this season? 
Adrien: Pat understands what Magic is going through. He also admires the greatness and the potential he sees in him. He has that life experience to impart to him. It's something I relate to. Something Quincy and I have gone on about our own stuff regarding life and the work we do. It's an interesting thing to have that dynamic with someone. To see their potential and see them shining brightly and to be able to encourage them. I think that is a position that Pat found himself in with Magic.
He also has a friendship with Paul Westhead (Jason Segel). Pat is very loyal to him. But as things unravel and this rift begins, he understood how to keep the team alive and unite them. That is the making of a leader. That friendship I do believe in both places required Pat to be very present amongst all that turmoil at that time. It's a really admirable quality. You are right in that both Magic and Pat share this moment where they are coming into themselves and becoming better men.
Quincy: It's funny because until you just said that, I didn't really see the real-life connection between us and our characters in terms of helping bring the other along. I would go to Adrien all the time asking all these real questions. He'd give me tidbits. I like to learn, and he has done it for a while and at the highest level. So, to be able to go to somebody that is in your corner. Someone to throw ideas off of. For Magic, I believe it was a big thing to have a coach who was there and has been there. Someone has lost to Celtics multiple times and won a championship ring. There is a certain respect there when you have someone who has been in it.
Winning Time: The Rise of the Lakers season 2 premiere, August 6, 9/8c, HBO